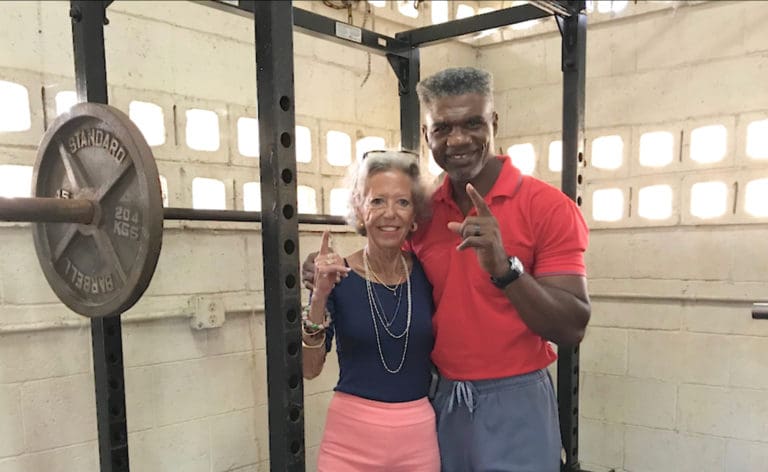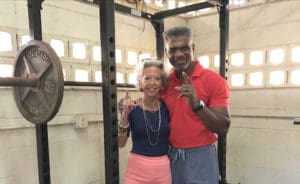 Julian Jackson hails Courtney Gabrielson from the street in the Paul M. Pearson Gardens housing community. He leads her into a cavernous room dominated by a regulation boxing ring.
This is the headquarters of the boxing program where Jackson trains the young men and women who are fortunate and dedicated enough to come under his instruction.
The petite Gabrielson follows the three-time boxing champ, almost twice her size, into the innards of the gym, looking around curiously. She is here for a very special reason.
She has donated her late husband's gym equipment to Jackson and she has come to see it's new home.
Gabrielson's late husband, physical trainer Ron Gabrielson, worked out of his home gym, Tropic Training in Solberg.
"It was his passion, his life,' Gabrielson said.
For the past two decades from 8 a.m. to late afternoon, a stream of his dedicated disciples could be seen at the rambling white residence climbing out of their cars eager to see Gabrielson, who unfailingly was outside to greet them. Many, in fact most, had trained under him for years.
"Oh, my God," here we go again. Torture," was a common greeting, sort of like a secret handshake.
"Nothing made Ronnie happier than seeing people grow physically and mentally from taking care of themselves under his encouragement and training. He really cared for everybody," Gabrielson said.
"I pondered what to with the gym equipment for a long time," Gabrielson said, "until it occurred to me that Julian's gym would be the ideal home for it. We had known Julian's brother, Dean, many years ago. Through him I reached Julian and learned of his boxing program."
The decision to part with the gym equipment was tough, until she thought of Jackson.
"It was an inspired decision," Gabrielson said. "When I realized how much Jackson could benefit from the training equipment, I knew intuitively this was where it belonged"
Ron Gabrielson died almost two years ago of a sudden heart attack.
Gabrielson peers around the gym, examining the equipment's new home with a satisfied look. She and Jackson get into an intense discussion about the training he does and the principals he instills in his potential boxers, finding much in common with her late husband's and Jackson's theories about living life.
After retiring and returning home, the legendary champ took up training young men and women in the Pearson Gardens gym, where he began the "I Believe I Can Fly" training program almost two decades ago. His determination and enthusiasm infect Gabrielsen as she nods along with Jackson's story.
"The boxing is only part of it," Jackson stressed. "The process will affect their lives. You have to work with them. You have to instill pride in them. Lots of them have grown up without a mom or a dad. Some of the kids can't deal with discipline. They must learn to respect themselves. This is a new concept to some of them There are life skills they must learn before they get into the ring.
"They may have pride,'Jackson continued, "but it's been misdirected, maybe into gangs, for instance. You have to remove that identity. Get them to believe in themselves."
He is as intense as he was he was in his boxing career, some might say more so. Jackson began the "I Believe I Can Fly" program with the V.I. Amateur Boxing Federation and the Department of Housing, Parks and Federation. Once given the green light, he has never paused in his mission to train for excellence.
"These kids learn about the rewards of hard work. And we work hard," he said, with satisfaction.
Gabrielson nodded knowingly.
"Ronnie had a saying," she said. "'There is no can't in this gym.' He got people to believe in themselves. It's like the same thing."
"Yes," Jackson nods. "That's the key."
Jackson has about 20 students. His sons John and Julius are pursuing their own careers as boxers, too. In fact they represented the Virgin Islands in the 2008 Olympics in Beijing.
This is Gabrielson's first look at the equipment's new home and it's a happy one. When Jackson picked up the equipment from her husband's gym a while ago, she said, "I had a good feeling about it at the time, and it turned out not to be a painful event. Julian and I met as old friends. He is so humble. It was an exchange that was meant to be."
"I could feel Ronnie in there, watching over us," she said.
Jackson gave her a warm smile in agreement.