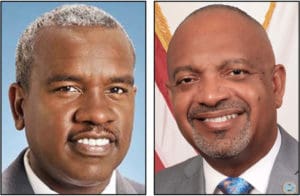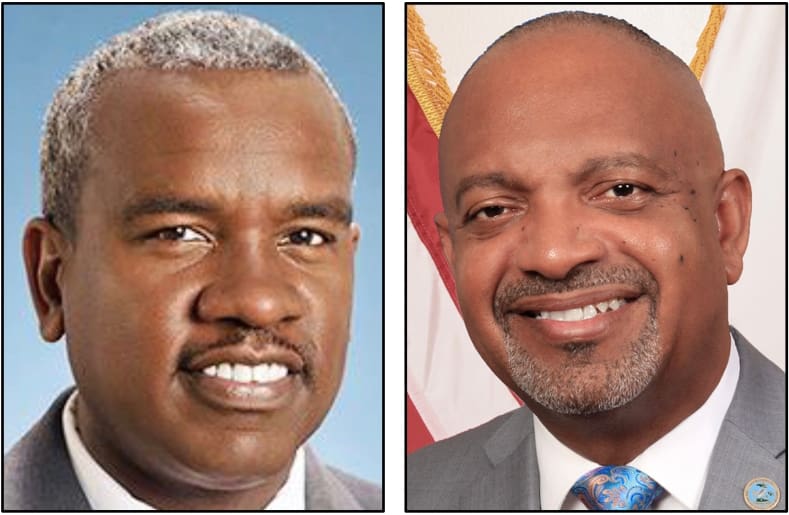 Former Labor Commissioner Albert Bryan Jr. formally announced his candidacy for governor and introduced Sen. Tregenza Roach of St. Thomas as his running mate Thursday at Gertrude's Restaurant on St. Croix.
According to the campaign, his candidacy is motivated by a "need for a different kind of leadership in the territory."
"Three years ago,voters took a chance on leaders who today have come to symbolize the smallness of politics. Albert believes it's time to change course now," campaign officials said in a statement.
Bryan said his focus will be "a stronger, modern economy that ensures revenues stay in more pockets of everyday Virgin Islanders; education and skills training which result in securing good paying jobs and real entrepreneurship opportunities, affordable housing and pathways to home ownership, a fair safety net for families during tough times and affordable healthcare programs that save more lives."
Bryan was born on St. Thomas to Albert and Genevieve Bryan and raised with four brothers in Savan. The family moved to St Croix, where Albert finished high school and has lived for 30 years.
Bryan has a bachelor's degree in economics from Wittenberg University and a master's degree in business administration from the University of the Virgin Islands. He has been an analyst at Hess Oil Corporation, procurement contract manager at the V.I. Authority, and Director of Business Offices and liaison to the Public Services Commission for Innovative Communications.
After his eight-year tenure as labor commissioner, he launched the Jobs for America's Graduates Initiative, partnering with the private sector to teach workforce skills to at-risk high school students. According to the campaign, Albert secured more than $150 million in benefits for unemployed residents during the "Great Recession;" improved VIDOL funding by $12 million; and saved $300,00 annually with consolidation of operations.
He has served on the V.I. Port Authority governing board, chaired the Economic Development Authority, and the Government Development Bank, playing a role in the first tax-increment financing project, the Home Depot at Island Crossings on St. Croix.
Bryan has served on the Workforce Investment Board, the Golden Grove Correctional Facility Community Panel, and was founder and vice president of Generation Now, a think tank providing advice and ideas on specific political or economic problems. He has been married to Yolanda Cabodevilla Bryan for almost 20 years. They have two daughters, Aliyah and Sumayah.
Born in St. Kitts, Roach moved to the USVI at the age of 8 to join his parents, Victor and Iona Roach, who had made St. Thomas their home years earlier.
He graduated from the Charlotte Amalie High School and attended the then College of the Virgin Islands, transferring to the University of Missouri-Columbia to earn a bachelor's degree in journalism in 1981. He launched his journalism career as a reporter for the Virgin Islands Daily News and became news editor.
He earned a law degree from Connecticut School of Law in 1989. He clerked in the Office of the Governor's Legal Counsel, the Office of the United States Attorney, and at the Territorial Court of the Virgin Islands. After earning his law degree, he worked in the Territorial Court's Civil and Family divisions and then in private practice as an associate attorney at Bornn, Bornn, Handy and Rashid. He has been a member of the Virgin Islands Bar since his admission in 1991.
Roach began a career of public service as Legal Counsel to the Commissioner of Education, for more than eight years and was then selected as Executive Director of the Virgin Islands Board of Education. He went on to work with the University of the Virgin Islands.
He served on the adjunct faculty of the University of the Virgin Islands from 1999 to 2012, teaching courses in the humanities. He also taught a constitutional law course in the graduate program in education. He has been a V.I. senator for almost six years.
Roach is also a published author and poet and recently published his first book for children: "The Lesson Box," which joins his other publications, "The Blessing of Rain and Other Poems," and "All This Is Love: A Collection of Virgin Islands Poetry, Art and Prose."