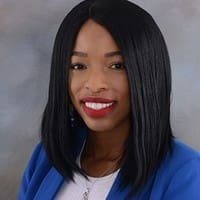 "Each year, Chase College of Law at Northern Kentucky University receives nominations to recognize a graduating student who best exemplifies Salmon P. Chase's passion, dedication and advocacy on behalf of others. After much careful consideration, this year's Salmon P. Chase Award will be given to Jedidah Morrell. We are very pleased to present Jedidah with the 5th annual Salmon P. Chase Award at this year's commencement ceremony." said Assistant Dean of Students Heather Crabbe.
Jedidah Hannah Morrell, who grew up on St. Thomas and graduated from Eudora Kean High School, will receive the Salmon P. Chase's Award, an honor Chase College of Law presents to a graduating student to recognize work in the spirit of advocacy. Chase himself displayed a passion for advocacy as a Cincinnati lawyer, prior to becoming United States Secretary of the Treasury and Chief Justice of the United States.
Almost 170 years after Salmon P. Chase earned a national reputation for advocacy on behalf of the powerless, Morrell has earned a reputation that people describe as being a "fierce advocate for those who have been oppressed, marginalized and forgotten in our community."
This past year, she spent the summer prior to her 3L year (third year of studying law) at Chase working on social justice projects with the ACLU of Puerto Rico. The lesson she says she learned there: "Liberty doesn't defend itself; the work we do is important."
Her work in Puerto Rico, which occurred before the island was devastated by a hurricane, included protecting rights of an immigrant who awaited deportation action in a maximum security prison, helping a 13-year-old who faced prosecution as an adult, and working on domestic violence and sexual aggression matters.
Back at Chase when hurricanes ripped through the Caribbean, she organized a food and clothing drive for people in Puerto Rico and on other damaged islands.
Her law-related work for others runs deeply through Northern Kentucky and Cincinnati. As a student in the Chase Constitutional Litigation Clinic, she argued for the right of a prisoner to adequate medical treatment for sickle cell anemia. Through the Chase pro bono program, she gave volunteer help to unrepresented individuals who needed guidance on legal matters from the Hamilton County Municipal Court Help Center. She also worked with the Kentucky Innocence Project and the Children's Law Center.
As zealous as her advocacy has been, Chase professors and lawyers who supervised her work describe her demeanor with clients as being empathetic, caring and thoughtfull.
After graduation in May, Morrell plans to continue her pursuit of justice by advocating for human and civil rights. Jedidah Hannah Morrell is the daughter of Jacqueline and Ian Morrell of St Thomas.