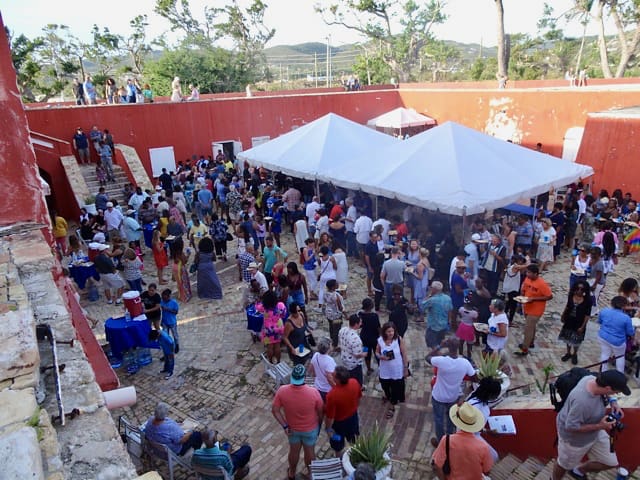 Hundreds of folks gathered Sunday evening at Fort Frederik for the final event of the 2018 St. Croix Food and Wine Experience: the Reef Responsible Fish Fry.
Organized by Kemit-Amon Lewis, coral conservation manager at The Nature Conservancy, the fish fry focused on reef consciousness and preservation. Lewis set up a table with educational handouts and free raffle tickets as well as 11 food stations under the big tent inside the fort.
"The more help we can get for environmental projects now, since the storms, the better off the whole restoration process is going to be," he said.
The Reef Responsible Fish Fry drew 500 attendees, according to Lewis.
Along with adults, about 100 children grazed on the fish bites, chowders, ceviche samples and lionfish served by local reef responsible restaurants and caterers.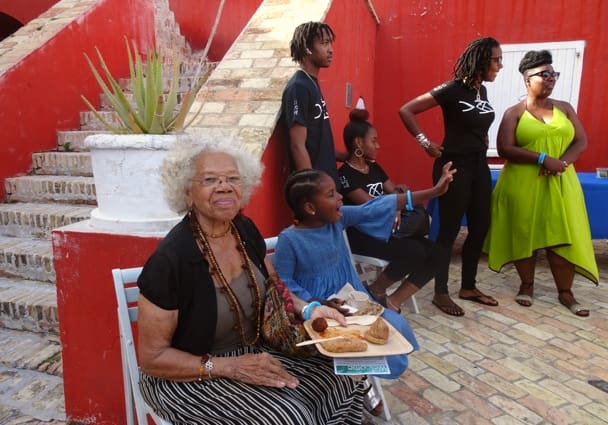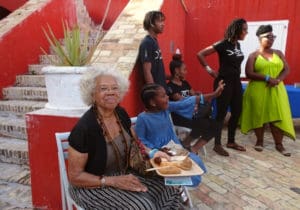 "This is a truly positive impact, since these young people will be so integral in preserving our world!" said Lilli Cox, senior program officer with the St. Croix Foundation.
Tyson Henderson said that his stepson "can't say 'no' to fish of any kind." The youngster at his side flashed a big grin.
The family friendly and affordable fish fry, which admitted kids younger than 12 without charge, showcased not only the talents of the St. Croix chefs but also their commitment to coral reef conservation.
"We only buy large fish like mahi, wahoo, and tuna – fish that don't eat off the reef," said balter's Chef Sean Skerrette, as he served cups of seafood curry chowder.
A few tables down the way, Beachside Cafe dished out a chowder made of mahi, wahoo and lobster. Galagnal offered white soy marinated mahi mahi with spicy pickled ginger aioli. The little sign in front read, "By God and Fishermen."
Frank Robinson of BES Craft Cocktail Lounge fried up lionfish and served it with plantain tostones, a big hit. Café Christine was generous with its mahi salad with ARTfarm tomato jam, another popular item.
La Reine Chicken Shack brought conch, not chicken.
"I can't pick a favorite; it's all so good," said Michelle Moore. "I don't really like conch but I always give it a try. That conch ceviche was outstanding!"
Un Amore scattered shards of blue, green and clear sea glass across its table and enticed attendees with a delicious fish ceviche.
"We serve from local sources," said Un Amore's proprietor, Katherine Pugliese. "We don't bring in salmon or use frozen fish."
Her restaurant promotes reef responsibility "always, every day."
Pugliese, together with Kelly Odom, dreamed up and started the Taste of St. Croix eighteen years ago. That one-night local food celebration expanded into an international food festival, the St. Croix Food and Wine Experience. Taste of St. Croix, now a separate entity, cancelled events this year due to destruction caused by Hurricane Maria.
From Manhattan, Carol Gilmore visits the island every March and had timed her 2018 trip to coincide with "Taste."
"So instead, we're at the Food and Wine Experience!" she said. "Everything is tasty."
Gilmore and her hostess, Susan Larson, attended Wine in the Warehouse Saturday night and marveled at the snazzy 14-seat Falcon plane they toured during the event, held in the Bohkle International Airways hangar.
"The pilot gave the tour, six people at a time," Larson said. "The plane charters for $7,000 an hour."
Sunday at Fort Frederik, the two tasted the seafoods, mingled, and enjoyed the music of Romanza out on the lawn behind the fort. Kids played on the historic cannons. The Gentlemen of Jones sold drinks. The Guardians of Culture Moko Jumbies danced.
A few folks danced, too.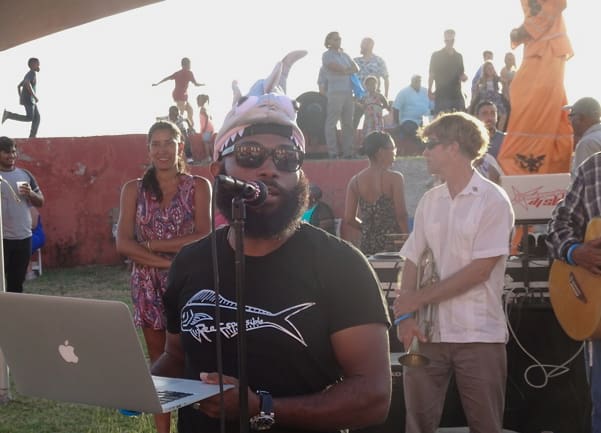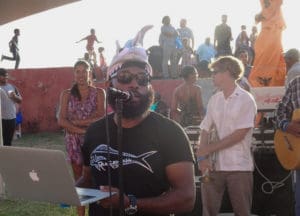 As the evening wound down, Kemit-Amon Lewis took the mic. He encouraged people to patronize the participating eateries.
"These restaurants support our fisheries and our coral reefs," he said.
Along with the restaurants already mentioned, reef responsible participants included Empress Fresh Foods, Cibone, Kaza House, Zion Modern Kitchen, and UCA's Kitchen.
As part of the Reef Responsible Sustainable Seafood Initiative, the fish fry was funded by The Nature Conservancy, NOAA's Coral Reef Conservation Program, the Caribbean Program, and the Department of Tourism.
St. Croix Food and Wine Experience events benefit the St. Croix Foundation and, in turn, the 40-plus other nonprofit organizations and charitable projects operating under its 501(c) umbrella.