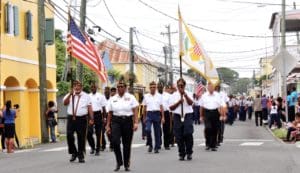 The Virgin Islands Office of Veterans Affairs (VA) and U.S. Department of Veterans Affairs (U.S. VA) will host Town Hall meetings geared towards adding physicians to the network of physicians used by the VA. Officials from the U.S. VA will be on hand to explain how the newly created "Providers Agreement Program" facilitates collaboration between the USVA and community health care providers will enhance the services provided to veterans locally.
The national and local veterans' administrations will listen to veterans and their family members regarding services provided to them locally. This will also serve as a forum to provide information about the latest on health care services, the choice program, compensation and pension benefits and memorial benefits, among other topics.
This is another effort to reduce and eventually eliminate veterans from having to travel to San Juan, Puerto Rico, for services that can be rendered here in the territory.
"To make this a reality, we are inviting physicians that are licensed to practice in the territory to come out and hear what there is to be said. This will assist you in making an informed decision as to if you would like to be a part of such a program," said VA Director Patrick D. Farrell.
Town Hall Meetings are scheduled for:
Wednesday, April 11, from 6-8 p.m. at UVI's ACC Conference Room on St. Thomas campus
Thursday, April 12, from 6-8 p.m. at the Benny and Martha Benjamin Conference Room at the V.I. Cardiac Center
RSVP by calling the Virgin Islands Office of Veterans Affairs in the appropriate district:
St. Thomas: 774 – VETS (8387)/ St. Croix: 773 – VETS (8387)
The contact person is Director Patrick D. Farrell