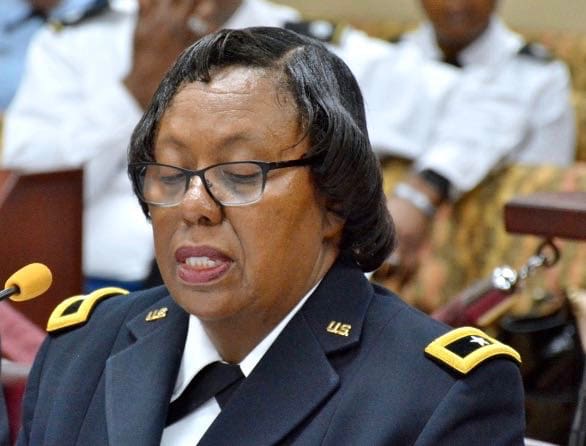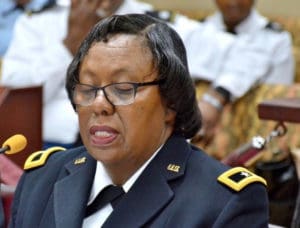 Brig. Gen. Deborah Howell, adjutant general of the V. I. National Guard, tried to minimize the problems of territorial guardsmen paycheck snafus, but senators on the Committee on Homeland Security, Justice and Public Safety were not satisfied.
The issue of guardsmen checks bouncing has received national attention, but Howell emphasized only three checks had bounced, because of anomalies in the printing of the checks by the V.I. Department of Finance.
"The current list of personnel not paid is 23, and for various reasons 297 are still owed some money," Howell said during Thursday's hearing.
The target date for catching up completely is March 15, she said.
Senators had trouble accepting the news.
"This thing with the pay is huge," said Sen. Janette Millin-Young said. "We can't have excuses for not paying our soldiers."
"It is not enough to say we appreciate their service," Sen. Alicia "Chucky" Hansen said.
Howell indicated payroll problems were due to confusion about what pay rate to use to calculate pay.
Sens. Dwayne DeGraff and Novelle Francis reasoned that since all the payments would be reimbursed with federal funds and the highest pay rate appeared legal, the guardsmen should be paid on that scale.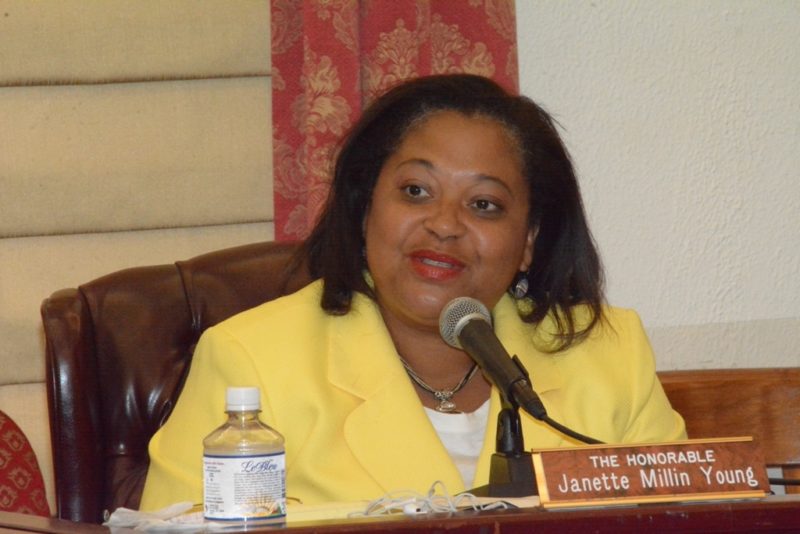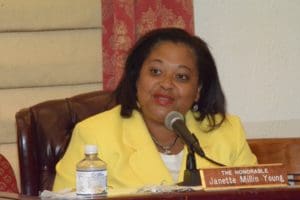 Although Howell said she would not be against that, she would be uncomfortable paying the soldiers at a lower rate when the Virgin Islands government would be responsible for their pay at non-emergency events such as at the carnivals. She said the territorial government could not afford to pay the high pay scales.
"We are a very expensive force and one of the highest paid in the nation," she said.
The senate has a bill in committee that could set the pay rates for the territory guardsmen. Howell urged the senators to take action on that bill, saying it would resolve the dilemma.
"If this body does not address Bill No. 32-0045 to change the law or to vote annually on what the pay raise will be and remove any ambiguity, we will not resolve that pay dilemma of VING," she said.
Sen. Positive T.A. Nelson said the issue "is not about pay alone," as reports of the envelops holding guards' paychecks being opened were discussed.
Howell said, "We determined that paychecks had to be opened at Joint Force Headquarters level to meet accounting requirements regarding TAD pay and FEMA."
Hansen was not satisfied.
"VING is not authorized to open the checks or mail of the soldiers. In fact, that is against federal law.If you need financial information from their checks, request a copy. Do not open them," Hansen said.
Committee chairman Sen. Brian Smith referred to the fact that it had taken the issuance of two subpoenas to get Howell to appear before the committee.
"I am glad that testifiers are present," Smith said. "There would have been a destabilization of the executive branch of government if officials from VITEMA and VING were absent today."
Mona Barnes, director of V.I. Territorial Emergency Management Agency, also testified Thursday.
Nelson asked why Howell did not attend a hearing the previous week after she told senators she would be there. Howell replied she just followed what her legal advisers told her.
Sens. Jean Forde and Janelle Sarauw also attended the hearing.