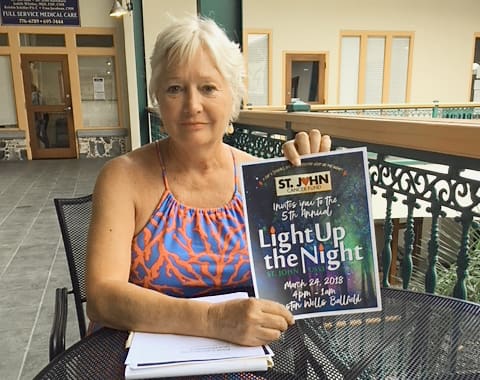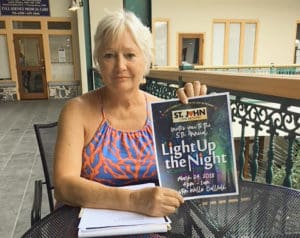 The St. John Cancer Fund will hold its fifth annual Light Up the Night Event on March 24-25, bringing the community together to raise funds and share a day and night of camaraderie, family fun, music and memories, and the group is looking for teams to take part.
The organizers are inviting the community to form teams to do fundraising, but unlike past years, there's no stated goal.
"Just come and enjoy yourself," said event chairwoman Mary Bartolucci.
Teams can register by making a $100 contribution. Details for registering are online at www.stjohncancerfund.myevent.com/. The website allows the public to donate to the cancer fund or to an individual, and it allows teams to create group or personal pages for fundraising.
The event will begin at 4 p.m. Saturday, March 24 at the Winston Wells Ballpark in Cruz Bay., and run through 1 a.m. March 25. There will be music, food, acrobats, and games. As a symbol of their never-ending hope in the battle against cancer, participants will walk, run, skip and dance their way around a circular track.
At 9 p.m., lights on the field will be darkened for the "luminary ceremony, a candle-light ceremony honoring those who have fought cancer.
Light Up the Night is the primary fundraising event for the St. John Cancer Fund, which assists St. John residents with medical costs, transportation, and other forms of support.
"They really helped my mom through her illness," said firefighter Ron Lee, whose mother Ina Lee, a retired nurse, died in December. "They helped us financially make the trips to Puerto Rico for PET scans, and for her treatment and medicines. Words can't express how much they helped."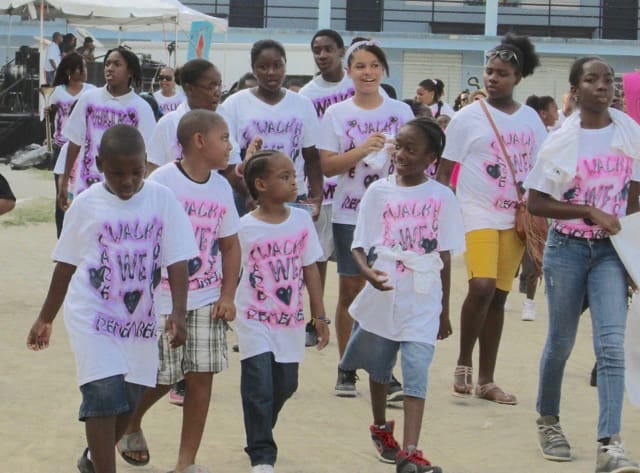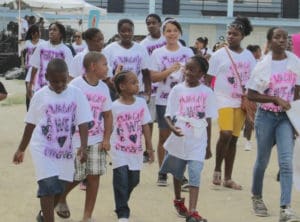 The St. John Cancer Fund was formed in 2012 by a group of residents who had participated in other cancer fundraising events and wanted to create an organization that was immediately responsive to the needs of St. Johnians.
"We realized we could be more effective, considering how much money we raised, because we could give directly to a patient," Bartolucci said.
The St. John Cancer Fund has raised more than $550,000 since the inception. The fund supports residents and their family by providing financial assistance. Every dollar raised goes directly to patients.
The destruction from two major hurricanes in September at first made organizers doubt they could hold an event this year.
"In November, we felt, 'We can't do this,'" said Bartolucci. "We didn't want to ask people [who were still struggling] in the community for sponsorship."
Instead, the organizers are urging St. John businesses to tap into stateside guests and customers who love St. John.
"This is where we feel the fundraising will be the most effective," according to Bartolucci.
The St. John Cancer Fund reached out to the Community Foundation of the Virgin Islands (CFVI), which manages the fund's finances, and they came up with a $15,000 grant.
"Our board voted unanimously to support Light Up the Night through a special grant for recovery called the 'Friends and Family Fund,'" said Dee Baecher-Brown, CFVI president.
Baecher-Brown says CFVI has a deep respect for the cancer fund, and its efforts "are near and dear to the board."
Because of CFVI's sponsorship, the St. John Cancer Fund decided to move ahead with the event as before, but with a couple of modifications: instead of continuing throughout the night and into the morning, this year's Light Up the Night will end at 1 a.m. "We still don't have electricity in the ball field," said Bartolucci. Plans are underway to bring in mobile lights for the event.
Light Up the Night asks the public for a $10 entrance donation.
Tonia Lovejoy and Erin Lieb of Get Trashed, a group that organizes community cleanup, is once again forming a team called the Green Machine.
"It was meaningful for me to be a participant among business owners and community members," said Lovejoy. "It's a chance to give back."
Among the highlights of the event will be two 20-minute performances by a pair of acrobats, Cirque-Tacular, who are waiving their usual performance fee. Gallows Point Resort is sponsoring them by providing housing.
Light Up the Night will begin with a children's parade, and this year, for the first time, children can play in a Kids Zone, a specific area featuring games.
"We're trying to purchase games that can also be used for the Children's Carnival during the July 4th Festival," said Bartolucci.
Children and adults who are "cancer warriors" – Bartolucci prefers that term to "cancer survivors" – are invited to gather for a special meal during the event.
"Cancer affects everyone in some capacity or another," said Tim Hanley, manager of the Tap Room, who's organized teams for St. John Cancer fund for years.
Like many of the people who get involved, he lost someone close to him to cancer.
"My older brother Brian passed away from a malignant brain tumor in 1999 when he was 18, and I was a sophomore in high school. Fundraising for cancer recovery has been a large part of my family's life," he said.
"We're doing this for the community," said Bartolucci. "We feel it's needed on many levels. We've still been providing assistance to cancer patients – we've lost two since the storm – and a lot of people have lost a lot. It's a time for the community to grieve, heal, and celebrate that we are alive."
Shared content for Virgin Islands Source and St. John Tradewinds.