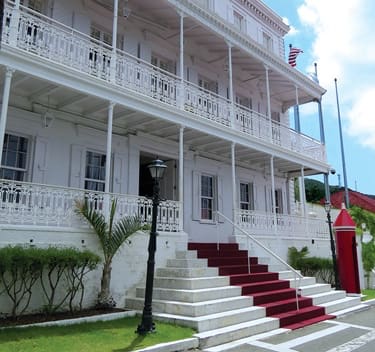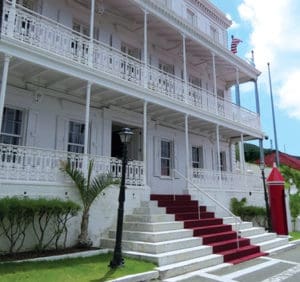 The V.I. Government's most important antiques and artworks are secure and accounted for, according to Government House officials and one knowledgeable source, but requests by the Source to view them have been denied.
Government House's chief of protocol, Lisa Webster-Potter, cited security concerns as the reason why the collection cannot be viewed by the press, even though the Source agreed not to publish the location where Government House says the pieces are being safely stored.
In January, local media reports called into question the location and condition of antiques and artworks owned by the V.I. Government, some of them important parts of the territory's cultural patrimony. The reports highlighted multiple apparent security breaches that allowed visiting cruise ship passengers and a reporter to enter storm-damaged Government House unaccompanied.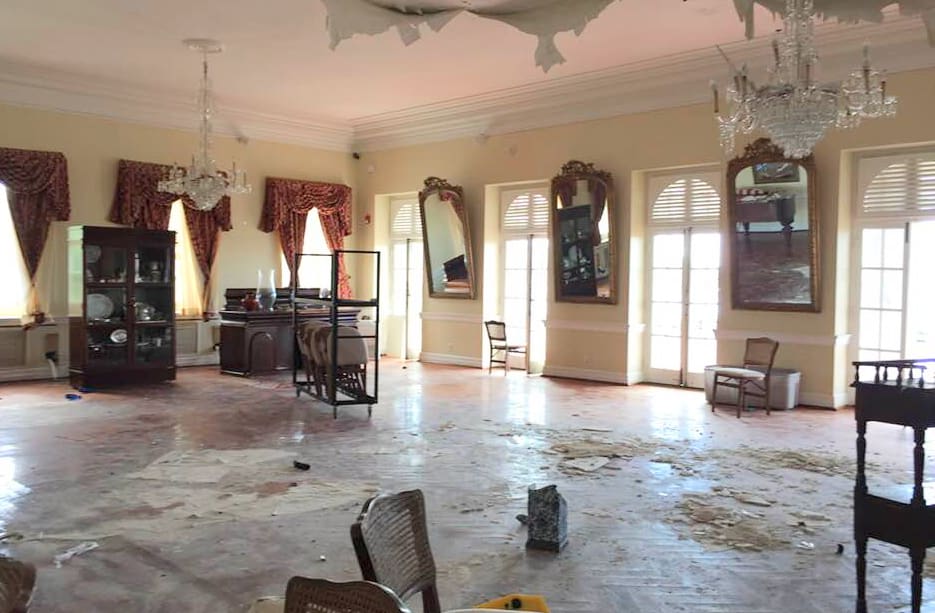 Photos published with the reports appeared to show damaged and unsecured items inside Government House, and a few days later similar photos were published of Estate Catherineberg, a property rented by the Office of the Governor that also houses some of the government's antiquities and art.
Persons with knowledge of the government's collection disagree over the accuracy of those media reports, however, and whether the accompanying photos suggest government negligence.
Felipe Ayala, a preservationist who chairs the St. Thomas-St. John district's Historic Preservation Commission, said Government House's statement about its collection being secure and well-cared for is accurate.
Ayala offered his advice to government house after Hurricanes Irma and Maria as a private citizen, he said, and was able to verify that the collection's most important pieces survived the storms and were moved into secure storage.
"I can attest to the fact that everything really important to Virgin Islands history and culture in the collection is secure and in good condition," Ayala said.
The collection is organized in a three-tiered system, Ayala explained, corresponding to various levels of value and historical importance. The first tier consists of Danish West Indian and other Caribbean antiques. The second tier consists of American antiques, mostly brought to the V.I. during the period of U.S. naval administration. The third tier consists of reproductions.
Some of the reproductions were damaged in the storms, and many of the items pictured in post-storm media reports about Government House and Catherineberg belonged to this category according to Ayala. Items in the first two tiers of the collection were the first things to be catalogued and secured, he said.
Among the items being safely stored are a Bible and ink well used by 19th-century governor Peter von Scholten, notable paintings by V.I.-born artists including Camille Pissarro, Albert Daniel and J. Antonio Jarvis, and Government House's collection of silverware.
In 2013, Government House's collection of original paintings was appraised by Christie's Auction House at more than half a million dollars. In addition to the work by artists from the V.I., there are pieces in the collection by Thomas Benton, Armand Guillaumin, Peppino Mangravite, Leonard Midori, Edward Vuillard and Zao Wou-ki.
Of the V.I.-born artists, the works by Camille Pissarro – two paintings and three drawings – are appraised at the highest value. One of the Pissarro pieces, and oil on canvas dating to 1892, has been appraised at more than $250,000.
Other artworks in the collection include a Coptic textile attributed to the third or fourth century, and a wool tapestry made in Flanders in the early 1700s.
Locally-made antique furniture in the government's collection, much of it bought at auction during the administration of Gov. Charles Turnbull, survived storm damage much better than reproduction pieces, Ayala said. All 10 locally-made pieces housed at Catherineberg weathered the storms with minimal damage. These pieces included card tables, candle stands, arm chairs, and armoires.
Government House's handling of its antiquities and art collection after September's storms also has its critics, however.
Raul Carrillo, who was steward of the collection when he was chief of protocol during the administrations of both Govs. John deJongh and Roy L. Schneider, disagreed that the Office of the Governor has done everything it can to preserve its collection in the past months.
"Destruction and loss by hurricanes is one thing, but by neglect is something else entirely," Carrillo said.
Carrillo said that during the deJongh administration, an inventory and appraisal of Government House's collection was undertaken with the help of local arts advocate John Jowers, which resulted in a published booklet about the collection, with photos of each piece.
Source reporters attempting to write about the collection have more than once been denied access to a detailed inventory however, and even before Hurricanes Irma and Maria, requests to see the collection were turned down by the current office of protocol for the stated reason of security concerns. (See "Undercurrents: V.I. Taxpayers Rich with Artifacts," in Related Links below.)
Emails sent to Webster-Potter from the Source in January requesting an interview regarding the collection's condition received no response. An interview with Webster-Potter was eventually arranged through Government House's communications team, but that meeting was cancelled two hours before the time it was scheduled. Although the cancellation note indicated the interview would be rescheduled, a week passed without word from Webster-Potter or responses to follow-up emails.
After several calls to Government House's communications team, the Source was told Webster-Potter would only answer questions submitted in advance and that the collection cannot be viewed.
An email from Webster-Potter sent to the Source on Feb. 13 read, "To ensure safety and minimize any potential damages to the pieces, the Office of the Governor at this time will not retrieve the works solely for the purpose of the V.I. Source viewing them. After restoration of Government House, St. Thomas is complete, the works will be available on display for all to view."