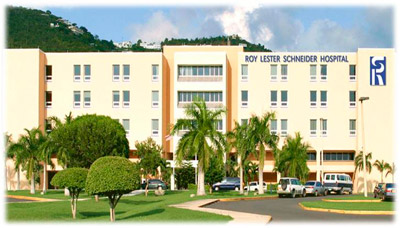 The V.I. Department of Health's (DOH) – Division of Mental Health, Alcoholism and Drug Dependency Services Outpatient Clinic (St. Thomas) can now be found in the Community Health Clinic on the second floor of Schneider Regional Medical Center (SRMC). All clients who receive monthly injections, medication management, counseling, Driving Under the Influence (DUI) classes and other services from the mental health clinic are asked to visit the DOH's Community Health Center. All individuals interested in services or who need to schedule appointments are also asked to visit the Community Health Center or call 774-7477, ext. 5696 or ext. 5672.
Virgin Islands Department of Health Division of Mental Health, Alcoholism & Drug Dependency Services Brief Overview
Outpatient client services on St. Croix are provided in two clinics located in two towns on St. Croix: Christiansted in the Charles Harwood Memorial Complex and Frederiksted at the Ingeborg-Nesbitt Frederiksted Clinic. On St. Thomas outpatient services are provided at Barbel Plaza South; residential treatment is provided at the Eldra Schulterbrandt facility on St. Thomas.
Outpatient Services:
Psychiatric evaluations and medication management
Psychological and other therapy related services

Individual therapy
Couples therapy
Group therapy
Family therapy
Therapy for minor children (St. Thomas – all children; St. Croix – 12 and older)

Substance use disorder outpatient services, with referrals to in-patient care
Off-island psychiatric placement for clients requiring intensive residential treatment
Medication Assisted Treatment Program (St. Croix only)
Driving Under the Influence (DUI) offender classes (St. Thomas only)
Psychological services include therapeutic groups and individual sessions as well as psycho-educational services.

Two classes, one day a week each
14 weeks per class
Residential Treatment Services:
The Eldra Schulterbrandt facility is a residential facility for the chronically mentally ill with a capacity for 32 residents.
It also serves as a day program for those residents who have been discharged and are court-ordered to return to the facility, sometimes on a daily basis.
Individual therapy
Group therapy
Medication management
Life skills coaching
Real-life experiential practice of activities of daily living
Social services support for individuals who have transitioned from ESF into independent living
Medical care (yearly physical exam for all residents with accompanying diagnostic testing such as mammography, EKG and chest XRAY; gynecological exams, ophthalmology for those who need it like the diabetics, oncology, neurology, urology, endocrinology and colonoscopy, transport to and from dialysis, et cetera.)