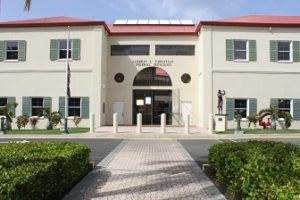 Wayne Fahie, 31, of St. Thomas, pleaded guilty Tuesday in District Court to one count of conspiracy to possess with intent to distribute cocaine and one count of possession with intent to distribute cocaine, U.S. Attorney Gretchen C.F. Shappert announced.
According to the plea agreement filed with the court, on July 30, 2017, Fahie and his co-defendant, Roy Hodge, III, 41, also of St. Thomas, attempted to smuggle four kilograms of cocaine through the Cyril E. King airport. Fahie, who is a Cape Air employee, used his security clearance to access the men's restroom in the departure lounge of the airport where he met Hodge and exchanged the cocaine. The plea agreement further states that Customs and Border Protection officers conducting surveillance saw Hodge enter the men's room for approximately 33 minutes. Simultaneously, the CBP officers saw Fahie enter and exit the men's room three times, each time with a bulge in his pants pockets.
According to the plea agreement, a Customs drug-sniffing dog named "Sherpa" alerted to the presence of cocaine in Fahie's pants pocket. A search of Hodge's cell phone revealed multiple text messages detailing the smuggling scheme.
Hodge pleaded guilty conspiracy to possess with the intent to distribute cocaine on February 1.
Sentencing for Fahie and Hodge is scheduled for June 7. Fahie and Hodge each face a mandatory minimum sentence of five years in prison and a maximum sentence of 40 years in prison.
The case was investigated by the Homeland Security Investigations, and Customs and Border Protection, and prosecuted by Assistant U.S. Attorney Delia L. Smith.