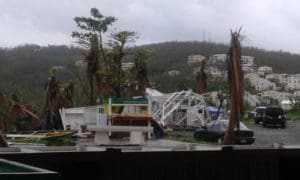 Mother Nature did not spare her caretakers – the farmers – when she rolled through the territory with two Category 5 hurricanes in September.
Not only did growers lose livestock, trees, crops and infrastructure, but the V.I. Department of Agriculture was severely damaged on all three islands, rendering offices and other structures unusable. Commissioner Carlos Robles spoke to the Source Tuesday and said his department is in the process of documenting damage sustained by the farming community.
"Most farmers, if not all farmers, were affected by both hurricanes. That's anecdotal information from two meetings we've had," he said.
Not surprisingly, he announced that the 2018 Agrifest on St. Croix would not be held in February.
"That's going to be canceled. Primarily due to safety – the buildings have been compromised and will be nowhere near ready. Secondly, it has been raining so much on St. Croix the farmers can't plow," Robles said.
Growers not only lost crops but their seedlings as well, so the ability to grow fresh produce is diminished for the near future.
The VIDOA does not provide grants for farmers, Robles said, but he is working with the U.S. Agriculture Department and the U.S. Farm Service to see if qualifications can be modified, paperwork can be expedited for farmers and if volunteer help is available to help reconstruct buildings and plant fields.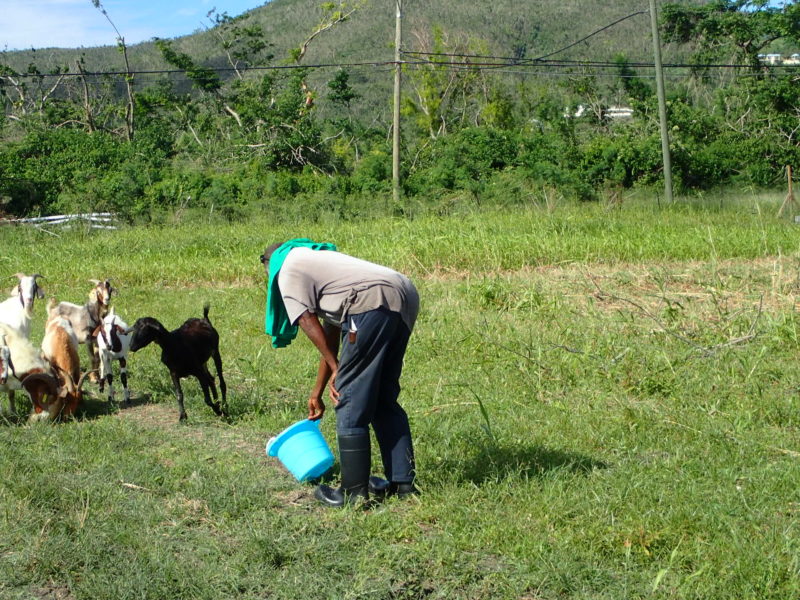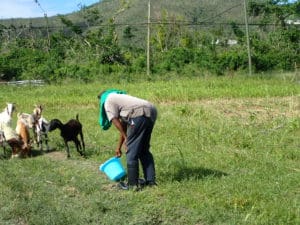 In the meantime, farmers throughout the Virgin Islands are at the beginning stage of recovery – removing debris. Dale and Yvette Browne of Sejah Farm not only lost their farm, but the walls and windows of their home were blown out and then drenched with rain.
The Bordeaux Farmers Market on St. Thomas lost the stage, bathrooms, family activities center and compost bin, according to Benita Martin.
"Irma took some and Maria took the rest," she said.
Martin said farmers lost most of their mango, breadfruit and soursop trees, but they are planting quick-crops, such as bok choy and cucumbers, to create an interim revenue stream. Livestock were lost during the hurricanes and are still dying due to illness, she said, and there is not enough grain to feed all the farm animals.
During the two weeks between Hurricanes Irma and Maria, St. Croix farmers gathered 8,000 pounds of fresh produce and Yvette Browne of Sejah Farm sent care packages to St. Thomas. After Hurricane Maria struck, that was no longer possible.
Most farmers have applied for some type of Farm Aid to cover immediate necessities and groceries. They are also hoping the VIDOA can help with a tree assistance program through the USDA and help with promised debris cleanup, Martin said.
"We don't have an agriculture industry. We have a portion of it – we have farmers. We have an industry that is walking out the door, slowly," Dale Browne said.
High in the hills above St. Croix's rainforest, at least half of Ridge to Reef Farm's 180 acres are broken and splintered woodlands, where cleanup has been painstakingly slow due to the loss of the farm's tractor. Volunteers have helped but they can't get it under control, according to Nate Olive, R2R owner.
"We're just completely overwhelmed with forest debris and no equipment to deal with it," Olive said. "We're still moving from emergency situation to emergency situation."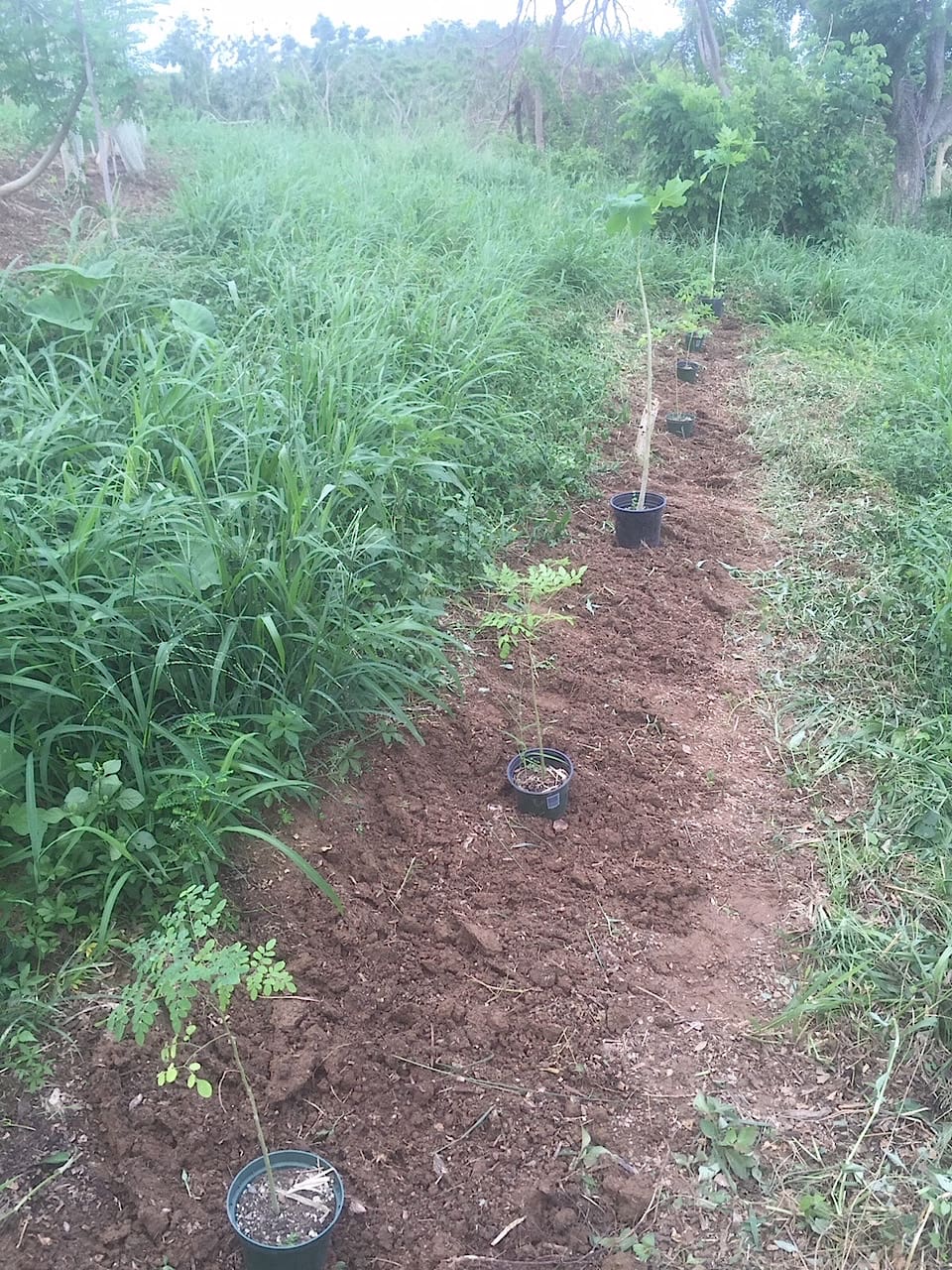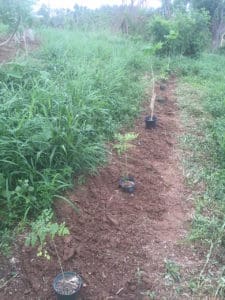 Luca Gasperi's Art Farm on St. Croix's south shore, sustained "substantial damage to the business." Not only did he loose 60 papaya trees and other crops but also four sheep and several chickens. Miraculously, the flock of turkeys survived, but the field of sunflowers to feed them didn't.
Gasperi recorded 20 inches of rain during Hurricane Maria and the following day. There has been record rainfall since then leaving the ground still too wet to plow. He and wife Christina started hand planting and harvested a few cucumbers, ginger and greens last week.
Browne has the same challenge of being unable to work the soil and is considering a new farming method using ground cover to soak up the rain. He lost seven sheep during and after the storms due to stress. One goat seemed dazed for a day, but then returned to normal.
"You've got to start all over again. For 23 years, we've been farming and it was all destroyed in eight hours," Browne said.
Commissioner Robles said St. Croix needs three or four weeks of sunshine to dry out the ground.
– Honeybee Loss Devastating to the Caribbean
According to beekeeper Toni Downs, about half of the Virgin Islands beehives were destroyed by the hurricanes and Puerto Rico's population suffered even more. Hives were blown away not just knocked down, and the bees starved, she said.
"Two-thirds of my bees have gone to heaven," Downs said about losing 16 of her 20 hives.
People are trying to help with powdered bee pollen and sugar water. For it to be effective, "you need gallons," she said, adding that just scattering sugar helps.
White manjack and coconuts are starting to bloom, so the bees are beginning to have food. It takes 18 to 21 days for a queen bee to produce 3,000 bees a day, according to Errol Chichester, VIDOA assistant commissioner and beekeeper.
The farmers hope for – but can't afford to wait for – financial assistance. They need new buildings and fences to contain livestock. The FEMA paperwork is daunting, according to Olive, and in the meantime, they must plant their fields. Many growers have applied for DSNAP food benefits and have set up GoFundMe accounts. Some farmers have received donations from loyal customers.
"I think there is a lot of hope for farms here. We are the breadbasket of the Caribbean and we have amazing soils and the water tables should be full now from before the 2015 drought. I think people are hungry for fresh foods," Christina Gasperi, of Art Farm, said.
Several growers said they hope their customers don't forget the value of fresh food while the farms are replanted and rebuilt. A small farmers market is being set up in Kings Alley in Christiansted on Sundays and Wednesdays. Gasperi hopes to open a small stand at his farm next week and Olive said he is trying to fill orders for his customers and the farm-to-school lunch program as much as he can.