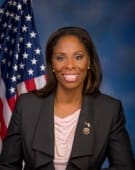 Delegate to Congress Stacey Plaskett issued the following statement about the massive aid package she intends to push for to help Virgin Islanders recover from Hurricane Irma:
"Hurricane Irma is a historic storm of incredible magnitude that has ravaged many of the islands in the Caribbean including our Virgin Islands, and the magnitude of this storm requires full attention and support for our territory. People have lost their homes, vehicles, photographs and important personal possessions that can never be replaced. Many areas of our Virgin Islands have been decimated and are in great need of help.
"This is why I am spearheading the effort to bring emergency federal dollars to the Virgin Islands, which is reeling from this catastrophic storm. I will be immediately sending a letter urging the White House to empower and direct FEMA to waive its reimbursement procedures, and provide advance financial disbursements to the local government of the Virgin Islands, as well as non-governmental organizations and displaced individuals recovering from the damage inflicted by Hurricane Irma.
"Right now, thousands of people are feeling the effects of one of the most catastrophic storms ever to strike the Caribbean region. Hurricane Irma has toppled buildings and leveled many homes. Making the Virgin Islands whole again will require a massive and coordinated effort spanning the course of many months and years. I will soon be meeting with local and federal officials to determine the amount of aid needed in order to make the lives of Virgin Islanders whole again.
"As we did following Hurricanes Katrina and Sandy, Americans must once again come together with compassion and care. The President and my colleagues here in Congress have said that Virgin Islands will have everything it needs. Moving forward, I remain hopeful that President Trump and my colleagues here in Congress will deliver on their words to support the people of the Virgin Islands."