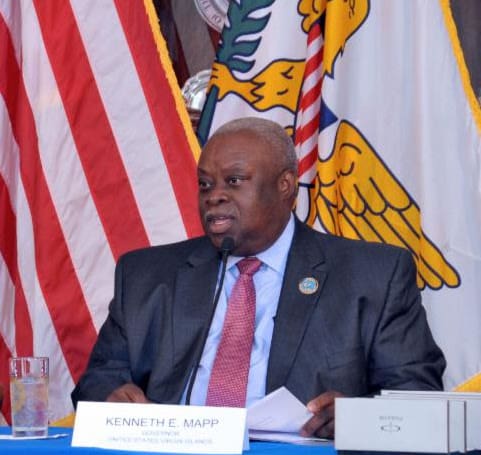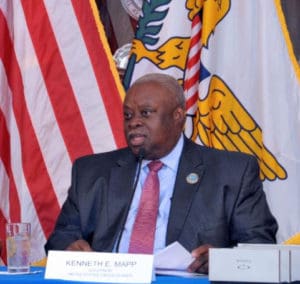 With Hurricane Irma projected to bring 80-plus mile per hour winds to St.Thomas Wednesday and, if there's a wobble to its path, up to 180 miles per hour, Gov. Kenneth Mapp has declared a curfew all day and night Wednesday.
The curfew will run at least 36 hours, from 6 a.m. Wednesday through 6 p.m. Thursday, Mapp said at a press conference Tuesday afternoon.
"Given the dangerous aspect of this event, I've instructed the Virgin Islands National Guard through its adjutant general and the V.I. Police Department through its police commissioner to enforce the curfew to the fullest extent of the law," Mapp said.
"If you are out after curfew and you do not have a curfew pass I am advising you now that you will be arrested. We are not going to send you along to drive back home or wherever you are going given the dangers this storm is going to possess on the territory. So whatever you need to do, get it done by 6 a.m.," Mapp concluded. The curfew will be lifted when emergency personnel determine it is appropriate "and not when someone complains," he added.
The curfew applies to businesses too, so if you open up your business during curfew, police will come, shut you down and arrest you, he said.
Police will start 12 hour shifts beginning at 7 p.m. Tuesday night, until further notice.
Police Commissioner Delroy Richards reiterated the point.
"I am asking your full cooperationg, because obviously if not, we will have to do what we must do pursuant to law," Richards said.
Between 6 and 7 a.m. the territory will start seeing squalls. Between 10 and 11 a.m.; strong winds, and from noon to 2 p.m. hurricane-force winds should start and continue past 8 p.m., he said.
At the peak of the storm, first responders and emergency personnel will be directed to take shelter and will not be available if you need help. So make sure you are secure and plan accordingly, Mapp said.
"We cannot and will not risk their lives to send them out and put more lives in danger," Mapp said
"I apologize if I am coming across as insensitive. I am just trying to be frank about the danger," he added.
If you lose your roof or your home is breached, "please do not attempt to repair it," Mapp said. In years past, a man tried to batten down his roof during a storm and was killed, he recalled said.
"If you have a closet or a secure room, empty it out and make preparations to use that," he said.
Do not stand near glass windows during the peak of the storm, he added.
Pets should be brought indoors. Shelters will accept pets but they must be in cages, he said. ""You cannot have your pets chained outside to ride out the event. That is a horrible thing to do," he said.
Mapp said he had been getting calls about what to do with horses and if the Agriculture Department can house them. The Agriculture Department has advised owners to inspect their stables and if they are secure, keep horses there. But if not,do not tie the horses in a field. Instead, "take them to the nearest pasture and let them loose to find shelter."
Shelters will not be allowing horses.
Health Commissioner Michelle Davies said there had been calls complaining pharmacies were not filling prescriptions because they were not due for refill yet. She said that she had spoken with the Centers for Medicare and Medicaid Services and they confirmed that under federal guidelines, now that a state of emergency has been declared, pharmacies must fill prescriptions without those restrictions.
Do not use generators indoors, do not use them during the peak of the storm and do not connect them to your home circuit breaker box. If power comes on and off, it may start a fire, damage your system or electrocute you. Fumes from a generator are poisonous. After the storm, make sure the generator is downwind of your home, Mapp advised.
Federal Emergency Management Agency Region II Federal Coordinating Officer William Vogel said materials and supplies are on island, ready for distribution after the storm.
V.I. Territorial Emergency Management Authority Director Mona Barnes said seniors and those with disabilities can call VITRAN for a ride to a shelter and advised calling early. She also said people can call VITEMA emergency operations at (340) 773-2244 on St. Croix; (340) 774-2244 on St. Thomas and (340) 776-2244 on St. John. Gov. Kenneth Mapp said those who are seniors or disabled can call Public Works for assistance at (340) 626-1942 on St. Thomas and (340) 626-3295 on St. Croix.
"Hurricane Irma is not coming through with any smiles. It is a very very serious event. We expect damages to the territory. We expect disruptions of infrastructure. And the government requires the opportunity to address these issues and to do so in an orderly and safe manner," Mapp said, before reiterating that he wants Virgin Islanders to obey curfew and obey directions for emergency officials.
"Preparedness and vigilance is what gets us through. …"Faith works, but faith only works if we put work behind it," he said close to the conclusion of his remarks.