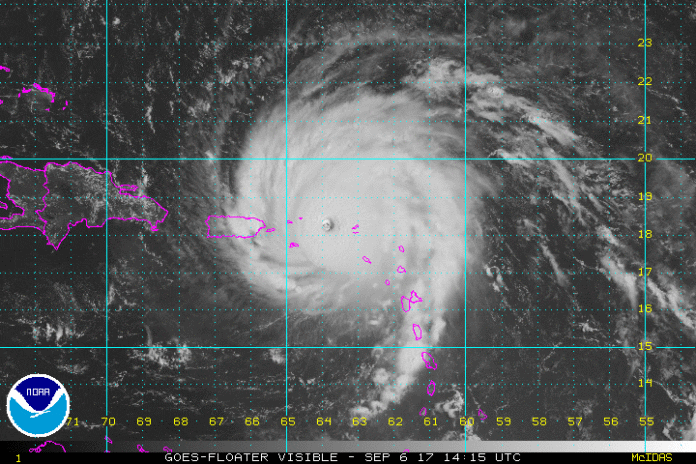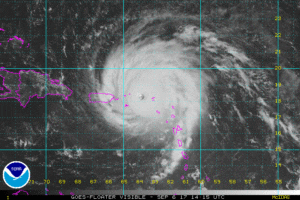 The National Weather Service issued a flash flood warning for the U.S. Virgin Islands as Hurricane Irma began battering the islands Wednesday morning, with electric power reported out in most if not all of the territory.
"As major Hurricane Irma and its outer rain bands continue to affect the islands, the potential for flooding rains will significantly increase throughout the day, particularly across the U.S. Virgin Islands, north and eastern Puerto Rico, Culebra and Vieques," the NWS announcement said, "The flash flood watch continues for all of Puerto Rico, Culebra, Vieques and U.S. Virgin Islands through at least Friday."
Irma is expected to move northeast Wednesday through at least Thursday, producing four to 10 inches of rain on St. Thomas and St. John, with isolated 15 inch accumulations. St. Croix is expected to get slightly less. Tropical storm strength winds are blowing across the islands.
Scattered reports Wednesday morning indicate the brunt of the storm was already knocking down trees and battering the coastline of the north side of St. Thomas.
In Hansen Bay on St. John's east side, a resident reported "Visibility across the bay to Calabash Boom is gone. Some water spouts, a little rain. Wind picking up, starting to howl. Tree branches whipping around some. Seas started up about an hour ago."
The Federal Emergency Management Association has pre-positioned supplies of water and prepared meals – known as MREs, meals ready to eat – on St Thomas and St. Croix. 27 FEMA staff members divided between St. Thomas and St. Croix are in place to begin assessing needs as soon as the storm has passed.
The National Hurricane Center reiterated its warning that "Irma is a potentially catastrophic category 5 hurricane and will bring life-threatening wind, storm surge, and rainfall hazards to portions of the northern Leeward Islands, including the Virgin Islands and Puerto Rico."