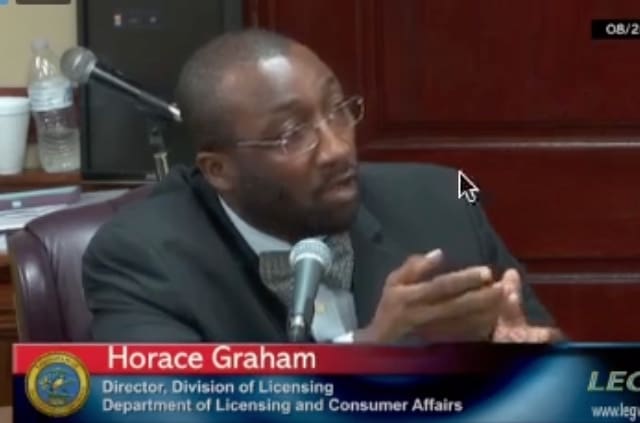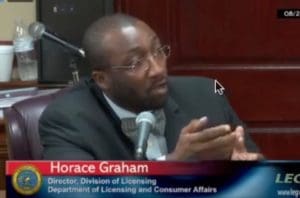 The process of opening V.I. businesses might be faster and smoother if Health, Fire and other required certifications were separated from the process of getting a business license, Licensing and Consumer Affairs officials told senators during budget hearings Thursday.
"Based on your experience thus far … how long do you believe it should take from beginning to end in order to receive a license?" Sen. Marvin Blyden (D-STT) asked DLCA Commissioner Devin Carrington.
"Before a person comes to us for a license that person must meet certain prerequisites with respect to the office of the Lieutenant Governor's (Division of ) Corporations and Trademarks," Carrington said.
"Ideally … if we were to divorce the licensing process from occupancy aspects of licensing that now exist, we could easily issue a license within five days, easily, or less." Carrington said. He said that because they are "married to these other agencies … we have to await their approvals before issuing a license."
"The real issue here is that from the time an individual begins the process they are conducting some form of business," Director of Licensing Horace Graham elaborated.
"Using the example of a restaurant … They may not be ready to operate the restaurant, accepting clients to come in, be seated and eat. But they have to purchase equipment. They are bringing in equipment, supplies and all these other things. These are business transactions that are taking place. Many of them cannot do that until or unless they obtain clearance from these other agencies. If we were to officially separate that and say we will issue a business license to those individuals but then an occupancy permit once the other areas are satisfied, I believe that we will have moved light years ahead in terms of at least getting people licensed, getting them operational to some degree, that is being able to provide business related services; banking and insurance and all those related things they may need to do, and go forward with that," Graham said.
"I hear what you are saying," Blyden said. "But we must do way more vetting" before enacting legislation, he said. He also said Sen. Novelle Francis (D-STX) had draft legislation about this question.
Later, Francis pursued the same line of questioning.
"What are the nuances as relates to the timely issuance of business license," Francis asked.
"I'm not minimizing the importance of, let's say the Fire Service or any other agency that may be part of the process," Graham said. He said the idea was to license a business first, then let it get its occupancy permit afterwards, before opening its doors.
"I like the idea of severing the responsibilities for the various agencies at least when it comes to the initial issuance of a business license," Francis said.
"We are doing some drafting of legislation in that regard," Carrington said.
"Can I get that tomorrow?" Francis said, emphasizing his eagerness but not clearly expecting the answer to be yes.
"No, but we will be discussing it,' Carrington said.
DLCA issues business license,s addresses consumer complaints, inspects weights and measures, collects price data and enforces licensing laws. It also licenses plumbers, electricians and other contracting trades.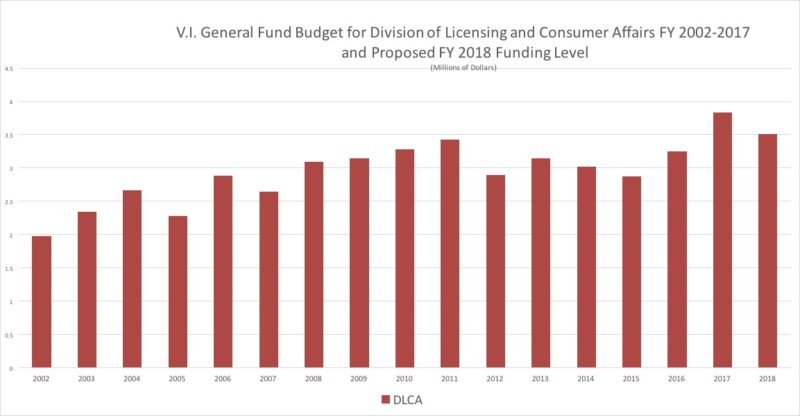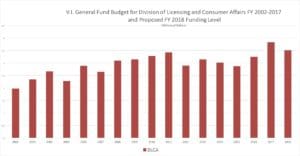 DLCA has 43 employees. In FY 2015 it issued 16,017 businesses licenses, with 3,767 new licenses, and collected $3.57 million in fees. In FY 2016 it issued 15,172 business licenses with 2,666 new licenses and collected $3.6 million in fees. So far in FY 2017, it has issued 13,634 licenses, with 2,173 new and collected $2.81 million in fees, according to Carrington's testimony.
DLCA does weekly inspection of rum shipments to the United States. In FY 2016, they counted 17.4 million proof gallons shipped, for $577 million in potential federal alcohol excise tax revenue for the territory.
Through July 31 of FY 2017, it tallied a total of 16.6 million proof gallons shipped.
In recent years, DLCA has instituted online licensing, which Carrington said "is operating effectively," although the DLCA website "is not without its shortcomings."
According to Carrington, all licensees can apply for new and/or renewal business licenses online and the system allows for electronic approval from all partner agencies. He said DLCA has "to varying degrees" had the cooperation of the Office of the Lieutenant Governor, V.I. Police Department, Department of Health, Department of Planning and Natural Resources, V.I. Fire Service and the Bureau of Internal Revenue. All of those agencies play a role in the process of getting and keeping a business license.
The budget crunch has stymied plans to renovate the vendor's plaza in Downtown Charlotte Amalie, he said.
Gov. Kenneth Mapp's proposed budget for FY 2018 has $4 million for DLCA: a decrease of $376,000 from last year. It includes $3.55 million from the General Fund and $478,742 from the Consumer Protection Fund, which is a revolving fund derived from the collection of license penalties and citation fines. This special fund is designated to address the costs associated with consumer disputes.
Chief Labor Negotiator Natalie Nelson-Tang How presented the Office of Collective Bargaining's budget of $716,878 from the Union Arbitration Fund, roughly $19,000 less than last year. It includes $416,904 for wages and salaries; $158,384 for fringe benefits, $28,400 for supplies, $101,690 for other services and $11,500 for utilities.
The OCB negotiates union labor contracts on behalf of the government and contains the Public Employee Relations Board, which addresses employer/employee conflicts and complaints. There are 346 cases pending resolution, most of which involve employee rights arbitration.
There are 38 collective bargaining agreements with 13 unions.
No votes were taken at the oversight hearing. Present were: Blyden, Sens. Kurt Vialet (D-STX), Neville James (D-STX), Jean Forde (D-STT), Nereida "Nellie" Rivera-O'Reilly (D-STX), Tregenza Roach (I-STT) and Dwayne DeGraff (D-STT). Non-committee members Francis and Sen. Brian Smith (D-At Large) also attended. No members were absent.