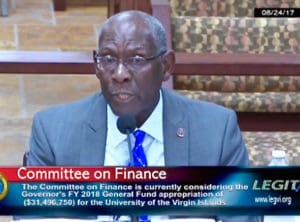 Pay increases last year combined with budget cuts this year will force the University of the Virgin Islands to shed faculty and staff, UVI President David Hall told senators during budget hearings Thursday.
The unfortunate development appears to bear out concerns some senators raised about the sustainability of government raises last year, before the Legislature ultimately voted to approve them. Other government agencies appear to be absorbing this year's budget cuts without substantial staff reductions thus far.
With the territory facing a budget crisis and an unprecedented inability to borrow, Gov. Kenneth Mapp's proposed FY 2018 budget cuts funding for almost every V.I. government agency and entity. UVI is looking at a $1.55 million cut; the same amount initially allotted for UVI raises last year.
Hall asked senators to consider restoring the funds. In light of the budget shortfall, that may not be likely to occur.
"We cannot rescind salary increases already distributed to employees, therefore the $1,550,000 reduction will force us to eliminate faculty and staff lines, thus creating more hardships for those who received the salary increases," Hall said.
It also will "affect the quality and number of courses offered," he said.
"What was the amount of the line item in last year's budget for increases to professor's salaries?" Sen. Kurt Vialet (D-STX), the Finance Committee chair, asked.
"It was originally an amount of $1.5 (million) but at the beginning of the year it was reduced back to $1.2 (million) and that is what we distributed: $1.2 million," Hall said.
"So what the proposed budget literally does is to wipe out that increase that was given last year," Vialet asked.
"Correct," Hall said.
"I just wanted to put that on the record, because we are having a widespread complaint in reference to salaries and we tried to correct that, last budget cycle, and now this budget cycle we are reversing exactly what we did at the last budget cycle, and I think one of the questions we continue to ask when we did receive the monies from Limetree at settlement, was whether or not we would be able to sustain the salary increases that were given to our government. And now we are here at this point we are trying to sustain the salaries in the central government but we are telling the university that they need to roll back the increases they were given in the last budget cycle," Vialet said.
Gov. Kenneth Mapp proposed government-wide salary increases last year, funded with $20 million from a one-time windfall from the sale of the Hovensa Refinery to Limetree Bay.
During a March 2016 hearing on the proposal Sen. Jean Forde (D-STT) pointing out that the funding source was a one-time windfall and wondered whether the raises were sustainable.
"Are you comfortable that we are going to be able to sustain these salaries?" Forde asked Budget Director Nellon Bowry during a March 2016 hearing on the proposal.
"It would not make our situation any worse," Bowry said, adding "we have a structural deficit of about $100 million on an annual basis and that will face us next year also."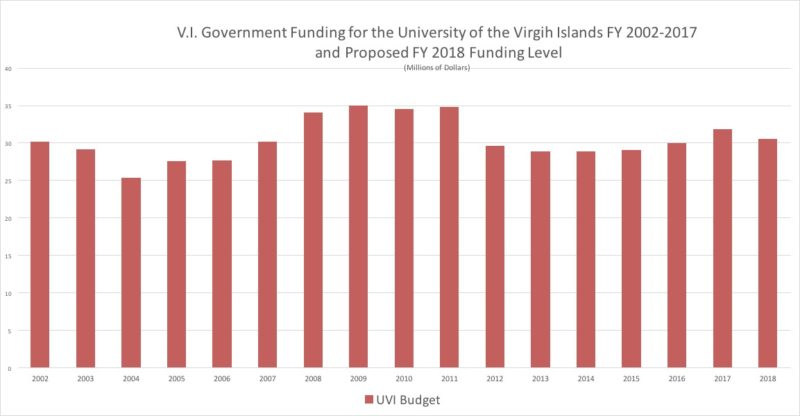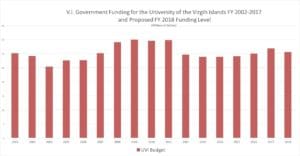 He also said that because the government had paid off most prior year tax refunds with some of the Hovensa windfall, "we think we can adjust the projection for next year by $20 million or so because we don't have to reserve our income taxes for a high amount of tax refunds."
Sen. Janette Millin Young (D-STT) also questioned the raises last year, asking"if these special circumstances are over, how do we keep them employed?"
"I am confident that what we could say about this is that it does not worsen our fiscal situation," Bowry said last year.
Before voting on the measure in session a few weeks later, then-Senate President Neville James (D-STX) also questioned whether the raises were sustainable, saying the Senate would ask Mapp "to come down and tell us why these raises can be sustained."
Then-Sen. Clifford Graham said lower funding for future tax refunds in future years would ensure there was funding.
Ultimately, in 2016, Vialet, James, Graham, Sens. Almando "Rocky" Liburd (I-At Large), Nereida Rivera-O'Reilly (D-STX), Marvin Blyden (D-STT), Novelle Francis(D-STX), Kenneth Gittens (D-STT), Positive Nelson (ICM-STX) and Sammuel Sanes (D-STX) voted for the appropriation to fund pay raises. Voting no were Forde, Young, Sens. Justin Harrigan (D-STT), Myron Jackson (D-STT) and Tregenza Roach (I-STT).
Thursday, Hall asked for flexibility in how the school could spend its allotment.
"If this reduction stays in place, which I hope it does not, we are asking that you provide the university with the flexibility to apply this reduction to not only the operating budget but include various designated programs for which the Legislature has approved specific appropriations in the past," he said. He cited SROTC, senior citizens' tuition waivers, Small Business Development Center, and various others.
Mapp's FY 2018 budget proposal includes $30.5 million from the V.I. Government's General Fund for UVI. Last year's funding was $31.85 million. Local funding for UVI peaked at $35 million in 2009.
The university also projects getting roughly another $23 million from tuition, fees, donations and grants, CFO and Vice President for Administration and Finance Shirley Lake-King told the committee.
No votes were taken at the oversight hearing. Present were: Vialet, James, Forde, Rivera-O'Reilly, Roach, Sens. Marvin Blyden (D-STT), Dwayne DeGraff (D-STT) and Brian Smith (D-At Large). No members were absent.