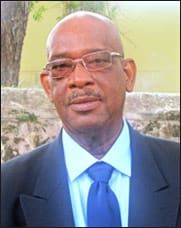 The head of the Virgin Islands Police Department said he's confident that a years' long effort to meet the demands of a federal court for a use-of-force policy is close to resolution. Towards that goal, Police Commissioner Delroy Richards says a VIPD compliance team is on its way to New Orleans.
The trip to Louisiana was arranged after a two-day summit between police, local and federal Justice lawyers, Richards said. The idea is to let V.I. police officers see how a complicated use-of-force compliance was achieved by another jurisdiction.
"They want us to come to New Orleans to meet with the judge who's been handling the case, and to see how they got it done. So that's what we're going to do," the commissioner said.
Since 2009, the VIPD has been ordered to produce a use-of-force policy to guide patrol officers and commanders through their encounters with civilians. When reforms did not appear in a timely manner, District Court Judge Curtis Gomez ordered quarterly compliance reports to show the court's orders were being followed.
The last evidentiary hearing on was held May 25. The parties were due back in court by Aug. 24, but lawyers for both sides asked for a delay. The judge granted a one week extension and in a separate order set a deadline for progress.
"It is further ordered that the VIPD shall achieve substantial compliance with all of the consent decree requirements no later than Nov. 23," Gomez said on Aug. 8.
Richards described a process being carried out by a compliance team that has been working through a backlog of use-of-force cases dating back three years. The work requires attention to detail but, he said, the team is getting it done.
"This time last year we had 20 paragraphs outstanding, but this year we have eight paragraphs outstanding. But each of the eight paragraphs have about 50 subsections apiece. Right now, in some cases I could say we have 40 out of 50 subsections resolved," the commissioner said.
Aiding the efforts of Deputy Commissioner Curtis Griffin, Gregory Davila, Assistant Commissioner Jason Marsh and attorney Terri Griffiths were another team made up of of VIPD retirees.
Marsh, formerly chief of police for the St. Thomas-St. John district, was the latest addition to the compliance team, assigned by Gov. Kenneth Mapp in July.
They were recruited by commanders to locate all paperwork associated with use-of-force complaints.
Lawyers representing police in court told Gomez the recovery team found misfiled complaints, mislabelled complaints and complaints with pages missing, all of which were identified and brought into order.
Officials hope interacting with NOLA law enforcement will give Griffin's team insights on how to make determinations on the outstanding caseload.
The troubles of the NOLA PD began with a civil rights investigation in 2010 into a series of police brutality allegations. A federal court issued a consent decree in 2012.
To resolve all of the complaints, police officials there had to address complaints detailed in 490 paragraphs comprising 110 pages.
Meeting the terms of the consent decree has been arduous for the department. In June 2016 Mapp fired the district police chiefs for St. Thomas and St. Croix – Darren Foy and Arthur Hector – on the same day, citing failure to move compliance along.
But Richards, who has been commissioner throughout the turmoil, says he remains encouraged throughout.
"I support it, I embrace it because it makes the department a better department," he said.