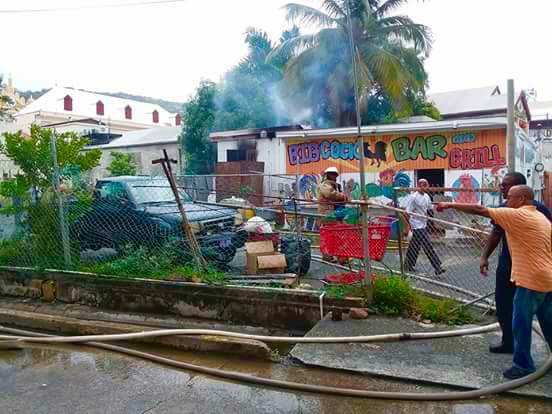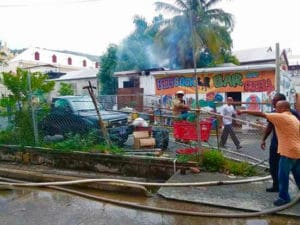 V.I. Fire Service firefighters fought a blaze next to the Big Cock Bar and Grill in Stoners Alley, Wednesday afternoon. The bar's sign shows a large rooster.
St. Thomas/St. John Fire Chief Oriel Wheatley said Thursday morning that firefighters were called around 10:15 a.m. to a fire at 67 Kronprindsens Gade. The fire, which appeared to be in the former bar and grill, was actually in a building immediately adjacent to the bar, located on Stoners Alley.
A unit from the Dorothea Fire Station arrived first, then a unit from Hotel Company joined them.
"The abandoned wooden structure contained a bunch of rubbish and old clothing and it took a long time to completely extinguish the fire," Wheatley said.
He said the fire took between 45 minutes and an hour to extinguish. The cause of the fire is still under investigation.
Editor's Note: This has been updated to include comments from St. Thomas/St. John Fire Chief Oriel Wheatley and to clarify that the fire was adjacent to, not in the Big Cock Bar and Grill