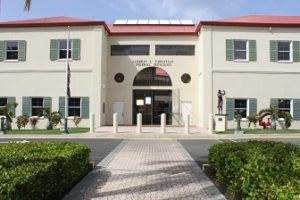 A federal judge set an October sentencing date for two men Tuesday after they admitted to robbing a fast food restaurant at Lockhart Gardens Shopping Center on March 25.
Junior Antonio Feliz and Hanselo Joseph Feliz Recio admitted their roles in the armed robbery and hostage incident at McDonald's Restaurant.
One person was killed as police confronted three masked assailants while the robbery was in progress.
Feliz, 22, and Recio, 18, both Dominican Republic nationals, appeared before District Court Judge Curtis Gomez in District Court on St. Thomas. The judge accepted their admissions of guilt to conspiracy to commit Hobbs Act Robbery and discharge of a firearm during a federal crime of violence.
Gomez set sentencing for 9 a.m. Oct. 5. The pair could get as much as 20 years in prison, five years of probation and fines of as much as $250,000. Because of their immigration status, Gomez told Feliz and Recio they are also subject to deportation.
Four others still face prosecution in the case. Betel Paulino, 18, and Helwood Paris, 20, are scheduled for trial on July 10. A 17-year-old unidentified minor faces charges in Family Court.
No trial date has been set for the latest defendant, Troy Titley, 36. Titley, a former special investigator with the V.I. Justice Department, was indicted May 18. He is accused of procuring the vehicle used in the robbery.
On Tuesday, Gomez entered an order directing Titley's lawyers to respond to a demand by prosecutors that he assist investigators in the execution of a search warrant. The defendant was given until Friday to respond.
The federal Hobbs Act makes it a crime for someone to take money or property from another by using force, threats or intimidation. Because Feliz and Recio were identified as two of three masked men caught on security footage entering the restaurant brandishing guns, taking hostages and firing a shot into the camera, the federal weapons charge also applies.
As part of the plea deal, prosecutors with the U.S. Attorney's Office agreed to drop federal charges of Hobbs Act robbery, conspiracy to possess a firearm in furtherance of a Hobbs Act robbery, and local charges of first-degree robbery, use of an unlicensed firearm in commission of first-degree robbery and conspiracy.
Because the restaurant was located near the Oswald Harris Court Housing Community, the defendants were also charged with possession of a firearm in a public housing zone. That charge was also dropped by the judge.