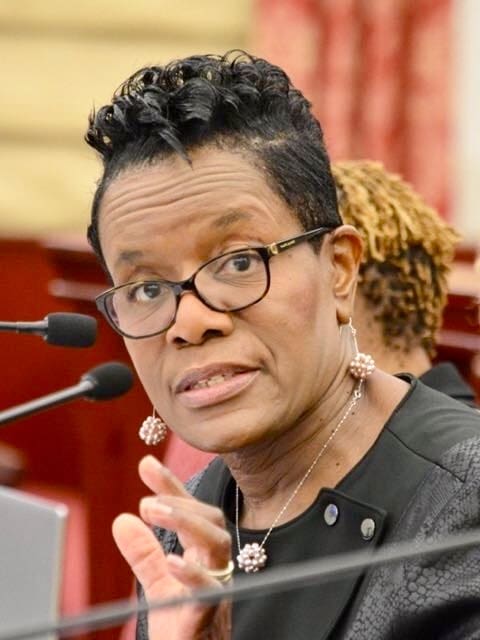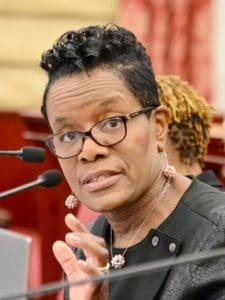 The territory will be closer to compliance with National Association of Insurance Commissioners' expectations and will regulate holding companies in the same way as all 50 states if legislation approved in committee recently is enacted into law. The measure is a model law, very similar to laws approved in all 50 states and Puerto Rico, Gwendolyn Hall Brady, director of banking, insurance and financial regulation, told the Finance Committee during the June 1 hearing on the bill.
The changes include "scrutiny of non-insurance affiliates," Brady said. The actions of unregulated non-insurance affiliates of insurance giant AIG helped lead to AIG's near collapse and bailout during the 2008 worldwide financial crisis, she said.
The bill (32-0042) would establish requirements for mergers and acquisitions of insurance companies; standards for distribution of dividends; make holding companies issue annual statements about management structure and authority and more. It also gives the commissioner of insurance more oversight power, including the power to request financial statements for all affiliates of the insurer.
The changes are "especially important because Guardian Insurance Company, one of the leading insurance companies in the territory, is part of an insurance holding company system," and is the only V.I. insurer licensed to operate both in the territory and in other U.S. jurisdictions.
Guardian had input into suggested amendments, she said. It was concerned about a provision requiring prior approval before special or "extraordinary" dividend distributions. The company wanted that provision eliminated, but Brady's office disagrees on the grounds that it would restrict the division's authority too much and would make it harder to get NAIC accreditation.
Sen. Neville James (D-STX), the bill's sponsor, said amendments would be coming either in the Rules and Judiciary Committee or on the Senate floor to address company and government concerns about the bill's details.
Voting to send the bill on to the Rules and Judiciary Committee were: James, Sens. Kurt Vialet (D-STX), Marvin Blyden (D-STT), Dwayne DeGraff (D-STT), Nereida Rivera-O'Reilly (D-STX) and Brian Smith (D-At Large). Sen. Tregenza Roach (I-STT) was absent.
The bill is one of several changes to banking and insurance laws in the last couple of years. In 2016, the Legislature passed half a dozen or more bills aimed at bringing regulation of insurance and of financial entities more in line with laws in most other U.S. jurisdictions. Several were, like the measure approved in committee Tuesday, intended to help the territory get accreditation by the National Association of Insurance Commissioners, which would help insurance companies set up in the territory, increasing access to and competition among insurers.
One adopted NAIC standards for regulating insurers. Another increased the amount of capital that insurance companies need, based on the amount of risk they take on in their policies. A third gives insurance regulators authority to identify and address perceived risks to an insurance company from non-insurance and non-regulated entities within the insurance company's holding company structure.
Another of the bills affecting NAIC accreditation formally placed third party administrators, who sell policies and collect payments on behalf of insurance companies, under the regulatory authority of the Division of Banking and Insurance. The division already regulates them, using its general authority as an insurance regulator, but the change gives the local regulatory body explicit statutory authority. Yet another made licensing requirements for insurance agents, brokers and adjusters the same as those in the states.
Other recent changes to banking and insurance laws made it simpler for international banking entities to set up and to receive V.I. tax breaks while also increasing fees and making background checks more rigorous. (See Related Links below)
The committee also sent on a bill Tuesday sponsored by Sen. Marvin Blyden, to appropriate $500,000 from the Antilitter and Beautification Fund for the Waste Management Authority to buy and install cameras at territory waste bin sites and convenience centers.
Vincent Ebbesen, WMA's solid waste director, said the cameras would help them assess fines for those illegally dumping at bin sites. The money in the Antilitter and Beautification Fund mostly comes from WMA fees. The measure was sent on to the Rules Committee with six votes in favor and Roach absent.