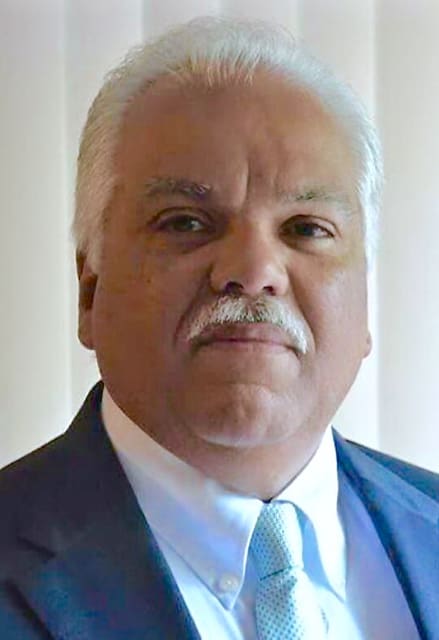 To Hipolito Castro, the U.S. Small Business Administration is laden with golden fruit, ripe for easy picking, but often overlooked.
It's been a boon to his own professional career and he's dedicated to showing others how to reap the benefits.
In December, the SBA announced Castro's appointment as senior area manager for the St. Thomas-St. John district. It had been 20 years since the administration had a physical presence in St. Thomas, although it did offer assistance through offices in St. Croix and Puerto Rico.
Born in Puerto Rico and having worked stateside, Castro said he's been visiting St. Thomas on holiday for the last 10 years or so, drawn by its recreational fishing. He welcomed the chance to move to the island. And he's been exploring St. John too, spending at least two days a month on the smaller island.
"I'm making this my home," he said.
He may eventually get a separate location, but for now Castro shares office space with the Virgin Islands Small Business Development Agency at Nisky Center. The arrangement works well because the federal and the local organizations both have the same goal – to encourage small businesses – and they frequently partner on projects.
The SBA offers some training, technical assistance and other support, but is best known for its Loan Guaranty Program.
Eligible companies can obtain loans from banks or other entities with the SBA guaranteeing repayment for up to 90 percent of the loan amount. Loan packages range from $50,000 to $5 million.
Funding is available for such things as expansion and upgrading businesses, but most of the loan guaranties go to start-ups, Castro said, because they tend to have the most trouble getting lending institutions to deal with them. They don't have historical numbers that a bank can use to judge performance and therefore are considered risky.
Castro is familiar with the bank's side of the equation. Before he joined the SBA, he worked many years in the banking industry.
"I had to turn a lot of people away" when they applied for loans. "SBA used to be the lender of last resort," he said.
Some lenders don't want to bother with the paperwork involved with SBA loan guarantees, but Castro said he familiarized himself with the administration and came to realize the paperwork was pretty much the same as what a bank commonly requires, so it really wasn't onerous.
"SBA offered me a personal opportunity of closing more loans," Castro said. "I became extremely successful by knowing what SBA has to offer."
In Fiscal Year 2015, SBA backed 22 loans for V.I. businesses, for a total of $4.5 million. In FY 2016, those numbers dropped to seven loans and $1.7 million.
The FY '16 numbers seem even worse when one considers that they represent only slightly more than one percent of the SBA loans given in the region, which is comprised of the Virgin Islands and its larger neighbor, Puerto Rico: 692 loans for a total of $95.5 million.
But things are looking up in the current fiscal year, which began in October. For the first quarter of 2016, just two V.I. loans were approved for a total of $1.5 million. In contrast, in the first quarter of 2017, there were six loans for a total of $3.7 million – an increase of 152 percent, Castro said.
Loan guarantees aren't the only thing open to new and existing V.I. businesses.
The entire territory is currently designated a HUBZone, which means qualifying V.I. companies can apply to be designated preferred bidders on federal contracts, "and some of these contracts are very lucrative," Castro said.
Essentially, a HUBZone business can bid 10 percent higher than its competitors for a contract and still be considered a responsive low bidder.
HUB stands for Historically Underutilized Business, and HUBZones reflect economically depressed areas. They were first mapped out in 1997 and are updated regularly in response to changes in local economies.
According to the SBA website, the federal government aims to award at least three percent of its prime contracts to certified businesses in HUBZones.
The eligibility requirements for certification are pretty simple, as listed on the website:
– The business must be "small" by SBA standards
– It must be owned and controlled at least 51 percent by U.S. citizens, by a community development corporation, by an agriculture cooperative or by a Native American tribe
– Its principal office must be in a HUBZone
– At least 35 percent of its employees must reside in the HUBZone
Even the largest companies in the Virgin Islands may be considered "small businesses" by the SBA definition, which, Castro explained, is based on the sales of a company and varies by industry.
"You can safely say that 99 percent of all businesses in the Virgin Islands qualify," as small businesses, he said.
The program is not only an opportunity for existing local companies, it can also draw businesses from other areas into HUBZones.
For example, Castro said a software development firm moved from Camden, New Jersey, to St. Croix so it could take advantage of the HUBZone. That resulted in a few more jobs on the island.
More typically, federal contracts go to companies that are already operating in a HUBZone. And the type of goods and services these contracts cover vary widely. For instance, Castro said, when the federal government closed three banks in Puerto Rico, it needed to dispose of the properties they held, so it contracted with local Realtors to manage those sales.
In the past year, there were eight HUBZone opportunities listed for the Virgin Islands, he said. Those included contracts for medical and dental supplies, armored car carriers and airport crash and rescue vehicles.
Part of SBA's mission is to educate entrepreneurs about how to take advantage of such opportunities.
Its website, www.sba.gov is a wealthy resource. Castro said he's still studying it himself and he urged all business owners to peruse it regularly.
More information can be obtained by stopping by the SBDA/SBA office at Nisky Center, calling Castro at 340-244-4942, or sending him email at hipolita.castro@sba.org.