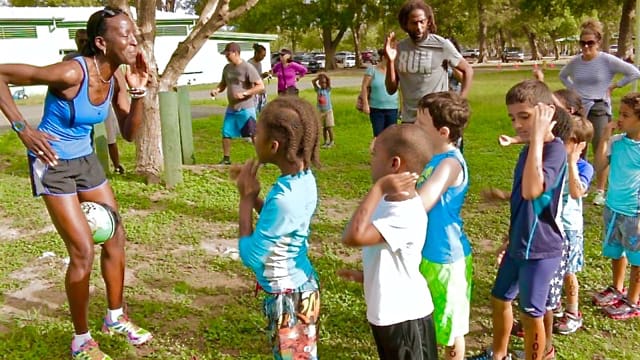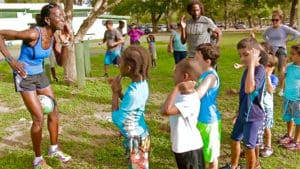 With less than a month to go before this year's Rotary Sunrise Kids Triathlon, young athletes gathered at Magens Bay Beach Saturday for a morning of training to prepare them – both physically and mentally – for the event scheduled for April 1.
Parents and their competitors were up early for Saturday's clinic, which paired athletes in each age group with an expert in each leg of the swim, bike and run course. The event is held each year on the far left side of the beach and everyone participating over the weekend got a good look at exactly what's in store for them next month.
"It's my job, for example, to teach the kids the importance of running, and to give them the best strategies, such as breathing and hand techniques, on how to get through the course," Kids Tri volunteer Shane DeGannes said Saturday. "Running is an activity that's pretty much at the root of all sports, and if they all get a handle on how to do it well, they'll be able to get through this part of the course and hopefully, be equipped to compete in other sports as well."
During the event, competitors in the 5 to 8 age group are asked to swim 25 yards, bike half a mile and run a quarter mile. Those in the 9 to 11 age group swim 100 yards, bike a mile and run half a mile. Older competitors have the farthest to go, with a 200-yard swim, a three-mile bike and a one mile run.
Parents at the clinic Saturday said the event goes a long way in getting their young athletes excited about sports while the training beforehand gives them the confidence needed to finish each part of the course.
"Athletics is very important, along with getting your children involved in some kind of regular activity," parent and Rotarian Tonia Garnett Stapleton said Saturday. "So, it's great to be able to turn that kind of regular activity into something fun for the kids that they can do with their friends in a great environment like the beach."
Stapleton's two sons were at the clinic preparing over the weekend, and she said that the event is helping to build their skills on the bike and in the water.
"They've built up a lot of confidence," she said. "They weren't so certain, they weren't as strong in the water, but coming to the trainings, like today, they're getting more comfortable with the course and all the parts of it. I know as we keep training and preparing, they'll feel better for the actual event."
Organizers added Saturday that as the event draws closer each year, they see more and more competitors practicing on their own.
"The first year we held the Kids Tri, the turnout was great, but we stopped doing the clinics for a few years because there weren't as many kids coming out," Kids Tri founder and Rotary Sunrise member Shaun Pennington said Saturday. "But then we thought that it would be worth it, no matter how many kids are out here, and it's just a wonderful sight to see, when they do come out, how much fun they have."
Pennington added that the triathlon has grown more and more each year.
"We had 150 kids the first year and none of them had done a triathlon before, but they all finished," she said. "Now, we're in our seventh year, and it's really exciting because now we have kids that have become real triathletes from this. Each year as we get closer to the event, we see the kids out here getting prepared and the triathlon has become something that we just all look forward to. It's a joyous, wonderful day."
The Kids Tri is Rotary Sunrise's biggest fundraiser, supporting several of the club's other efforts, including a new swim program for students at Addelita Cancryn Junior High School that also gives participants training in stand-up paddle boarding.
"It's really been important for us to promote physical fitness and because our club also supports children's causes, the Kids Tri has always been a great fit," Rotary Sunrise member and Kids Tri organizer Susan MacFarland-Helton said Saturday. "And it has become our biggest fundraiser, which we use to promote the club and the causes we support."
MacFarland-Helton said the club continues to look for sponsors to join the growing list of local Kids Tri supporters, which includes: the V.I. Source, FirstBank VI, Fortress Storage, Bolt Nagi PC, V.I. Lottery, Merchants Commercial Bank, Dudley, Topper and Feueurzeig, V.I. Orthopedics and Sports Medicine, Ruth Ann Magnuson, Storage on Site, Redemption Holdings, Heavy Materials and Cool Signs.
This year's Kids Tri will be held April 1, with registration beginning at Magens at 7 a.m. Parents are encouraged to be there before that time to complete sign-up and get their competitors fitted for bikes, if needed.