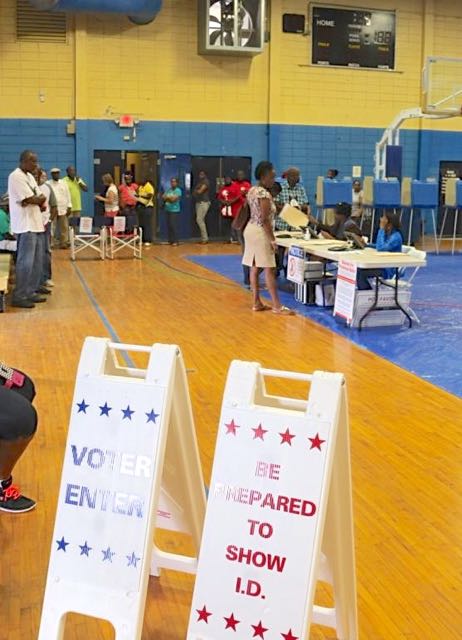 An early morning rush Tuesday allowed for decent General Election turnout numbers at St. Thomas polls and by noon, Elections System officials said one of the only concerns were getting additional workers to help man the "steady flow" of residents who said they were inspired this year to come out and "vote for change."
And in Cruz Bay, St. John, at the Julius E. Sprauve School polling station, election officials were reporting a consistent flow of voters around midday.
In particular, several voters on St. Thomas said they were backing some of younger candidates, such as Senate hopeful Janelle Sarauw, or incumbents who may still be new, including Sen. Marvin Blyden, who is still in his first term. In both instances, voters said they valued the "fresh" attitudes of the candidates and were excited to have representatives in office who haven't "been in there for years."
Several residents also said they had voted early this year, even though it is not a gubernatorial election, because they needed to feel as if they "made a difference."
"I really think you should participate in everything," said 65 year-old James Farrell as he stood outside the polls at Charlotte Amalie High School. "If it doesn't affect you positively, it will affect you negatively, and voting is the best way to determine how things are going to turn out. I did some early voting this year, trying to get some senators in, and now I'm out here encouraging others to do the same."
Farrell, like many others interviewed Tuesday, said he was not impressed by what the current slate of sitting senators has accomplished and was discouraged by what he called "the confusion" of the elections boards.
Many younger St. Thomas residents said the same thing and, while most outside the polls could not vote yet, said it was still important for them to be a part of the campaign process. Sarauw, a longtime girls' volleyball coach at CAHS, was represented by several of her players, including 15-year-old Aquoia Brady, who said that candidates like Sarauw better represent the younger generation and give a voice to its concerns.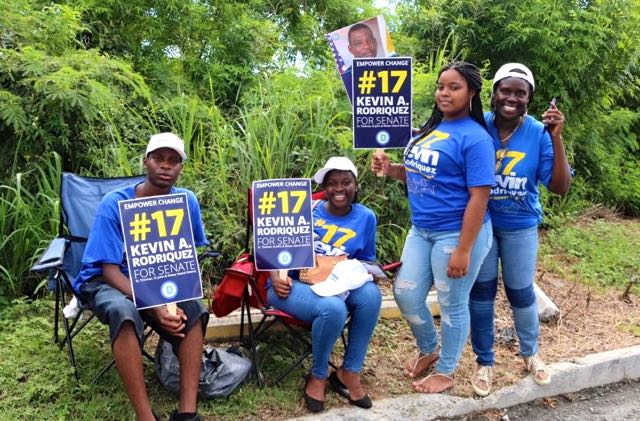 "Looking at the Senate that's in there now, I feel like nothing has changed from previous years," Brady said. "We keep voting for senators that are saying they're doing all of these things but we are not seeing them and, even though I can't vote now, I'm helping to show people that there is somebody out there they can choose who will do something. Ms. Sarauw, she's very active in our community, she's always pushing for us to get our youth more involved and she's supportive of the issues we're facing. Everybody deserves a chance to show what they can do."
At Gladys Abraham Elementary School on St. Thomas, first-time voter Melina Paiewonsky also voiced her support for change and the need for voters to elect candidates that "really represent them."
"It was really important for me to be out here today because I think that there's a lot of change that's trying to happen in the Virgin Islands and there are a lot of people running for different offices that are trying to make a change," said Paiewonsky, who is working on her graduate degree in social work. "During the campaign process I've heard about changes in education, changes in youth programs, changes in operations, and I wanted to be involved in that change and to let my voice be heard."
Paiewonsky, 28, said that candidates such as Sarauw represent a large set of voters and are pushing for things that "many of them believe in."
"For a lot of us, I think that having someone I can relate to, while also understanding the needs of the community, is important," she added.
Community needs were on the minds of many voters at the Tutu Park Mall polling site, who talked to each other while waiting in line about some of the issues they would want new candidates to address.
"Oh, I'm definitely looking for new people in there," St. Thomas resident Herman Richards said when asked about his preferences for the St. Thomas-St. John district Senate race. "There hasn't been enough action on the Government Employees Retirement System and I don't think they are dealing with price regulation and really giving these enforcement agencies what they need to make sure there's some relief for customers. There needs to be a change, and I'm out here trying to be an advocate for change, especially on those pressing issues that are affecting the people."
Logistics wise, St. Thomas-St. John Elections Board members said there were only "minor kinks" during the process. Speaking around 9 a.m., Board Chairman Arturo Watlington Jr. said that while he didn't expect huge voter turnout, maybe 40 percent for the district, there was still a need to get more workers out to the polls to help as crowds came in. By 11 a.m., both Charlotte Amalie High School and Tutu Park Mall – both combined polling sites – had made it over the 200 mark, with CAHS boasting 276 voters and Tutu Park hitting over 300.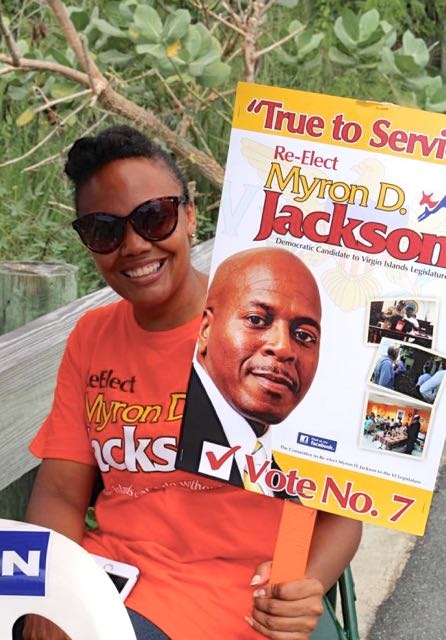 "There has been a constant flow," CAHS elections judge Jacqueline Callwood said. "From the time we opened up, we had a line, and part of that of course is because both of our sites – the cafeteria and the gym – have been merged into one. But clearly, by the turnout, people are showing that they are ready to vote; if they weren't, they would have been staggering in but, since 7 a.m., we have been constantly working."
Watlington added that the only other issue was getting campaigners outside the polls to stand the required 200 feet away from voting equipment, which Board of Elections members feared would be an issue this year. While new signs were posted around sites – many saying, "no campaigning beyond this point" – there were still supporters toting signs and handing out flyers right outside several of the polls.
"I know that there are a lot of senators and candidates who are willfully violating the 'no electioneering' or 'no campaigning' signs," Watlington said. "Either that or they are misinterpreting, because there are people right by the entrances to the polls and, by law, they can't be there. That's definitely something we need to keep working on for next time."
On St. John, by approximately 11:30 a.m., 178 individuals had cast their votes at the Julius E. Sprauve School, one of two polling places on St. John. The other polling site this year was Calabash Boom Community Center, which replaced the closed Guy H. Benjamin School.
According to Sprauve polling judge Lauren Williams, the number of voters at the polling place during the morning was higher than is typically seen in nongubernatorial election years.
"We've been having a pretty steady stream of people all throughout the day," Williams said. "Actually we are doing better than we expected, so the count is higher than it would normally be at this time of the day."
Board of Elections member Alecia Wells agreed that the election was proceeding smoothly so far. She was handing out questionnaire forms to collect information about voters' experience at the polls.
St. John voters exiting the polling station expressed varying degrees of excitement about the election and different levels of engagement in the local politics.
Business owner Gilmore Estrill said he always follows local politics closely and takes pride in doing his "civic duty" by voting. He said he cast votes for many new candidates this year.
"I think that people are upset. I think they are frustrated with the leaders," Estrill said. "We want to put in some new people and see what they can do. We've got to make sure we surround the people we like with people we also think they can work with."
St. John resident Daisy Callwood said she votes every election year, but that she doesn't otherwise consider herself involved in politics.
"I always vote, but sometimes I don't even know the candidates. I just let the Holy Spirit guide me," she said.
Lawyer Brion Morrisette said that this year he felt he knew less about the candidates on the ballot than he has in past elections.
"Like many people, I did not use my full number of votes," he said. "I didn't feel like I knew enough about the candidates. It wasn't even really until the past few days that we've had a flood of radio advertisements."
Morrisette said, however, that he would "gladly trade in all his votes" for local candidates for a chance to vote in the national presidential election, the results of which he said will be more impactful than the results of this year's local elections.
The only two local candidates to stop by the Sprauve polling place on Election Day morning were senator-at-large write in candidate Stephen Payne and St. Thomas-St. John senatorial candidate Sarauw.
"I think with the situation here in the territory, people are looking for a change, eager for a change," Sarauw said when she learned that St. John was seeing high turnout. "Running has been a rewarding experience. Come what may tonight, a movement was born."
Sarauw, a young candidate whose similarly youthful team has run an intensely media-focused campaign, said issues including the territory's crime rate, the state of the GERS system, and the need to diversify the economy have made it increasingly difficult for Virgin Islanders to be apathetic about politics.
"I think those contributing factors have led to an increase in voter awareness," she said.
Meanwhile, a short distance up the street from the polling place, a minor controversy was brewing. A group of individuals electioneering for various candidates near the Cruz Bay roundabout said they felt it was unfair that they had been moved further away from the polling place while members of write-in candidate Payne's campaign team had not been asked to move from the bandstand above the school ballfield, where they said they were hosting a fish fry.
Williams agreed that the fish fry was "technically in violation" of a law stating that all Election Day campaigning must be done 200 feet away from the boundaries of the polling station, which she clarified meant Sprauve School itself, not simply the room in which voting takes place.
"We are not sure what decision is being made about that. The Board [of Elections] and police will have to make that determination. Right now we are just trying to focus on what is going on inside," she said.