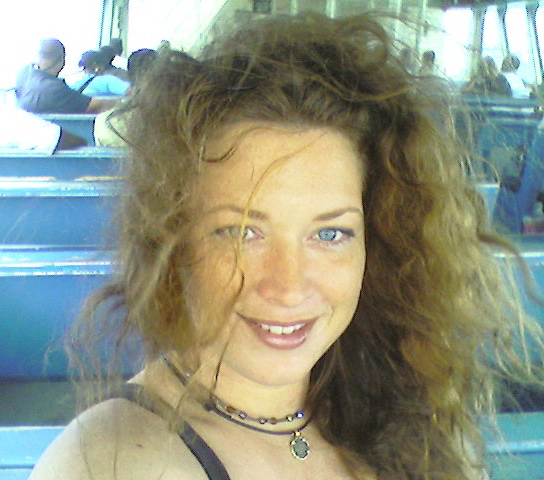 It's a little like viewing life through a fun house mirror, seeing works by artist Kathryn "Kat" Stevens. The representation is obvious, but there's something else – a little quirk, a bit of challenge, a provocation that tickles the viewer's perception and defies classification.
Trying to describe her style to a lay person, Stevens says she's been concentrating lately on realism, then adds, "There was always a kind of tongue-in-cheek realism."
Take her depiction of a young woman wearing a bathing suit, her body arched in an acrobatic backbend. The human form and the background – the sea and clouds – all project a representational quality. But the woman is not on the beach; she's floating above the ocean. Inspired by a line in a poem by Erin Hanson that celebrates freedom over fear, Stevens titled the piece "What If I Fly?"
Then there's her peacock. This four-foot figure can't be described as realistic, but it is a traditional rendering in that it glories in the color and the sweep of the beautiful tail, fanned out in stunning presentation, and the dazzlingly blue head, proudly topped with a jewel-like crown. But then, you notice the bird legs, spindly and scrawny, and humbling.
"Nice Legs" Stevens calls it.
She obviously enjoys teasing the viewer, infusing much of her work with humor.
While she draws heavily on her island surroundings for subject matter, she doesn't consider herself a Caribbean artist, per se. And in fact almost anything can end up in a Stevens' work.
"It's things that I find beautiful, or at least amazing," Stevens said. "It's really something that tells a story."
Her medium is equally broad.
"I have worked in charcoal, pastels, watercolor, pen and ink, acrylics, textiles, batik, sewing and upholstering, wood carving, sign making, tattoo design, interior design, carpentry and restoration, the palm sheath work, found object artwork, graphic design work, mural art, furniture restoration – and I love to bake," she said.
With the help of an artist friend she has been exploring oil painting.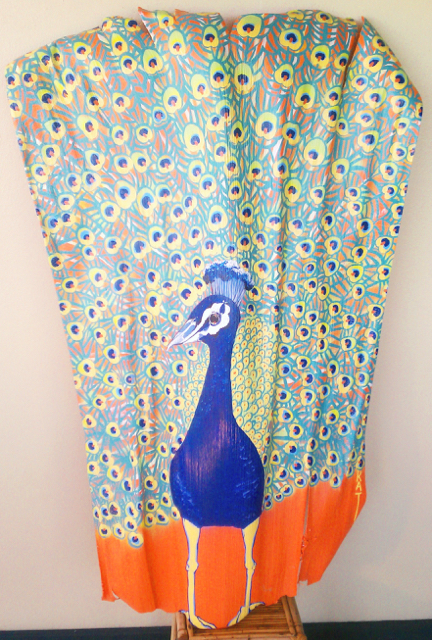 "In the last five years, I have fallen in love with oil paint … it was always a mystery to me."
Her interest in creative arts is life long. She spent her earliest years in a small town in Indiana, and as a teenager moved with her family to Cincinnati.
"The first thing I did was just get in the car and go to the art museum," she said.
But in those days, her art was just a hobby. She did take a drawing class outside of school when she was in junior high school, but for the most part, she is self taught, gleaning guidance from books and from viewing other artists' works.
When she went to college, she studied English and briefly considered pre-med. Then she spent many years working in the restaurant business. In the 1990s she moved with her then-husband, a chef, to St. Thomas where she "fell in love with the island on the water." She landed a job in charter boat services and transitioned from that to selling yacht vacations. She had a few "great jobs" but nothing turned into a career.
Then, about 12 years ago, a friend wanted a sign for his business. He knew Stevens was talented and asked her to make it.
"That job led to another job," she said.
She branched out from sign making to other production art, such as Christmas ornaments.
"So I started, and I never stopped. It became something I had to do all the time …The thing I've always found solace in is the arts … I just find something amazing every day."
Stevens exhibits regularly at Mango Tango Art Gallery and has participated in many art shows in the past decade.
"It's been a lot of hard work to get known here," she said. But she's making her living now doing what she loves.
Stevens donates works for various events and fund-raisers, including the Bastille Day fishing tournament and the Children's Museum.
"People should give where their heart is," she said. She's looking now for organizations that protect and preserve coral reefs. "The prettiest part of the island is underwater. They're not too many places I'm happier than on the water."
Except, maybe, in an art studio.
"When I get behind a canvas, I'm just comfortable there," Stevens said.
"I always tell people, even if you are not looking for an art work, go to art galleries, go to museums, go see the work. Artists create, and want to share their work. It's the way we communicate, and without people, well, we would just be talking to walls."