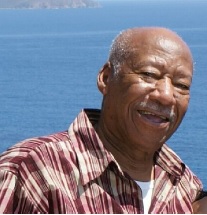 Austin Darius Dalmida Sr. died on Oct. 5 in Florida. He was 80 years old.
Austin Darius Dalmida Sr. is survived by his ex-wives: Beatrice Stephens-Dalmida, Uris Jordan-Dalmida* and Helen Francis*; children: Barbara Dalmida-Thompson, Beulah Dalmida-Smith, Austin Dalmida Jr., Delroy Dalmida, Elroy Dalmida, Anna Dalmida-Tutien, Valerius Dalmida and Richard Dalmida; stepchildren: Alrich Paris, Vincent Francis, Ansel, Kelson and Derron Jordon; sons-in-law: Mervin Thompson and Joel Tutien; daughters-in-law: Rosemary Dalmida, Sandra Dalmida, Tanisha Dalmida, Cassandra Dalmida, Tymeka Dalmida-James and Simra Dalmida; grandchildren: Roslynn, Stephen, Raphael, Travis, MeKala, Winston Jr., Whitney, Sage, Renaldo Jr., RaeQuon, RaeShon, JoAnna, Joel Alexander II, Jonathan, David, Cortnei, Joseph, Joshua, Jordan, Ebony, Cassandra, Onnia, Richard Jr., Rishaliah, Lorenzo, Ephraim, Onna and Daniel; and step-grandchildren: Jasmine, Anna, Carmila, Suri, Savannah, Vanessa, Dallas, D'Kiesha, Devontea, Daiheem, Samiya, Dayshawn, Tamaya and Darion.
He is also survived by great-grandchildren: JahNyah, Rashedah, SaNyah, JahHyrah, Rakhiah, Aaliyah, Jonathan, Tianna and Dasia; aunt and uncles: Gutliffe, Cornelius and Matthias; sisters: Anna Dalmida-Bishop, Ina Dalmida, Muriel Dalmyda and Eirleen Dalmida-January; brother-in-law, George January; sister-in-law, Ruby George; nieces and nephews: Faye Robinson*, Alvis Christian Sr.*, Lionel Martell*, Clayton Harris*, Earla Jackson*, Beverly Dalmida, Carol Bishop-Groce*, Herbert, Keith and Irvin Bishop, David, Roxanne, Judith, Ameedah, Joanne, Jasmine, Janine, Germaine, Julene, Monica*, Nikki, Carl, Lois, Joyce and John; and great nieces and nephews: Lorraine*, Leayle*, Lesmore, Ludence, Leverly, Alvis Jr.*, Linda*, Lester, Lucinda, Lenese, Eddie Groce, Michelle, Michael, Corrine, Monique, Gene, Vince, Georges, Elvis, Monique, Duane, Greg, Moses, Eboni, Kenya, Lekim, Jacob, Vanessa, Khryz and John Jr.
Other survivors include great-great nieces and nephews: too numerous to mention; godchildren: Debra Roberts-Liburd, Daryl Hodge and Louis Lomax; special family and friends * William "Eddie" Smith, Linda Francis, Louise Hendrinks, Rita Sprauve, Godwin Stevens, Warren Wells, Jerry Frett, Eddie Matthias, Sonia, Candida, Charles, Ruth, Almando "Rocky" Liburd, the Penn, Parrillas, Anthony, Jacksons, Boynes family, Sprauve family, Smith family, Powell family, Roberts family, George family, Jahannes family, Samuel family, Terrance Holland, Dalmida and Matthias and Robinson families.
Relatives and friends are respectfully invited to attend the viewing at 9 a.m. followed by the service at 10 a.m. on Saturday, Oct. 29, at Emmaus Moravian Church, St. John. Interment will be at Calabash Boom Cemetery, St. John.
Arrangements are under the care of Hurley Funeral Home and Cremation Center of St. Thomas, St. John, St. Croix and Tortola.
For directions and online condolences please visit us at www.hurleydavisfuneralhome.com