Volunteer effort by a St. Croix resident with connections has put the Virgin Islands on the map – the Google map – for the first time, and enhanced years of work by the government to offer a consistent and modern street mapping system for the territory.
In just a little less than six months, N2theBlue Scuba Diving owner Kirk Thompson has mapped most of St. Croix's golf courses, famous hikes and beaches, and in the next month will upload 360-degree imagery of roads and neighborhoods. The V.I. government, through the Tourism Department and Lieutenant Governor's Office, has come on board in the last few weeks, flying Thompson over to St. John, which is about 65 percent mapped, and St. Thomas, which Thompson said is about six to nine percent mapped.
"The camera was supposed to have been returned last week, but we managed to keep it for an extra week and get what we could of St. Thomas and St. John complete in just four days," Thompson said Monday.
Thompson was inspired to start the project a few years ago after he moved to St. Croix, bought N2theBlue with his business partner, and found that residents and visitors heading out to the business often got lost. A former Silicon Valley analyst, Thompson said he called up his contacts at Google and arranged to borrow one of the company's Street View Trekker cameras, which he said had never before been checked out by anyone outside of the company or the U.S. government.
"This has been a volunteer effort with our time and money to get this started, and it all began with wanting to have our businesses being listed," Thompson said. "The results of it though is that it has gone to help out all the businesses, so we drove 1,100 miles of road on St. Croix, did the golf courses, a lot of the famous hikes and beaches, and so far, those are already available and uploaded."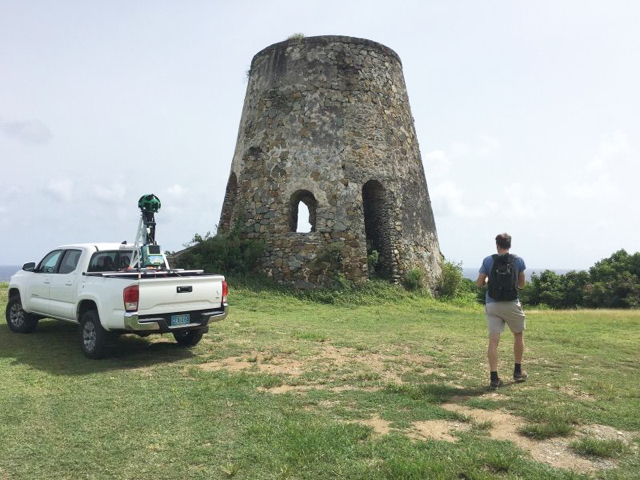 Thompson explained that while images of the territory are available on Google satellite feeds, this project gives the viewer a street view. The Street View Trekker is mounted in a backpack and stands 10 feet tall, or about three to four feet above a truck bed, and Thompson said that its 15 cameras do a burst every half a second.
"So, as you're driving down the road, a burst of pictures are taken and when they're uploaded, you can go online to Google Maps, grab the little orange guy at the bottom of your screen and put him directly onto one of the hikes or roads," Thompson said. "You can just click your mouse down the street and look around, in a 360-degree view, top to bottom and just walk around the neighborhoods, walk around the trails, walk around the houses and see what it's like."
Having this kind of imagery online kills several birds with one stone, Thompson said.
"The most important part of this is how it develops our economy," he said. "If guests to the islands can get from one place to the next or investors can see where they will be before they go, it is huge for the economy and creates just this continuous and beautiful customer experience. And, it enhances the safety of the people on island, so that emergency medical services can get to and from a person, or so that a person can get to and from police or a hospital. The USVI is the first in the entire Caribbean to be on Google Maps this way, and it's an honor to be able to do this."