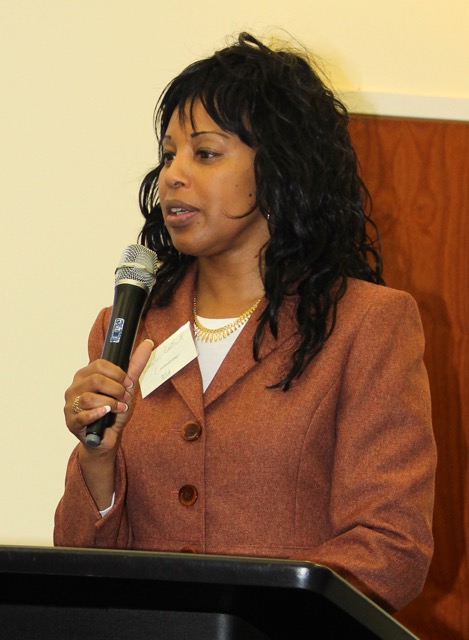 When key members of the disabled community and its advocates met at the University of the Virgin Islands on Monday morning to discuss how to employ more persons with disabilities, the main takeaway was that more collaboration is needed with private companies that are largely overlooking an untapped, loyal workforce.
Hosted by the V.I. University Center for Excellence in Developmental Disabilities on the St. Thomas campus, the 12th annual "Voices that Count" conference brought together dozens of people with disabilities, their family members and service providers, as well as advocates and members of political office. The focus of this year's meeting, titled "My Disability is One Part of Who I Am," was how to open up more employment opportunities for disabled persons with hearing, seeing and mobility conditions.
According to the Bureau of Labor Statistics, only 32 percent of working age people with disabilities were employed in 2012, compared to 77 percent of individuals without disabilities.
At 15 percent, the employment rate for disabled persons is double what it is for persons without disabilities. Those figures underscore the need to create more employment opportunities for the disabled.
Throughout the morning-long conference, speakers and audience members emphasized the benefits of hiring disabled persons, stating the group tends to be reliable and on time.
Yegin Habtes, executive director of VIUCEDD, said that the turnover rate for disabled persons is much lower than for other workers, especially ones that just come to the territory for the winter season.
"When you hire people with a disability, you are hiring them for the rest of their lives," said Dr. Anthony Francis, chair of the Assistive Technology Board of Trustees.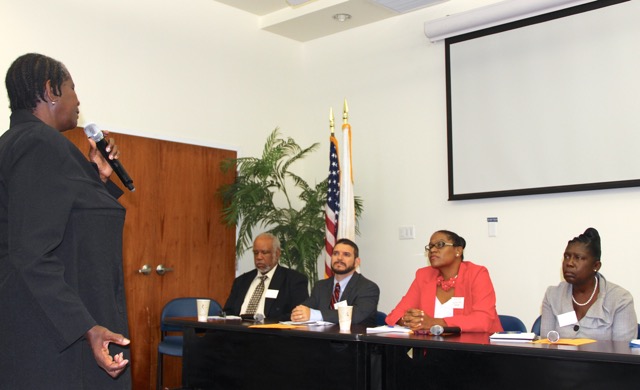 Commissioner Janet LaBreck of the U.S. Dept. of Education's Rehabilitation Administration Service came from Washington, D.C., to attend the event, giving a powerful keynote address that recalled her own struggle with a degenerative eye condition that caused her to start losing her sight at 10 years old.
"Thinking about going to work is something the disabled community worries about," LaBreck said. "From a young age, we're asked what we want to do when we grow up, but there are many employment barriers for the disabled, largely due to perception."
LaBreck said that the rate of poverty is two times more for disabled people because they lack job training and employment opportunities. "Education is a pathway out of poverty and to economic self-sufficiency," she said.
As a whole, the U.S. is facing a skills-shortage gap as the domestic workforce's abilities aren't progressing as fast as technology is advancing. The recently passed Workforce Innovation and Opportunity Act provides funding for jobs-skill training and employment opportunities for the U.S. workforce, including for disabled persons, she said.
"If the country is facing a skills gap, then this is the time we should ensure that people with disabilities are part of the training," LaBreck said. Many disabled people in the territory lack vocational rehabilitation training, so they often don't have the skills to navigate the demands of the workforce.
During the panel discussion, employees representing various government departments and local businesses detailed the efforts they're doing – or should be doing – to promote more training and hiring of persons with disabilities.
Jamila Russell, territorial coordinator for the Americans with Disabilities Act in the Office of the Governor, said the right connections aren't being made to encourage businesses to hire people with disabilities. "People with disabilities can do jobs just as well as anyone else can," she said.
John Osoinach, director of the Small Business Development Center at UVI, said, "I hear complaints from the small business community here that they can't get people to show up consistently or on time. Hiring people with disabilities is just value-added, as we can all agree based on the stories we've heard today."
In order to be hired, disabled persons still need job-skills training, reminded Felicia Blyden of the department of human services. "We have the resources, but we need to partner with community businesses to get on-the-job skill training," she said.
According to Nicole Jacobs, director of human resources at the V.I. Department of Education, her entity partners with human resources and the Department of Labor to give disabled high school students career training throughout the school year along with stipends for their work.
Federal regulations are another avenue for encouraging companies to hire people with disabilities, said Noah Sacks, assistant attorney in the U.S. Attorney's Office for the District of the V.I.
A new section of the Rehabilitation Act of 1973 encourages companies that receive federal contracts to hire people with disabilities, but the regulation is just a target goal that can't be enforced. In that way it's more like a yardstick for measuring progress, Sacks said.
Denise Nibbs of the V.I. Water and Power Authority and Desserie Harrigan of the V.I. Port Authority both committed their agencies' support for hiring people with disabilities and allowing more school-aged children with disabilities to get exposure to the type of jobs they offer.
Harrigan said the V.I. Port Authority "will extend its arms to persons with disabilities."
LaBreck said, "It isn't about the disability. It's about bringing on a person who is committed to the bottom line of the nation's workforce. I urge you to continue doing this work – there are open-minded employers and they are the best messengers."