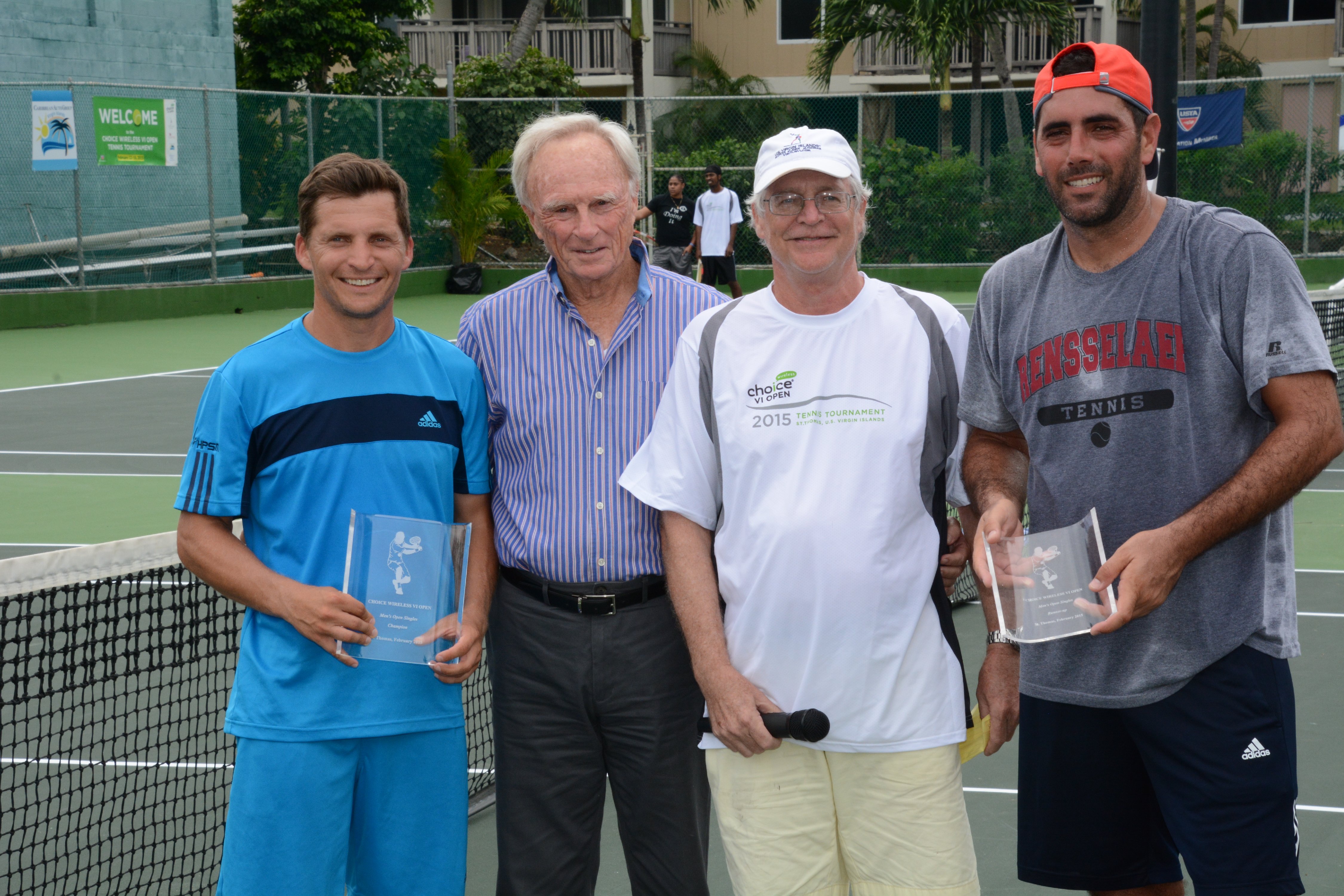 Rain may have dampened some of the play but not the spirit and world-class competition at the Choice Wireless V.I. Open Tennis Tournament. Hosted Feb. 12-16 by the St. Thomas Yacht Club, nearly 90 tennis players from the U.S. Virgin Islands, Puerto Rico, the U.S. Mainland, Central America and Europe – which included professional as well as a strong contingent of amateur or B division competitors – maintained this tournament's reputation as the 'Wimbledon of the Caribbean.'
Accurately matching his strengths to his opponent's weaknesses led Latvia's Adrians Zguns to triumph over Puerto Rico's Gabriel Montilla (6-1, 6-4) in the Men's Open Singles.
"He was a serve and volley kind of guy. I needed to return well and keep passing him with the next shot to win," said Zguns, who played in this class last year and was eliminated in the semi-finals.
The Women's Open Singles class was a new addition. Ecuador's Mariana Correa defeated Puerto Rico's Gabriela Davila (6-0, 6-0) and St. Thomas' Eda Penn-Fraser (6-0, 6-0) in round robin play.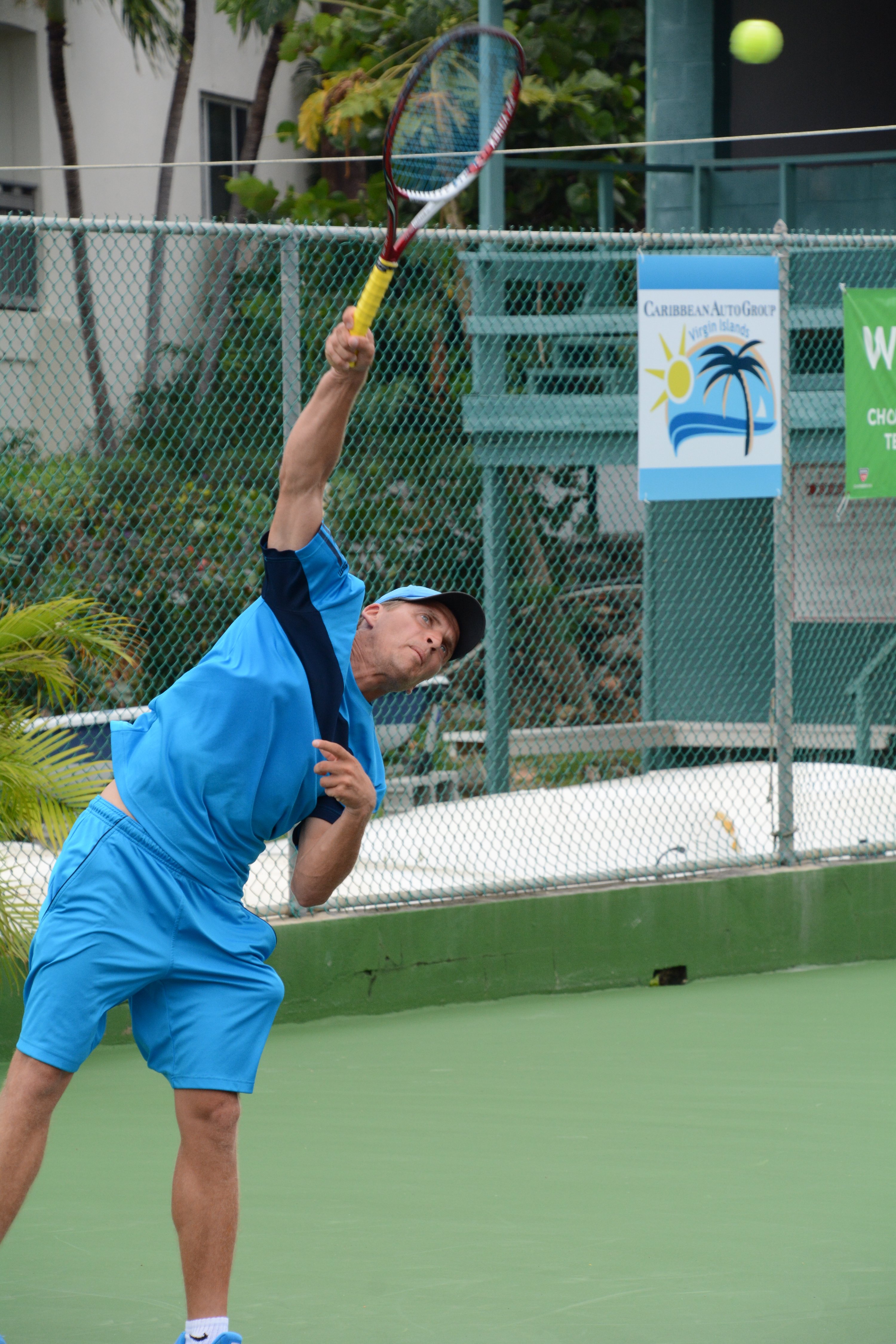 "I was very glad the organizers added this class. I've never been to the Virgin Islands and this gave me an opportunity to visit. I love playing here," said Correa, who is the author of the 2014-published book, "Playing Tennis to Win: The Guidebook to Success."
In NTRP Men's 3.5 Singles, Puerto Rico's Carlos Garcia-Ortiz beat North Carolina's Walt Basnight (6-0, 6-1).
Puerto Rico's Yelitza Lopez successfully defended her title in the NTRP Women's 4.5 Singles by winning over St. Thomas' Kerry Clifford (6-3, 6-2).
The National Tennis Rating Program (NTRP) is for determining levels of competition for United States Tennis Association (USTA) League.
Another new class this year was NTRP Women's 2.0 Singles. St. Thomas' Charlene Fortin defeated fellow islander Caryn Conaway (6-1, 6-2).
"I started playing tennis six months ago, and I wanted to see my level. Tournament play taught me a lot about scoring and gaming in three days," said Fortin.
St. Thomas' Louis Taylor defended his title in the Men's 60-plus Doubles playing with fellow islander Jubilani Rees against the V.I.' team of St. Thomas' George Newton and St. Croix's Stan Myrie-G (6-4, 6-3).
"We knew that we couldn't beat George or Stan on brains because they know more about the sport than anyone I know, so we had to beat them physically…keep them off balance. Jubilani also gave our team an advantage since he's a lefty player," Taylor said.
The Puerto Rican team of Vanessa Ugobono and Joseph Salas beat St. Thomas' Jennifer Coffindaffer and Virginia's Chris Catignani (6-2, 6-2) in NTRP Combined Mixed 8.0 Doubles.
In NRTP Combined Mixed Open Doubles, St. Thomas' James Hosie and Correa won in round robin play by triumphing over the teams of St. Thomas' Julio Martinez and Penn-Fraser (6-0, 6-0), St. Thomas' Sacha Gumbs and Kirk Thomas (6-0, 6-3) and Puerto Rico's Davila and Gabriel Montilla (6-4, 6-3).
Rain forced the cancellation of finals play in the remaining classes; however, each of these classes completed their semi-finals.
Puerto Rico's Yamil Laureano and Washington's Kosei Ohno ended as finalists in NTRP Men's 4.5 Singles. In NTRP Women's 3.5 Singles, Lydia Francis and Joyce Wensel-Bailey were finalists. St. Thomas' Coffindaffer and Tanya Ferris as well as Puerto Rico's Lopez and Ugobono ended as finalists in NTRP Combined Women's 8.0 Doubles. In Men's Open Doubles, finalists were Zguns and Florida's Trevor Foshey as well as the Texas team of Cosmit Cotet and Emanuel Brighiu. Finally, Puerto Rico's Garcia-Ortiz and Javier De Leon ended as finalists along with St. Thomas' Gabriel Ibarra and Gabriel Villegas in the NTRP Combined Men's 8.0 Doubles.
Over $13,000 in prize money was awarded in addition to engraved trophies.
Matches were officiated by USTA and International Tennis Federation head referee Hector Figueroa from Puerto Rico. Carlos Juarbe and Javier Roman served as USTA umpires; both have officiated at the US Open. The Choice Wireless V.I. Open Tennis Tournament is the only tennis tournament in the U.S. Virgin Islands sanctioned by the USTA's Caribbean District.
"Despite the interruption of heavy rain, spirits among the players were high, the camaraderie wonderful and everyone enjoyed themselves. It was incredible to see some great tennis up close on our newly-resurfaced courts," said tournament director Bill Newbold.
The Choice Wireless VI Open Tennis Tournament is sponsored by Choice Wireless, the U.S. Virgin Islands Department of Tourism, St. Thomas Yacht Club and USTA Caribbean.
For more information, call 777-6156 or e-mail: viopen@choice-wireless.vi