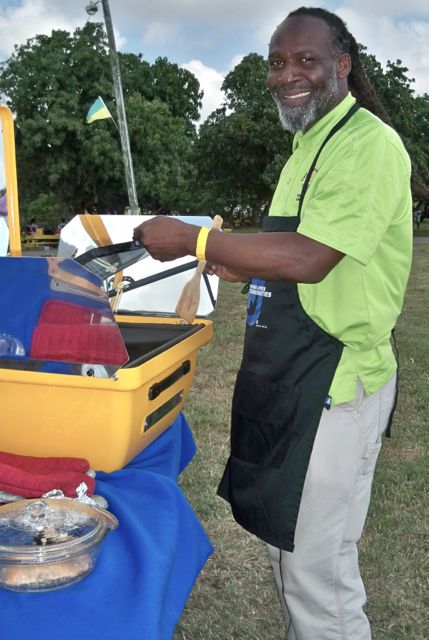 The 44th Agriculture and Food Fair of the U.S. Virgin Islands had something for everyone. There was fabulous food and friends connecting. The flowers and fruit in the farmers market were a feast for the eyes. And there were fluffy chicks and fancy pigeons for folks to faun over.
Just like county fairs everywhere, there were amusement park rides such as the Tilt-O-Whirl and the Roundup. Young couples cuddled fuzzy stuffed animals won at games of skill as they strolled down the midway. Kids ran from cage to pen checking out the animals at the livestock pavilion. And lots of folks were carrying bags of flowers, fresh fruit and vegetables. And of course there was an abundance of local food and fruit drinks for sale.
Monday afternoon the rain came, but people just sought shelter and waited it out. The music continued under tents and the cooking demonstrations went on as scheduled under a canopy.
Natalie Ballantine showed a couple dozen people how she makes fungi and kallaloo.
"I share, educate, enlighten and give folks a taste of culture," Ballantine said. She said not everyone knows how to make kallaloo, adding that young people aren't following the tradition of making the soup.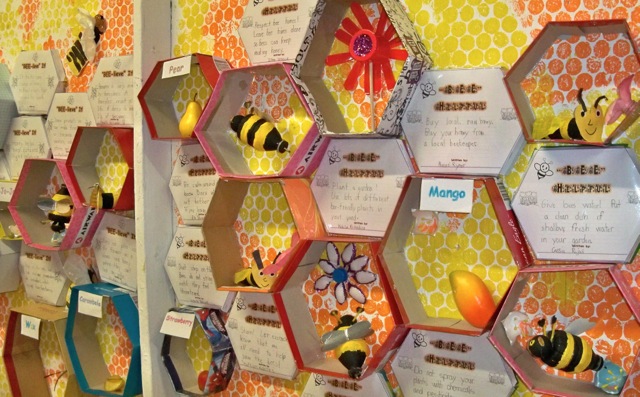 She showed folks the herbs she puts in the stock made with fish, conch, pig's feet and crabs. And she showed how she whips up fungi. She gave samples to all the people in attendance. The fungi was the perfect firmness and consistency.
Following that, under the same canopy, was a basket weaving demonstration by Eileen Huggins.
More people crowded in to get out of the rain and ended up watching the demonstration. Huggins made from rattan a Crucian market basket that resembles an egg basket. Huggins, who is self-taught and may be the only basket weaver on St. Croix, said she wished young people would take up the art.
"Kids don't want to make baskets. They want to play with electronic games," Huggins said.
Janet Joseph from Antigua said she enjoyed seeing how the kallaloo was made on St. Croix.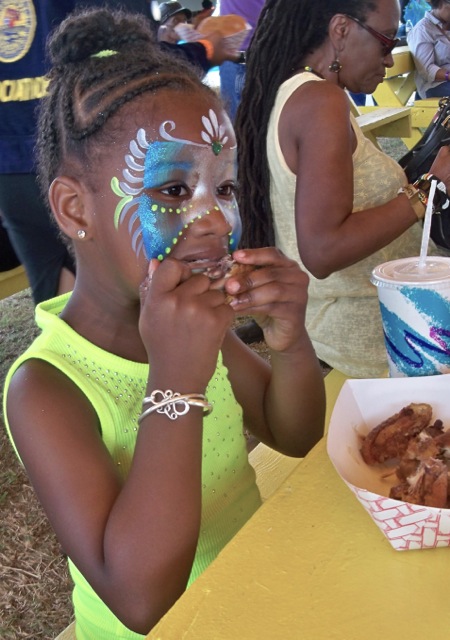 St. Croix resident Loyd Joseph said he was going to start making kallaloo after seeing the demonstration.
Over in the livestock pavilion people took shelter and at the same time were introduced to Skippy, the three-legged goat.
Pony Club volunteer Jane Coles said the goat had been attacked by dogs and was adopted as a poster child. Coles explained the goat was an example of what happens when people don't know where their dogs are.
In the education pavilion, this year's theme of "Agriculture: The Heart of it All" was carried out by local students.
The kindergarten students at Alexander Henderson Elementary School competed right along with the older students. Sarah Dahl-Smith, director of Youth Activities, said the little ones did an excellent job showing the life and importance of honeybees.
"Our young people are doing amazing things opening doors and pathways," Dahl-Smith said.
The Future Farmers of America from Arthur A. Richards Junior High took the Educational Exhibit Sweepstakes Award.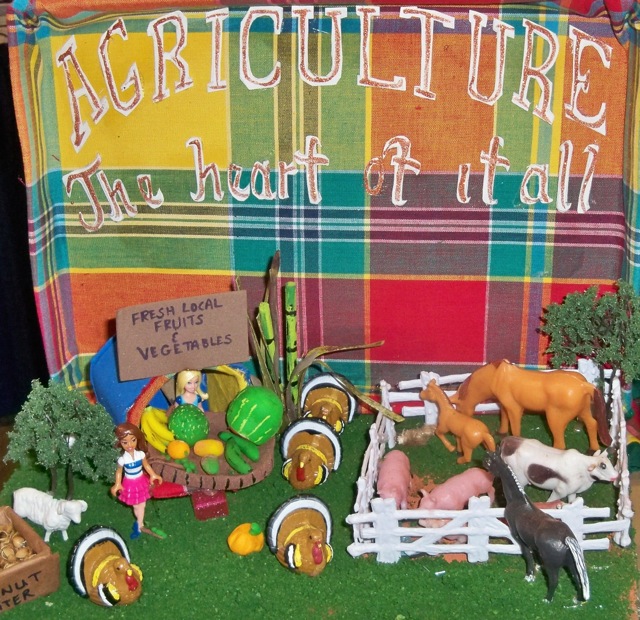 Jack Ramsdell, an eighth-grade student in the Arthur A. Richards Junior High Future Farmers of America Club, said the members worked long and hard on the project.
"We showed agriculture at the heart of it all providing food and money," Ramsdell said. "Without agriculture the world wouldn't survive."
Dahl-Smith said the students are judged on craftsmanship, creativity, how well they illustrate the theme and eye-appeal.
At the V.I. Energy Office booth, Carl Joseph was cooking local vegetables and salmon in a solar oven.
The Health Department was giving flu shots, checking blood pressure and sugar levels.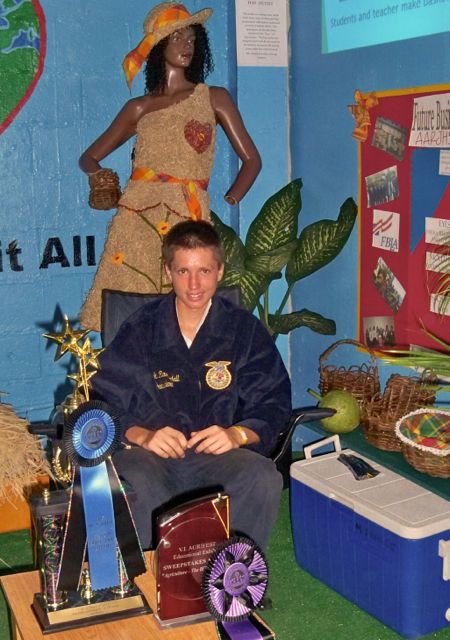 There were more than a dozen informational tables set up in the University of the Virgin Islands tent.
And just about every government agency had a table with giveaways and information.
Local and neighboring island vendors had all kinds of baubles, bags, body products and books for sale. The food vendors had something for everyone, selling pates, salt fish, red grout, ice cream, popcorn, chicken and much, much more.
Telsalda Josiah said she comes to the fair for enrichment and cultural experiences. And Jeanette Phillips, with two children in tow, said they come to the fair for something fun to do. T'Nashe Maynard, age 7, said the best part about the fair is the cows.
Willard John, director of special activities, said around 7,000 people attended Saturday and there were close to 9,000 in attendance Sunday. Monday appeared pretty busy.
John said numbers were down as a result of Hovensa closing and people leaving St. Croix.
The fair is sponsored by the V.I Department of Agriculture, UVI Cooperative Extension Services and the V.I. Department of Tourism. Innovative Companies are a supporting sponsor.