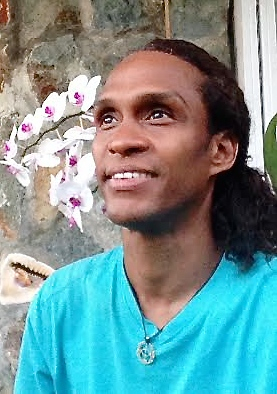 For artist/designer Mario Dennis, it's all about Beauty.
Whether it's arranging flowers, designing a restaurant, decorating a home, creating a costume, painting a canvas, or nurturing a friendship, it's got to be fabulous.
"I love to transform things," said the St. Thomas native, ticking off a long list of mediums he's mastered, including frescoes, gold leaf, marbling and burled surfaces. "I make wood look like metal, metal look like wood … I can take mundane things and make them spectacular."
With a laugh he adds, "I wanted to be a magician when I was growing up."
Dennis waxes poetic when he talks of his childhood. He spent much of it climbing genip trees and running barefoot on a large tract of undeveloped land on the island's East End.
"There's a lot to look at on 12 acres," he said. "I loved the nature, the colors, all these textures." In theory every child in the extended family "owned" a piece of the property. "I had the grasslands and the butterfly country. My brother had the tamarind trees." He said he spent many hours watching the hummingbirds attracted to the bird feeder that his grandfather built.
He was also close to his paternal grandmother, Martha Jennings. Originally from Tortola, she lived much of her life on St. Thomas where she sold potted plants and maubi at Market Square and where, her grandson says, she provided him with good counsel and guidance.
"I'm definitely a Caribbean person," Dennis said. His mother is from Puerto Rico, his father from St. Thomas. His own ethnicity includes African, Spanish, Taino, "and maybe even a little British and Danish too."
Dennis attended Sts. Peter and Paul School where he earned good grades that made his parents think he should study science and perhaps become a doctor, but by the time he graduated in 1986, he had other plans.
Early in his teens, he took an art course that he says was eye-opening. He decided "it's the way I wanted to experience my life."
He's grateful to a number of people who encouraged and mentored him, including photographer Don Hebert and photographer/teacher Barbara Young. He was a bit of a prodigy, invited to show his works at the old L'Escargot restaurant while he was still in high school.
"Originally I really wanted to paint," he said. "I thought that's what it meant to be an artist."
He went to New York City to attend New York University, but soon realized "NYU's really expensive. " He didn't get a degree but completed course work at both The New School and Parsons New School of Design. He took on a number of apprenticeships with design companies and various artists and learned a lot from them.
They all gave him the same advice: "You better learn to do many different things." He says he didn't know an artist in New York who didn't heed that advice, and he learned to apply his artistry to many things besides a canvas.
He also learned a lot about people. At first, he said, he was embarrassed in New York by his island upbringing, his lack of sophistication, but then he came to embrace it.
"If you want to make a statement, you have to stand out," he said. So he cultivated his image as the island boy. He enjoyed the excitement of the city for about 10 years before he moved back home.
"As progressive as New York is, I still detected a fair amount of racism, and I wasn't raised with it here – not to mention that is was cold!"
Back on St. Thomas he wasted no time getting involved in anything that would allow him to exercise his artistic talents.
"I wanted to change things. I wanted to shake it up," he said. Years ago, there seemed to be confining – if unwritten – rules governing the island flower business, for instance. Only reds and pink blossoms were allowed, only certain types of plants were featured.
"There was no such thing as a hydrangea here. You couldn't find a cymbidium orchid here."
For his decorating projects, he routinely uses a lot of local plants that grow wild, but he wanted the freedom to add exotics from other places too.
He opened a shop on Back Street, the Liberated Artist and Floral Design, later changed to the Liberated Lotus Flowers and Designs. The early years were lean.
"I didn't have any money," he said. When the friends with whom he was sharing an apartment left the island, he also didn't have a home anymore. So he took up residence near his business. For more than two years, "I lived in the courtyard of that shop," he said. "I was a liberated artist, living in the courtyard."
But he was determined. If he were easily discouraged, he would have quit before he started. He actually opened his business the day before Hurricane Marilyn hit the territory in September 1995 and wiped out 80 percent of St. Thomas. He says he did leave for a while – going up to New York to stay a week with an old friend who heard about the devastation and felt sorry for him, actress Marisa Tomei. But he soon returned.
His big break came when he was hired to decorate a St. Thomas-St. John Chamber of Commerce event.
"We used a lot of natural materials," like local vines and ground orchids, he said. And friends and wholesale houses in New York supplied more florals. His work was well received and his reputation was established.
"My phone never really stopped ringing after that," he said.
These days he works out of his home – a real one, with walls and a roof – and can be reached at liberatedlotus@earthlink.net. He has a number of clients, but with Dennis it's hard to distinguish clients from friends. For instance, there's his longtime association with Judi Nagelberg, who runs Island Meetings and Incentives and arranges activities for visiting groups. Dennis calls her his "fairy godmother."
Then there's Lorna Webster, owner of Blooming Things, who he says could be very tough competition for him, but instead they often work together.
"I feel like the island is all related in some way," Dennis said. Because of the economic downturn, "the pie has been cut smaller. A lot of people are getting together here. That's really not a bad thing … I think there's enough for everyone."
While he is clearly a very social person, Dennis is also highly spiritual. He was raised Catholic and has studied a number of religions, finding value in all of them. Yoruba is part of his African heritage, and he is much drawn to the mysticism of Eastern religions; he's studied Hinduism for many years.
"I believe that this world is full," he said. "I think that scarcity is an illusion."
The story goes that when Salvador Dali lost all his money, he persisted in leaving big tips. "When things are looking bad, you give a little bit more," Dennis explained. We can all fight over a perceived lack of resources, or we can pull together. "When we are together, we're full."
Like magic. Beautiful.