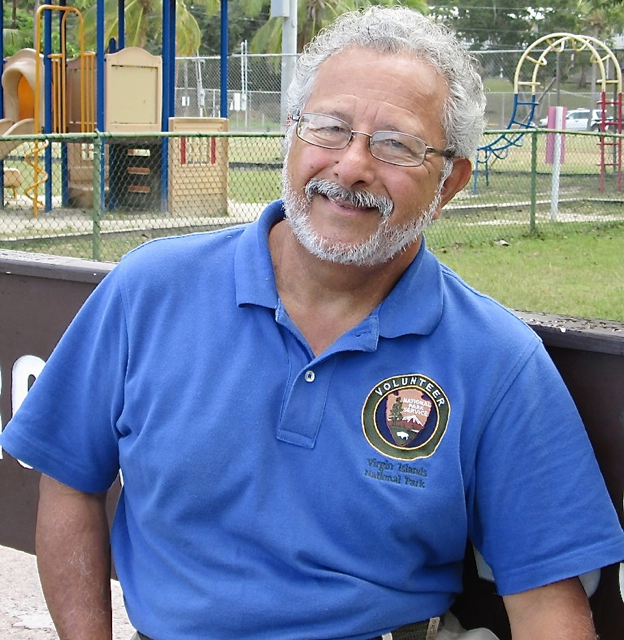 To Mike Marruquin, keeping busy is the key to retiring successfully. He's busy at least four days of the week volunteering for the Friends and the park in various capacities.
"Mike is the consummate volunteer, always willing to help. It doesn't matter whether it is fun stuff like helping lead the Reef Bay hike or assisting at events, or routine stuff like stuffing envelopes or entering data in a computer; Mike is always willing and eager to do what is needed," Friends president Joe Kessler said.
Marruquin, 64, arrived in May 2013 to join his wife Elaina, who the year before had moved to the island from their home in San Antonio, Texas, for a job as assistant finance director at the Westin Resort and Villas. He was on St. John less than two weeks when he was at the park looking for volunteer opportunities.
"You have to find something to do," he said.
He did. Less than a year after arriving on island he was named volunteer4 of the year for the Friends of V.I. National Park.
While it's tempting to fall into the vacation mode of beaches and bars, he said, it's not a good option unless you want to become an alcoholic.
"After two weeks reality sinks in," he said.
Marruquin jumped right into volunteering. The day after he signed up, the park sent him to lead a hike around the Cinnamon Bay loop trail, a job that whetted his appetite for more.
In addition to helping at the Friends office when needed, he's the tail man on the park's popular Reef Bay hikes. This means he brings up the rear to make sure no one gets left behind. Marruquin expects he'll get a bit more training and then will be able to lead that hike, a boon for the park since it's very short staffed.
An accountant who retired just days before he moved to St. John from a certified public accounting firm in San Antonio after 42 years on job, Marruquin said he's had job offers in his field as well as others. He speaks fluent Spanish, but turned down a retail job offer where that skill was a plus because it would cut into his volunteer time.
In addition to his four days volunteering at the park, he and his wife spend weekends hiking the trails. Laughing, he said that even when he's out hiking with his wife, he's quick to volunteer information about the area to people they meet along the way.
There have been some adjustments, however. He said he initially found the supermarket prices shocking, but after one trip to St. Thomas to stock up, they decided to stick to St. John shopping.
"It was more expensive to go to St. Thomas because we bought junk we didn't need," he said.
He said like many St. John residents, he's become very savvy at shopping the sales at St. John's handful of grocery stores to keep the food budget down.
And he's the chief cook and bottle washer at his house, making breakfast and dinner for them both during the week and cleaning the house on Fridays, his one weekday off from volunteering.
Marruquin is an avid golfer, but with no course on St. John he makes frequent trips to the states to indulge his passion. He has a trip to Las Vegas planned in May, and will head to Atlanta and New York with his wife in June to celebrate their wedding anniversary.
The couple blended their family when they got married. He has a son, Michael, 44, and his wife has three children. Ashley is 28, Steven, 26 and Samantha is 25. All four live in San Antonio.
He hasn't totally cut his base in San Antonio. He and his wife rented his house to their daughter, and they stay in touch with their children and grandchildren via Skype.
Marruquin loves life on St. John, and said he enjoys the small town atmosphere, where folks stop to chat in the street.
"And the weather doesn't hurt," he said.