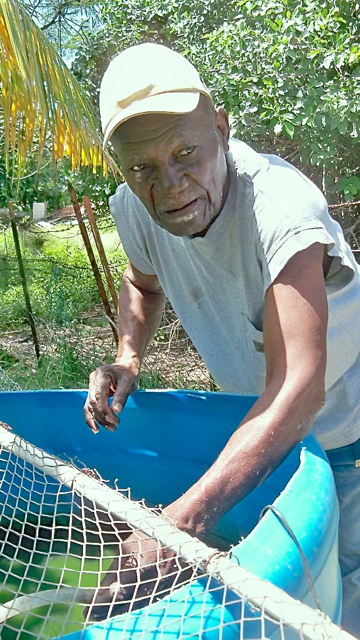 For Samuel Garnett, also known as the Old Timer, sustainability isn't just a trendy topic. It's a lifestyle that comes naturally to him. When he looks around his yard in Princess, he doesn't see reasons to complain. Instead he says, "We got so much. We can work with it and get what we need."
Garnett, 79 years old, gets what he needs through gardening, energy production and efficiency and with a fish pond. And with the fish pond, he is putting two of those elements together.
A small electric pump circulates the water in the 200-gallon plastic barrel where he grows tilapia. Garnett recently bought a solar panel to run the electric pump. And he has recently added two more PVC ponds for the larger fish.
In the house, he does everything he can to keep down his Water and Power Authority bill, including switching his clothes dryer and water heater to being propane powered.
But he puts most of his effort into his plants. There seems to be no vegetable or fruit that he is not willing to try to grow.
He has sun-loving strawberries, a raspberry bush and a grape vine growing. The grapes get a gallon of cold water daily. And he grows healthy local fruits and vegetables as well, such as peppers and bananas. He likes to experiment, trying innovative ways to get bananas to produce more bunches than usual. He has attended workshops at the University of the Virgin Islands on gardening and aquaculture.
He recycles water from the fish pond to water his plants. He said it is full of nutrients from fish waste. He is big on composting, adding nutrients to the soil while reducing his garden waste and organic kitchen scraps.
Garnett said gardening can be done by everyone, even if they have a a little yard. It's also first-class therapy, he said.
"I get up early, go out and talk to, feed and care for the plants," Garnett said. "The beauty of gardening is seeing the production and the final product." He enjoys giving away produce and plants if he has a lot, and it's good if he can sell some.
"It's a happy day if it comes in abundance," Garnett said.
There are some challenges to gardening Garnett admitted.
Gardening requires that he spend time every day looking for pests and making sure the birds don't get all the fruit. Ground preparation is challenging, he said, as is ensuring he has enough water.
Garnett moved to St. Croix from St. Kitts in 1958 because he heard that America was the land of opportunity. He worked in the cane fields, did construction and worked at Golden Grove Adult Correctional facility until 1993. He said he had a great kitchen garden at the prison.
He is married to Agnes Garnett and has five children.
"I'm glad I elected to take this route here," Garnett said. "I'm definitely convinced I made the right choice."
"You must be involved and love what you do to be successful," Garnett said. "Agriculture work isn't easy. If you don't care for it you don't get it. But growing food for yourself is the best tasting food there is."