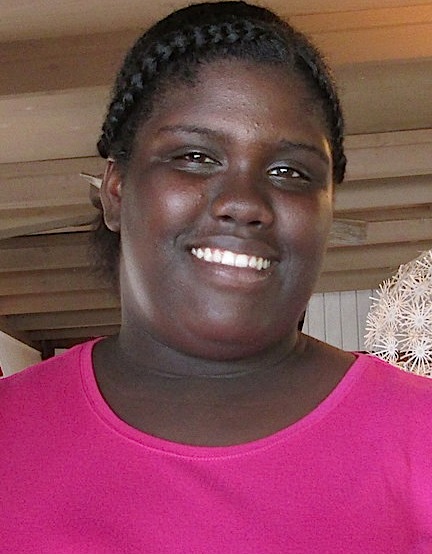 Aisia Crooke, 18, is attending the University of San Francisco thanks to help from the Rotary Club of St. John's $5,000 scholarship.
"It's been helpful," she said. The scholarship may be used for things like books and dorm fees, and Crooke said because she can use it for expenses other than tuition she doesn't have to ask her mother for more money.
Rotary Club member Bill Willigerod said Crooke is "just a brilliant young lady and a hard worker," speaking about why Rotary awarded her the scholarship.
Crooke still undecided about her major but is leaning toward theology and religion.
College has been an adjustment, she said. It's chilly in San Francisco and Crooke said that when she bought her first scarf, she had to learn how to tie it.
Living in a dormitory with a roommate and sharing a bathroom down the hall has also been an adjustment, Crooke said. "It's so different than home."
With the big city at her door, she said she's been busy exploring the city. Crooke marveled at the variety of ethnic restaurants that showcase food never found on St. John.
"Coming from here, I didn't eat that many cultures of food," she said.
She urged those students still in high school to attend a stateside college if they can.
"I recommend you go and see the wider world. You meet so many people from different places," she said, adding that if she attended the University of the Virgin Islands, her fellow students would likely be the same people she already knew.
She said attending an off-island school also provides an opportunity to reinvent herself.
Crooke, who graduated in June from Ivanna Eudora Kean High School on St. Thomas, has her roots firmly on St. John.
Although her family lives on St. Thomas, she was born at Myrah Keating Smith Community Health Center just 10 days after Hurricane Marilyn devastated the island in 1995.
Her parents are Amelia Hippolyte and Clifford Crooke. She has three siblings. Brother Omar, 22, and sister Adrianne, 24, are both students at the University of Iowa in Iowa City. Her brother Chad, 20, is in the U.S. Navy.
After attending Miss Mary's daycare on St. John, Crooke went on to New Testament Academy, Calvary Christian Academy, home schooling and Bertha C. Boschulte Junior High School before attending Kean.
At Kean, her best subject was science, she said. Crooke said she spent a lot of her time at Kean in extracurricular activities like Quiz Bowl and choir.
During those years, she spent summers with her St. John grandparents, Lena and Joseph Hypolite. Some summers, her stateside cousins also came for the summer.
"It was like a mini family reunion," she said.