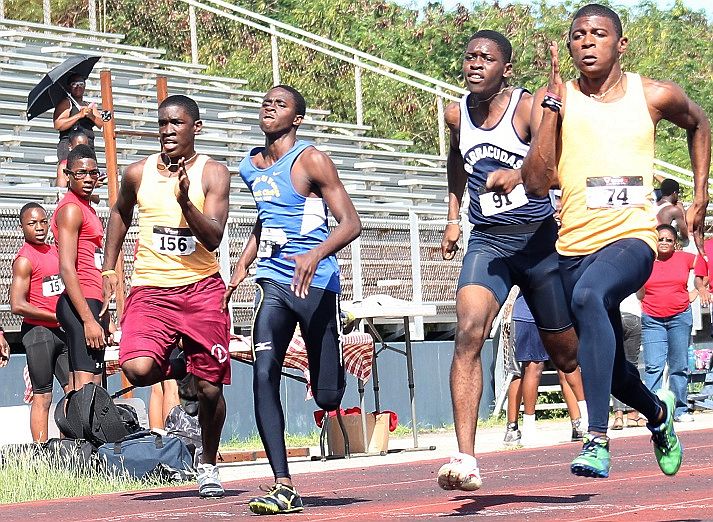 Track and field athletes of all ages were invited to compete in the second Virgin Islands Track and Field Federation (VITFF) Developmental Track and Field meet on Jan. 18, at the St. Croix Educational Complex High School track. The invitation went out to the V.I's. track and field clubs, schools and unattached athletes of all ages to compete in field events including: shot put, discus and track events including: 100m, 400m and 800m, resulting in record breaking performances across age-groups.
Exciting 800m race for girls under 18…The first running event of the day was the girls' 800m and it proved to be an exciting race as Rachel Conhoff and Mikaela Smith of the St. Croix Track Club (SCTC) went to the wire in the two-lap race…with Smith nipping her teammate at the line to win with a time of 2 minutes 35.17 seconds…Conhoff took second in 2:35.65…Deanna Roumo SCTC was third in 2:45.23.
Not to be outdone…800m race for boys under 18…The boys' race at 800m was equally as exciting as the girls event as Malique Smith of SCTC had difficulty holding off Rodney Griffin, his teammate, so they went stride for stride the last 100m…Smith won with a time of 2:03.97…Griffin was second by just a stride in 2:04.31 and Shevron Phillip of St. Croix Central High School was third in 2:25.31.
IAAF World Youth Championship qualifier takes 100m for under 18 boys…Kohun Eugene of Cheetah's Track Club performed so well in the CARIFTA Junior Championships in the Bahamas last year that he qualified for the IAAF World Youth Championships held in the Eukrane. His fortune would end in the Bahamas as he was not able to compete in at the worlds due to passport issues. He showed Saturday that 2014 should be a better year as he dominated the 100m race with a time of 10.80; youngster Nyhne Daniel of the Hounds and Foxes, who had just came off outstanding performances in New York indoors last week — the first time he has competed in the discipline — gave Eugene all he could handle and took second in the event in photo. Emari Mills of the Cheetah's Track Club, not to be denied. was right there for third in 11.32.


Girls' 100m was a super race…In the female 100m the top girls in all the age groups at the meet actually ran in the same race. It turned out that the cream of the crop was Kayla King of SCTC, and her teammate Nia Jack of SCTC would put it all on the line. Jack, a youngster, gave King the IAAF World Youth Championships competitor in the Eukrane last year, all she could handle with King winning in 12.26 to take the open title and Jack a close second in 12.42 to take the under 18 title; Britney Sage of SCTC was third in the race in 13:07 to take second in the under 18 group.
Top three sprinters go at it again in the 400m…Amarie Mills, Kohun Eugene, Malique Smith and Rodney Griffin all came together for the one lap 400m race, and it was Griffin and Kohun who gave Smith all he could handle as they made the final turn for home…it would be Smith 51.19, Griffin 51.90, Eugene 52.10 in the record setting race.
Girls under 18 dominated by Jack…Nia Jack, SCTC, actually qualified for the IAAF World Youth Championships last year. Problem? Even though she ran the qualifying time for both the 100m and the 200m, it turns out that she was not old enough to compete! She stepped up to the 400m on Saturday and dominated the race with a first place finish in 60.39; Deanna Roumo SCTC was second in 65.74 and Rachael Conhoff was third in 67.09.
Jamarie Shoy took the gold in the boys' shot put with a throw of 7.46m;
Xiaxang Washington, SCTC, took the gold for girls' shot put in 7.81m; Layla Browne, SCTC, won the silver in7.70m; Hadiyah Shabazz, SCTC, took the bronze in 6.18m.
In the discus, Browne took the gold with 23.65m; Washington took the silver with 16.25m; Shabazz took the bronze with 16.45m.
The under-18 athletes basically set new meet records in all the events they contested except the shot put and the discus.
The under-13 athletes were equally impressive…Medal winners in the girls' 100m were Calisha Wrensford of The Hounds and Foxes Track Club in 15.26, gold; Tyanna Lake HFTC in 15.30, silver and Michelle Smith St. Croix Track Club in 16.66
Lake and Wrensford were tops in the 400m with Lake taking the gold in 72.30 and Wrensford the silver in 85.52.
Ozaze Williams of SCTC took gold in both the 400m boys' races (82.11) and the 800m (2:47.75)
Open athletes few but strong…Kayla King SCTC was impressive with her 12.26 gold in the 100m…Alile Browne (13.10) and Jazelle Jeffers (13.78), also of SCTC, also performed well in the female race.
Ashley Paddie, SCTC, won the gold in the female 800m in 2:44.09. Kareem Jno-Finn SCTC won the gold in the 400m in 58.51.
Jamal Felicieno of St. Croix Central High School won the gold in the 800m in 2:27.58 and Keshawn Lake of SCCHS the silver in 2:57.29.
Kareem Jno-Finn won gold in the 100m in 11.23 and Andrew Joseph of SCCHS the silver in 12:00
Notes:
1] The Cheetah's Track Club sent two athletes, Eugene Kohun and Amari Mills, along with Ioleta Potter, the coach, to the competition. Those two athletes helped make the event a success as it made the field of athletes more competitive.
2] Several important championships are on tap for 2014 including the 2nd Youth Olympic Games. The Virgin Islands Olympic Committee is providing financial assistance to those young athletes who show promise by their 2013 performances for a berth on the V.I. Youth Olympic Team. The Virgin Islands Track and Field Federation (VITFF) Developmental Meets and other competitions are being used to identify those athletes. They are being used also to select V.I. National Teams for CARIFTA, Leeward Islands and other national teams.
3] In effort to develop technical officials for the staging of track and field competitions in the V.I., the VITFF will stage the IAAF Technical Officials Course for both the St. Thomas-St. John and St. Croix districts. These courses will be free of charge. Candidates must be registered and in good standing with the VITFF for 2014
4] The VITFF will host an IAAF Coaches Certification Course on St. Thomas at the end of the school year. This course will be free of charge. Candidates must be registered and in good standing with the VITFF for 2014
5] The VITFF is finalizing the purchase of an electronic timing system for the conducting of track meets in the V.I. There will be more on this in the near future.
6] The VITFF is finalizing the purchase of an electronic timing system for the timing and scoring of road races and cross-country competitions for the V.I. There will be more on this in the near future.
7] Athletes, coaches, volunteers, technical officials, parents and supporters are urged to register with the VITFF for the purpose of communication, reference, verification and VITFF development by logging on to: http://virginislandstrackandfield.org
8] For complete results, logon to http://virginislandstrackandfield.org