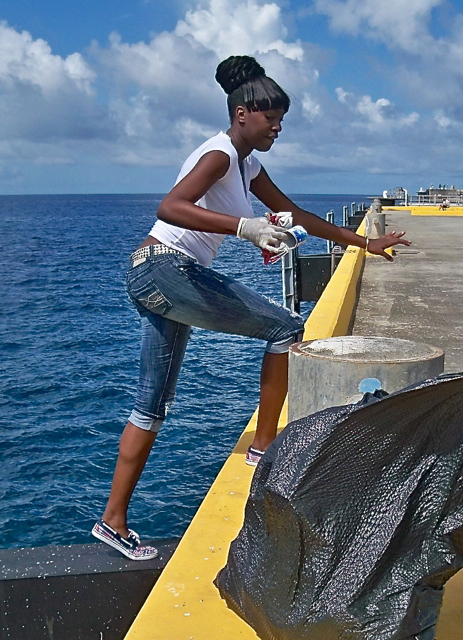 Divers from the Caribbean Reef Association of Bubble Blowers dive club – known as CRABB – said they could spend a week cleaning up the debris around the Frederiksted Pier, as the 28th annual Coastweeks beach cleanup kicked off Saturday.
John Greer, from CRABB, said the pier is festooned with discarded fishing line that can be harmful to divers and marine life. CRABB member Mia Burris said she couldn't believe how much was down there and how heavy her mesh trash bag got.
CRABBs have been doing the cleanup for more than two decades, member Rick Coates said.
Six members of the Holy Cross Youth Group and 21 St. Croix Educational Complex students of science teacher Ann Marie Gibbs filled out data cards at the pier, counting pieces of nasty clothing, broken beer bottles, cans, masses of tangled fishing line, and plastic and foam plastic pieces brought up by the divers. Gibbs said her students have been helping for more than a dozen years.
"The students have taken a vested interest in the cleanup and the number helping has increased," Gibbs said. "They want to be a part of the cleanup and help the community and the environment. They know the future of the ocean depends on them taking care of it."
Marcia Taylor, local coordinator for the International Coastal Cleanup and a marine adviser at the University of the Virgin Islands St. Croix, said the mission is to get trash off the beach, collect data and look at the trends to form policies and possibly solve the problem. Increased awareness is another goal.
"The data isn't to measure the trash," Taylor said. "It's to look at what the trash is."
She said the number one thing they find is bottle caps.
The number of bags collected isn't the main focus. She has been doing the cleanup for 23 years and said there is still a lot of trash picked up and it hasn't gone down over the years.
"We hope to change the behavior of people," Taylor said.
She said the ocean is downstream from everything. When a storm sweeps down the guts, the debris it washes out ends up in the sea.
Taylor said she talked to more than 200 students in the past week about the importance of keeping the beaches and ocean clean and healthy.
"I go into classes and talk about why there's a problem with litter and how to solve it."
Taylor said.
"I'll spread the word about stopping littering," Complex senior Mielany Charlery said while waiting for divers to bring up trash. "Everybody has to take part in getting the environment healthy."
Barthelemy Peter, a sophomore at Complex, said we could be poisoning ourselves eating fish that have consumed our litter.
Daniel Garriga-Cerni, a 13-year-old Holy Cross student, said he hopes to improve the condition of the reefs and sea around St. Croix.
"I hate to see reefs damaged," Garriga-Cerni said as he pulled up trash.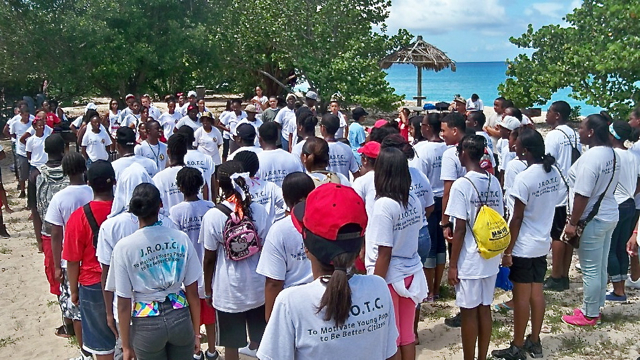 About 100 students cleaned up under the direction of Maj. Fernando Webster from the Junior Reserve Officer Training Corp at St. Croix Educational Complex and St. Croix Central High School. The students cleaned up from the Frederiksted Fish Market the length of Dorsch Beach to Vincent Mason Swimming Pool. They had a pool party and cook out after they finished picking up trash. They picked up tires, pallets, broken chairs, plastic buckets, boxes, plastic bags, diapers and all sorts of refuse left by beach goers.
Good Hope Country Day School kids cleaned the beach at Columbus Landing and students in the University of the Virgin Islands Psychology Club cleaned Ha' Penny Beach. SEA volunteers picked up debris at Southgate Coastal Reserve.
Taylor said cleanup is a big thing, and the effort attracted as many as 500 volunteers on St. Croix and 500 on St. Thomas and St. John. V. I. Waste Management Authority providex trash bins and picks up of tires, batteries and large items such as appliances. Gibbs said the Department of Housing Parks and Recreation helped transport her group. Ocean Conservancy sponsors Coastweeks world wide.
The cleanup of local beaches will continue through October. Taylor said if people want to help clean up a beach she will set them up. Volunteers are scheduled to clean Altoona Lagoon, Cramer Park and Redbrick.
Those interested can call Taylor at 1-340-692-4046 to volunteer for a beach clean up.