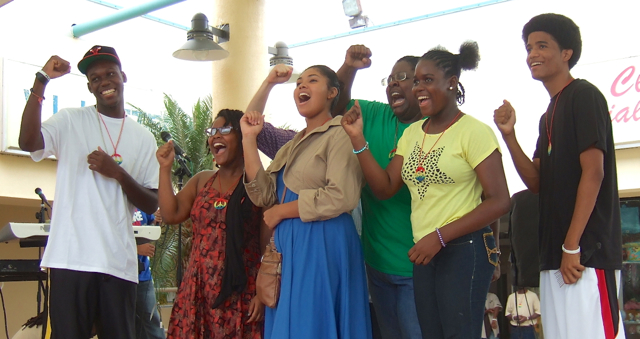 A violent terrorist attack took place in Kenya Saturday, providing grim backdrop, but half a world away in the Caribbean, Virgin Islanders joined together to celebrate International Peace Day.
On St. Croix men, women and children gathered at Sunny Isle Shopping Center Saturday afternoon for the fifth annual Peace and a Picnic celebration.
Organizers Hieke Nilgen, of the community group All Ah We and Carolyn Keys of the Alternative to Violence Project handed peace necklaces and rocks painted with peace symbols as people joined the gathering at the amphitheater. The stones had been painted by children in summer camps around the island. Charlene Springer, who Keys called "all time peace builder," was the emcee.
The event began and ended with live music. Solo saxophone player Jack Petersen was followed by the Police Athletic League band. Five of the 26-member music class directed by Renholdt Jackson performed and were asked for encores until they ran through their entire repertoire. Then they repeated a number and were cheered as they left the stage. According to Jackson the group of five has been performing together for about two years. The class of 26 is taught by Jackson and former PAL members.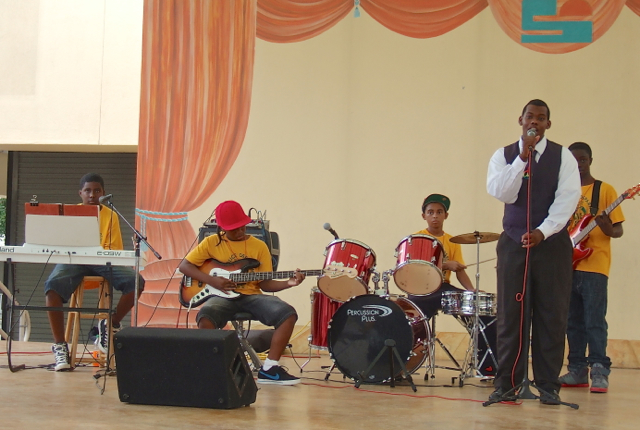 Another group of young people also was asked to repeat its performance. Swag Cafe – which is short for Someone Who Admires God – a group that meets weekly in Frederiksted, performed poetry and a skit that needed no words to get across its message. One person stood on one side of the stage saying "love," while the other stood on the opposiute side chanting "hate." Then one by one the "hate" chanters defected until eventually all were standing together saying "love."
SWAG adult supporter Michael Hendershot said the group is sponsored by the Baha'i faith and its mission is community service.
The popular reggae band Fyah Train played a free two-hour concert and with every number they performed, the audience increased. Their love-infused music was loudly appreciated by the crowd.
Several individuals took the stage as well. Springer and Sheniece Fontenelle sang without musical accompaniment and Keys, Nilgen and Olu Massey from the Bureau of Corrections spoke about peace and living without violence.
"The energy for peace is so high; the energy for war is so low," Massey said.
Aesha Duvall passed out peace bracelets to the audience from Delegate to Congress Donna Christensen.
The International Day of Peace was established in 1981 by the United Nations. This year Secretary General Ban Ki-moon rang the Peace Bell and called for worldwide investment in education. Mr. Ban also addressed the violence in Syria.
"The International Day of Peace is a time for reflection – a day when we reiterate our belief in non-violence and call for a global ceasefire," he said. "Perhaps nowhere in the world is this more desperately needed than in Syria. The death and suffering has gone on too long. I repeat my call to all parties and their supporters to work for a peaceful resolution to the conflict through negotiation."
Around the world, nations and cities marked Peace Day in different ways. In Montenegro in the Balkans, there was a minute of silence for those who had died violent deaths. In Sarajevo, Bosnia, the theme was "feel the strength of peace," and the vice president of China gave a speech about building a lasting peace. Supporters in Pakistan held a two-day peace festival. Elementary students in Buffalo, N.Y., created three peace symbols made of pinwheels on the school lawn.