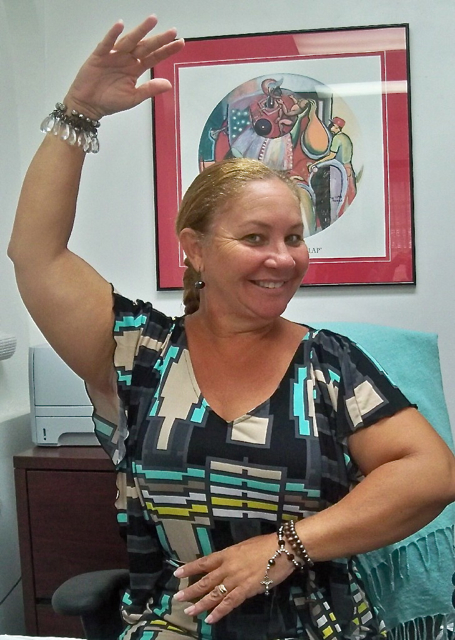 Women in their golden years are getting healthy doing Zumba Gold, dancing their way to fitness at the New Life Senior Resort in Estate Barren Spot.
Mercedes Rodriguez, said as soon as she started Zumba she noticed changes in her health and weight.
"I never really exercised," the 68-year-old Rodriguez said. "I tell myself I'm exercising, bringing down my weight and having fun dancing. I have more energy and feel good."
She added she has noticed her stomach has gotten smaller.
Vera Falu, formerly the director of the Herbert Grigg Home and now manager of the New Life Senior Resort, an independent living facility, said the facility wants to provide the means to a healthy lifestyle for seniors on St. Croix.
"The seniors are having a ball," Falu said. "Zumba is good for their health and lifestyle."
The program that began in July is held from 5 to 6 p.m. Mondays and Wednesdays and costs $5 a session.
Monsita Diaz, a certified Zumba Gold instructor, said Zumba Gold provides anatomical, physical and psychological needs that lead to a healthy lifestyle for senior citizens.
"Zumba Gold is a modified version of the fast paced Zumba, it's low impact and easy to do," Diaz said. "It's slow and great for people with disabilities or who have had injuries."
Women in class are in their sixties and seventies, she said.
"This is a journey to a fit and healthy lifestyle," she said.
Diaz said the group warms up with two slow songs, then picks up the beat a bit for cardio. The last portion of the 45 minute class is a two-song cool down done while sitting on chairs. She said the music has a Latin flare, such as soca, salsa, merengue, calypso and the Colombian cumbia.
Diaz, an accountant and human resource manager at Virgin Islands Medical Institute, said she realized a couple years ago the organization needed a fitness instructor for the Every Diabetic Counts Program. A 49-year-old who loves to dance, she got certified in Zumba Basic then Gold, Aqua Zumba and Zumba Kids at the Zumba Academy in Puerto Rico.
Dr. Cora Christian, director of the Virgin Islands Medical Institute, an organization that oversees the care of senior citizens, endorsed the Zumba Gold program on St. Croix.
"We especially wanted to have a Zumba Gold session at our 'Every Step Saves a Beat,' so that seniors would understand everyone can Zumba. Zumba improves our overall heart health, muscle strength, flexibility, posture, balance and motor control while having fun and dancing to familiar rhythms," Christian said.
"Every Step Saves a Beat" open to the public will take place Sept. 29 at St. Croix Renaissance Park.
Zumba was created accidentally by Colombian aerobics instructor Beto Perez. Perez was teaching an aerobics class and forgot to bring the music for his routine so he used Latin music tapes he had in his backpack and started to dance, incorporating aerobic moves.
Diaz added that the Zumba instructors on St. Croix, under the leadership of Evelyn Felix, are holding a Zumba fundraiser Friday at Fort Frederik to raise money for Music in Motion dance academy. On Oct. 20 at the Palms they will hold the annual Party in Pink Breast Cancer Awareness fundraiser.
Diaz said they want to expand the Zumba Gold class, saying all senior citizens should join the fun. People interested in Zumba Gold can call her at 340-332-1279 for more information.