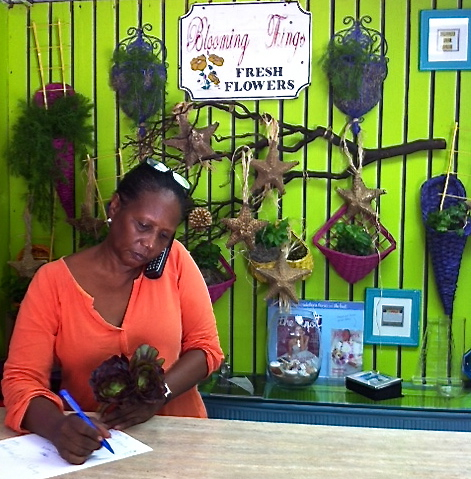 Few people have made the transition from government official to private sector entrepreneur more successfully than event planner cum florist Lorna Webster.
"I retired from my job, but I didn't retire from working," said the former director of corporations, in a blatant understatement.
Between checking inventory, directing deliveries, fielding phone calls and taking an order for a funeral bouquet, Webster talked about "Blooming Things," her business in Long Bay.
Tucked away in a corner above Mandela Circle, between the Tramway and Pueblo, the shop itself is unassuming save for its purple wall, but customers find it. The location has the added attraction of being near some of Webster's regular clients.
"People laughed" when she set up shop years ago, she said, but they didn't realize that nearby Yacht Haven Grande would soon be full of mega-yachts whose posh owners now buy lots and lots of fresh flowers.
A stone's throw away in the other direction, Carnival Cruise Lines regularly visits the West India Co. docks. For 12 years now, Webster has had an agreement with the line to provide flowers and more for the St. Thomas wedding packages it sells to love-struck passengers.
"Yesterday we did two cruise ship weddings," she said.
She also handles weddings on a regular basis at Marriott Frenchman's Reef and at Bolongo Bay Beach Club. Sometimes visitors staying at other hotels work with her too. And of course she provides services for local weddings as well as virtually any other event.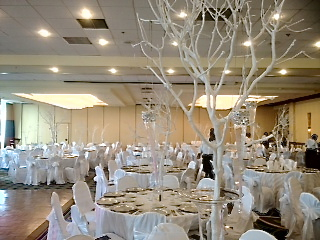 The shop boasts a full-sized walk-in cooler and imports blossoms from all over, including Ecuador, Columbia and the U.S. mainland.
Webster said she likes the flowering side of her business, but what she really enjoys is event planning and using her imagination and props to set a scene.
"I like being my creative self," she said. What we do is create an atmosphere. We sell ideas."
First, she learns what her client is looking for.
"I listen to what they want. It's about giving them what they want," she said.
It is not about a big budget, she insisted.
"Everybody could afford something," she said. "No budget is too small. I create an idea on any budget."
One group wanted a pirate-themed function. Webster said she had fun with the event, decorating the space with lanterns and oil lamps, skulls and bones, rusty anchors, the obligatory treasure chest and, floating above it all, fishnet draped across the ceiling.
Webster relies on a small staff for support, but generally arranges props and flowers for events herself.
"I always want to see the expression on the person's face when they walk into the room," Webster said. "It's all about them."
She picked up a "Thank You" card from the counter and showed off the note inside from a pair of satisfied clients.
"That's what you live for," she said.
While the events and the flowers are the heart of her enterprise, Webster hasn't quite been able to let go of some other business she has provided in the past. As the former owner of Private Collections dress shop, she still sells formal wear for pageants and for weddings but by appointment only.
She handles two lines: Alfred Angelo and Barijay. She said she keeps just a few samples for customers to see and try but special orders the actual outfits.
When she isn't working, Webster said she spends as much time with family as possible. She has three adult daughters and six grandchildren.
Webster can be reached at (340) 775-0373.