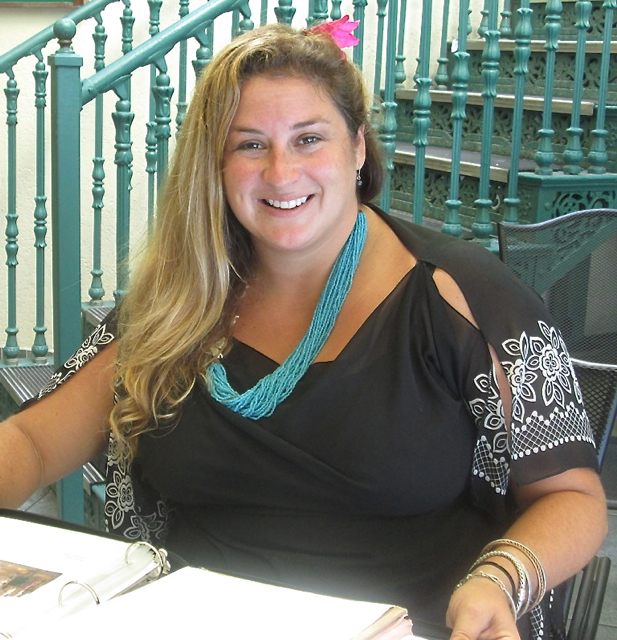 The event planning business is a growth opportunity, and St. John's KT Creates expects to be part of it. Owner Katie Tarta also does destination weddings in the Virgin Islands as well as on the mainland.
"Destination weddings largely end up being a week of events," she said.
KT Creates does it all, starting with setting a budget. She can attend to all the details including putting the client in touch with the officiant, the band, the caterer, and whatever else it takes to make a wedding or event special. She can organize a beach welcome party and a sunset sail, to name just a few of the services she offers.
"We talk about how they envision their guests on St. John," Tarta said.
There are challenges, including things like her Internet going out for a week and the recent St. John Festival interrupting the flow.
When she's not busy planning weddings or event Tarta manages the family rental villa, Kamabesu Villa, in Fish Bay, which is named after Tarta and her three sisters Maggie, Betsy and Susan, as well as keeping things on track at Wayline Architecture, owned by her husband Bryan Couchenour. And she's a mom to Gabriel, 5, and Michael, 2.
Tarta's connection to St. John began when her parents, Joe and Paula Tarta, bought the Fish Bay house. After extensive renovations it was christened Kamabesu Villa. She and Coucenour decided to make the move in 2004.
The journey to St. John was long and circuitous. Born in Neenah, Wisc., she lived with her family in Guadalajara, Mexico, while her father got his medical degree. The family eventually settled in Ridgewood, N.J.
Tarta went off to Boston University, getting a bachelor's degree in hospitality business. She launched her career with a job at the Ritz-Carlton Hotel in Boston, eventually moving on to event planning at Bank of America Securities in New York.
Life and the Sept. 11, 2001, terrorist attacks made her rethink her career options. She and Couchenour got married in 2000, but he went off the Cincinnati to get his architecture degree. When the attacks happened, Tarta said he was driving into New York for a visit. Although Tarta's office wasn't hit by the planes, Bank of America lost six employees who were in the building, and the town of Ridgewood lost 50 people.
The two decided they were tired of living apart, and she said Sept. 11 convinced them that they wanted to spend more time together.
"The last event I planned was a companywide gathering," Tarta said, referring to an event held in the days after Sept. 11 to remember colleagues lost in the World Trade Center.
Tarta moved to Cincinnati, where she put her new-found free time to good use by getting a master's degree in business administration.
St. John was the next stop. She got her feet wet in planning island events by working for KatiLady, a wedding and event company. She said she's learned a lot about doing business on a small island, including the fact that it's all about relationships.
When Gabriel came along, she took a break but went back to work about two years ago. When she's not planning a wedding or other event, she's active in the Freshwater Church. She also likes to attend social events that she didn't plan, go to the beach and get in the water as much as she can.
"You have to carve out time," she said.
Those interested can reach KT Creates at 1-340-643-3769. Her website, www.ktcreatesllc.com, is under construction.