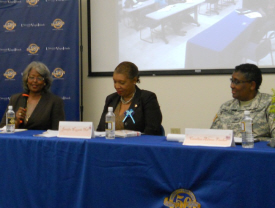 The last half-century has seen great progress for women, and five alumnae of the University of the Virgin Islands (UVI) shared stories Thursday night of struggle and triumph in careers pursued at a time when women were not often considered worthy of leadership roles.
About 65 people from the UVI campuses on St. Thomas and St. Croix joined a video conference for the Second Annual Women's Leadership Forum. About five of the spectators were men. This year's theme was Changing Roles of Women Over 50 Years.
Guest speakers included Assistant Vice President for Government/Public Affairs at Tropical Shipping Jennifer Nugent-Hill, St. Croix gynecologist Dr. Anne Treasure, UVI Professor of Education Rita Howard, retired U.S. Army Col. Caroline Adams-Fawkes, and Pastor Lucia Woods of Agape Total Life Centre in Tortola.
The women laughed and shared memories of their time at UVI spent studying and adapting to shifts from a patriarchal society to one that more fully values the contributions of women.
Most of the speakers struggled to earn scholarships for a college education. Treasure was admittedly embarrassed that she had an easier route financially, but all women were quick to stress that hard work and perseverance are shared traits among the successful.
"My father used to tell me…that as a woman, and especially as a woman of Caribbean descent, that you are going to have to [work] extra hard," said Nugent-Hill.
Three speakers graduated in the 1970s and recalled the influence of the Vietnam War, as well as the height of black power and feminist movements.
But as far as these women were concerned, there was no need for rivalry among genders when companies already have to vie for business. As Woods noted, why fight from within?
"I am not here to compete with a man, I am here to complete the man," Woods said. "There's no competition as far as I'm considered. We both, together, will accomplish."
The speakers lavished their love upon UVI as they mentioned how much the faculty and school, at that time known as the College of the Virgin Islands, helped them to succeed. Nugent-Hill noted that networking at UVI assisted her in building strong relationships in her career field.
Adams-Fawkes reminded listeners that, no matter how far we've come, there is still work to be done. As a retired army officer, Adams-Fawkes is well aware of the effort it takes to rise above in a male-dominated profession.
She noted that men often tried to challenge her, but she accepted the challenge and rose above it, taking advantage of military educational aid and opportunities to excel in her classes. Those opportunities to become educated have put women in a position of equality, she said.
In the time that these women were breaking into their professions, most were male-dominated. These professions, such as medicine and military, are integral to a functioning society, and typically fell to men who had traditionally been hailed the breadwinners while women tended the home.
Spectators were surprised to learn that these notions are not necessarily a thing of the past.
For example, only 4 percent of pilots at American Airlines are women, Adams-Fawkes noted. Men are in a superior place in some organizations because we are still just moving over to a gender-integrated society, she said.
Treasure noted that, 50 years ago, only 10 percent of physicians were women. Today, 60 percent of physicians are women. These days, laws protect women in the workplace. Accommodations such as maternity leave are observed at many companies.
"Now women don't have to choose between having a family or a job," said Treasure.
Several general questions were posed to the women about how they chose and pursued their current professions and what it was like for them beginning in a time of social and political change. One specific question for each followed.
This discussion is yet another event in the university's Golden Jubilee celebration commemorating 50 years of educating students. Events will take place throughout the 2012 calendar year. The theme for the Golden Jubilee is "Honoring Our Past – Creating Our Future."
The annual Women's Leadership forum is held in March in observance of International Women's Day on March 8 and Women's History Month celebrated throughout March.