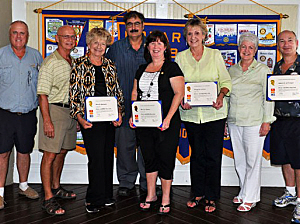 The Rotary Club of St. John Friday honored seven community members and fellow Rotarians with its annual Paul Harris Fellow awards.
"It's about service above self," Rotarian John Fuller said.
The award is named for the Rotary Club founder. Paul Harris started what became Rotary International in Chicago in 1905. According to Rotary International's website, the name was picked because meetings rotated among members' homes. Today, Rotary International has over 1.2 million members in 32,000 clubs in 200 countries and geographical areas.
The Rotary Club of St. John or one of its members made a $1,000 donation to the international Rotary Foundation in the name of each person who received an award, Fuller said.
The Paul Harris Fellow awards were made by Diana White, who is the immediate past district governor for District 7020. This district oversees this Rotary Club's activities.
Two St. John community members received awards.
According to a Rotary Club press release, Margaret Labrenz has been a moving force on St. John since opening her Cruz Bay Realty office in 1985. She has been president and archivist for the St. John Historical Society, an officer and board member of AARP and is currently president of her homeowners association. She has been with the St. John Singers for 30 years, participating in the Christmas and Easter performances each year.
"She is a great advocate for St. John and friend of Rotary," Fuller said.
Beverly Biziewski worked in the medical profession first at Queen Louise Home on St. Thomas, then at the Myrah Keating Smith Community Health Center on St. John until she retired. She has been the major force in the local AARP Chapter. She has served on AARP's boards, been an officer of the St. John Historical Society and the Audubon Society, served on the St. John Relay for Life committee, and sang with the St. John Singers for many years.
"Beverly puts her heart and soul into all her volunteer activities," Fuller said.
Four Rotarians and one of their wives also received awards.
Dave Carlson is a past Rotary Club president and has served as Community Service chairman and board member for the past eight years. He's involved with Children's Carnival Village, Flavors of St. John and all the club's fund raising and community service projects.
"There are few members who demonstrate the continuing dedication to Rotary and the principle of Service Above Self as Dave," Fuller said.
Bruce Munro is the current Rotary Club president and the immediate past president. He made club growth and support of St John youth programs a club priority.
"He has provided leadership in difficult times. Bruce can be counted upon to be fully involved in all club activities," Fuller said.
Robert Schlesinger has served as club secretary for the past two years. He is the club's president elect.
"Bob is able to juggle business, family, and Rotary to stay heavily involved in all. His enthusiastic involvement in all aspects of St. John Rotary portend well for his leadership year coming up," Fuller said.
Patrick Pearson is a charter Rotary Club member. Despite living on St. Thomas, he serves whenever and wherever asked.
"We wish more St Johnians were as reliable as Patrick. His good humor and can do spirit add immeasurably to our club," Fuller said.
Marilyn Pearson is the wife, business partner and supporter of husband Patrick Pearson in all his Rotary activities.
"Behind every good man there stands a better woman, and we acknowledge that the family of Rotary is key to the success of Rotary and recognize Marilyn for her continuing support," Fuller said.