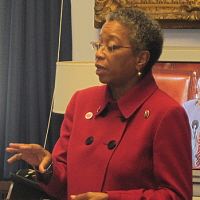 To help clarify the status of Buck Island National Monument and the authority of the National Park Service to potentially restrict access to the park, Delegate Donna Christensen will request a more specific report from the General Accountability Office, her office announced Friday.
Christensen decided to make the request after reviewing comments from this week's two National Park Service public meetings on the Buck Island Reef National Monument General Management Plan with her staff, who attended both meetings, discussions with NPS Superintendent Joel Tutein. and letters she has received, according to her office.
At Thursday's meeting, former Sen. Virdin Brown cited chapter and verse of the V.I. legislative act conferring Buck Island to the National Park Service. Brown said that transfer was conditioned on the federal government placing no restrictions on boating, fishing, swimming and recreation there. Therefore, he said, to much applause, he believes the National Park Service lacks the power to impose such restrictions, and if it does, the park land would revert back to V.I. ownership.
After the meeting, Alyse Getty, a technical consultant for NPS, said Brown had raised the question of legal authority before, and the planning process was put on hold to allow the U.S. Government Accountability Office to weigh in. The GAO issued a lengthy report concluding the National Park Service did have the legal authority to proceed, she said.
"Having not been a regular visitor to Buck Island in recent years, I will go out there to directly observe what is being proposed and the locations of the designated areas," Christensen said. "I want to assure the St. Croix public that all their comments will be taken into consideration as the National Park Service, in conjunction with the community, work towards a final management plan. The process is not at the end, and I appreciate that many took time to come out and give their views and concerns on all sides."
Meanwhile, Christensen said she will ask that the GAO report focus specifically on "valid existing rights," whether they can be modified or extinguished and under what circumstances those changes could be made. She credited a constituent, Phillip Holzman, for the suggestion.
"My interest is to see that access to Buck Island continues and also that the natural resources are protected," Christensen said. "I believe that both can be accomplished."