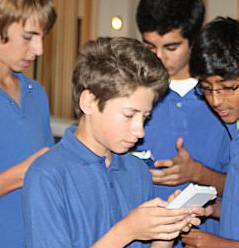 Antilles School dominated this week's district Mathcounts competition, winning the award for top team and sending six students on to St. Croix in March for the territorial championships.
This year's competition, held Thursday at Palms Court Harborview Hotel on St. Thomas, included teams from eight different private, public and parochial schools. All Saints Cathedral School came in second overall, followed by the teams from Ulla F. Muller Elementary School and Bertha C. Boschulte Middle School.
"We're really excited," Antilles coach Michele Garcia said after the competition. Garcia said that her team this year was made up of mostly seventh grade students who have been giving up lunch hours to practice. Garcia said that while she was called away for the past week for a family emergency, some of her former students, who are now in high school, also stepped in to help.
"That shows the strength of our program and our students," Garcia said. "So, I'm really proud with the results today and what they have been able to accomplish since we actually had a short amount of practice time this year."
The four members of the top team will also be joined at the territorial championships by the top six scorers from the district competition, who were: Sidarth Parwani from All Saints, Manav Thandani from Antilles, Rysa Bryan from Ulla Muller, Shivaang Chawla from Antilles, Marcus Norkaitis from All Saints and Muhamad Ali from BCB.
Parwani, an eighth grader, also had the highest individual score Thursday.
The territorial, or state, competition will be held on St. Croix on March 29.
"The students who won here today will be facing off in the state event against the top mathletes from the St. Croix district competition," Ludence Romney, math coordinator for the St. Thomas-St. John district, explained later. "And in the state competition, it's really every man for himself. The students will be competing individually against each other, and the top four will move on to the national competition in May."
The Mathcounts program in the district started in 1996, and Romney said that he has continued to see a steady increase in the number of students participating.
"The goal of Mathcounts isn't so much the competition, but providing the kids with a vehicle that stimulates interest in mathematics, and gets them to see how it is useful," Romney said.
Overall, eight schools and fifty-nine students competed in the district competition, including: All Saints Cathedral School, Antilles, Bertha C. Boschulte Middle School, Joseph Gomez Elementary, Ss. Peter & Paul Catholic School, Ulla F. Muller Elementary, the V.I. Montessori School and International Academy, and Wesleyan Academy. Students field questions each year in the areas of algebra, probability, statistics and geometry.
Mathcounts is a national program designed to improve math skills among U.S. students. The program focuses on middle school students who are at a crucial stage in developing and sustaining math interest and ability.
Celebrating its 29th Anniversary, the 2012 Mathcounts competition will consist of approximately 40,000 students, representing over 6,000 schools from all 50 states, the District of Columbia, U.S. territories and schools affiliated with the national State and Defense departments.