Amateur gardeners on St. Croix displayed the jewels of their garden Friday at the 41st Annual St. Croix Orchid Society Show. The exhibition will continue at the University of the Virgin Islands Great Hall Saturday and Sunday.
There are over 30,000 different species of orchids in the world and that wide diversity was evident at the exhibition. The hall was filled with blossoms of almost every color, from deep violet to delicate pink, growing on plants that ranged from bush-like in size to those that were little more than a twig. Of special note was the diminutive psychilis macconnelliae, a species native to St. Croix that is commonly known as the "Sandy Point."
Orchids have a reputation for being difficult to grow, but Michelle Thurland-Martinez, president of the St. Croix Orchid Society, is adamant that isn't the case.
"One of the biggest problems orchids have is people overwater," she says.
Thurland-Martinez explains that each species has its own preferences for moisture, temperature, and light. Once you know what your plant likes, it's easy to meet its needs. People shouldn't be intimidated so long as they do their research.
"All these orchids were grown here," Thurland-Martinez says, gesturing to the packed exhibition hall. She says that even some cold weather species have been successfully grown on the island indoors in homes with air conditioning.
"I'm hoping more people come and see what they can actually grow here on the island," she says.
The annual orchid show serves as both an exhibition and an informal membership drive for the orchid society. A number of current members admitted to not seeing much in these delicate flowers at first, but one day they just fell in love. This show is often the catalyst to get curious gardeners to take the plunge and start coming to orchid society meetings.
"Every year we get new members," Thurland-Martinez says.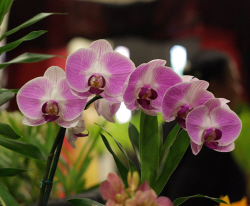 One orchid convert was Iliana Hannah, who started seriously growing the plants seven years ago. This year her exhibition of orchids won the American Orchid Society prize. There are over 100 classes of orchids and each is judged individually, but Hannah's prize distinguished her collection as the overall best in show.
"I'm thrilled. I'm really happy," she says.
The highlight of her display was a large white "Jaquelyn Thomas" orchid, which has won in its class at the show the last several years.
"I bring her every year and every year she wins," Hannah says.
While she was evidently thrilled to be the big winner this year, Hannah explains that the joy of keeping orchids isn't in the competition.
"It's like a stress reliever," she says. "Once I get home out of a high stress job, to come home and look at them, it just—I can't even describe what it does to you. But it eases your mind. It's wonderful."