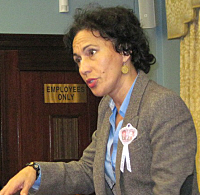 Local music and film producers will get similar tax breaks to those offered through the Economic Development Commission and the University of the Virgin Islands Research and Technology Park, if a bill passed by the Legislature Thursday becomes law.
The Sustainable Tourism Through Arts-Based Revenue Stream (STARS) bill, sponsored by Sens. Louis Hill, Ronald Russell, and Nereida "Nellie" Rivera-O'Reilly, also directs the Department of Tourism to expand its Film Promotion Office to include a music-production division – which Tourism officials did not object to.
Under earlier versions of the legislation, qualifying businesses would not have to pay any gross receipts taxes, nor would they have to pay 90 percent of the corporate and personal income taxes they would otherwise owe. But it was amended in committee to change the gross receipts tax exemption from 100 percent to 90 percent.
A voluntary pre-kindergarten program for four-year-olds under the Department of Education also was approved unanimously by the Senate Thursday. Education and Human Service officials were very enthusiastic about the concept of a pre-kindergarten program during committee hearings, but expressed reservations about necessary funding in the midst of the current fiscal crisis.
Senators removed the mandated starting date in committee, so the measure will be implemented when funding materializes. Sens. Alvin Williams and Sammuel Sanes were the bill's principal sponsors.
The Senate also unanimously approved a bill from Sen. Celestino White to authorize the V.I. Public Finance Authority to raise or reprogram $650,000 worth of bond proceeds to purchase land behind Roy Lester Schneider Hospital for expanding the Lucinda Millin Home for the Aged. The funds would be used as matching funds for a $19.5 million federal affordable senior housing development.
All these measures were approved without any senator voting nay. The Legislature also approved a series of measures, including an increase to the V.I. Gross Receipts Tax from 4.5 percent to 5 percent. See details below in "Senate Passes Gross Receipts Tax Increase."