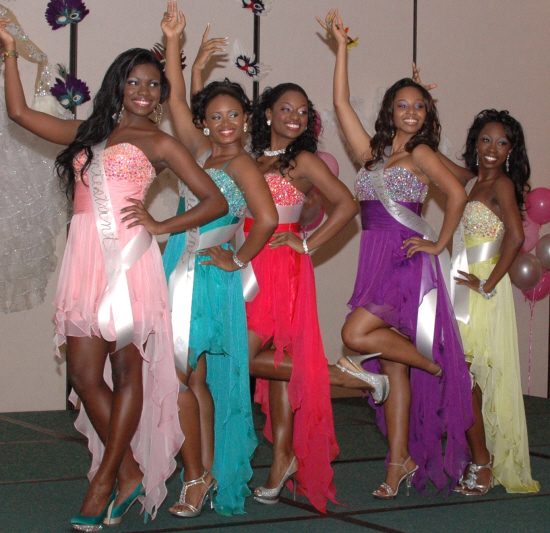 The five young women vying for the 60th Annual Carnival Queen crown on Friday brightened the ballroom at Sugar Bay Resort before a small crowd of family, friends and former queens.
After watching the contestants dance, drum and strut, some who had earned the crown in previous years said they were glad to not be tasked with judging this year's contest.
"The girls are all talented, they speak well, and it's going to be a tough competition," assessed Cubie-Ayah George, who sported a form-fitting red dress and looked like she'd hardly aged since her crowning in 2002.
The invite-only audience of about 100 got their first glimpses of Edysha Fredericks, 18, a student at Ivanna Eudora Kean High School; LaQuanda Fredericks, 17, of Charlotte Amalie High School; Caprisha Richards, 17, of Antilles School; Shaharah-Ann Donastorg, 18, of Kean; and Savannah Lyons-Anthony, 17, of CAHS. Judges evaluated the contestants on the strength of their short personal introductions, as well as on promotional presentations they'd created to attract visitors to Carnival 2012.
Organizers said Friday marked the first of two pre-Carnival competitions intended to pump up the local community and potential tourists for the event that's been themed "A Celebration for the World to See, St. Thomas Carnival's 60th Anniversary."
V.I. Carnival Committee Executive Director Caswil Callender urged the camps of contestant supporters to show community spirit, cooperation and unity from now through Carnival's climactic final week at the end of April.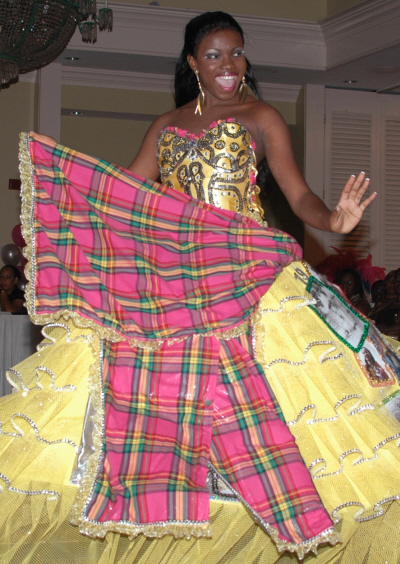 "With the economic crisis facing the territory, Carnival is the one bit of light shining, and all of us are contributing to that bright light," Callender said.
Callender asked the audience members to put their money toward local businesses that are supporting the event. Others said the committee is still recruiting sponsors to make the celebration a success.
During their promotional presentations, the contestants highlighted the local foods, drinks, costumes and characters that make Carnival worth the visit.
Contestant No. 1, Edysha Fredericks, spun savory tales before a soup pot backdrop, and reminded mainlanders that a visit to the USVI requires no passport. Contestant No. 2, LaQuanda Fredericks, played a steel drum and spelled out C-A-R-N-I-V-A-L using glittery letters on a Wheel of Fortune-style display ("L" was for LaQuanda). Wearing a ruffled yellow gown with hooped layers that swooshed as she sashayed across the floor, Caprisha Richards, Contestant No. 3, was a cultural doll come to life. Shahara-Ann Donastorg, Contestant No. 4, showed a film she'd created that tantalized viewers' taste buds with close-up shots of Carnival-goers devouring kallaloo, johnny cake and conch. Contestant No. 5, Savannah Lyons-Anthony, adopted the persona of Gertrude Thomas, the wise businesswoman behind Carnival Village Booth No. 19.
While the young women certainly shined during their first official performances as queen contestants, the evening's most honored guest might have been Carmen Nicholson-Sibilly, who was crowned Carnival queen 59 years ago, in 1952.
Nicholson-Sibilly smiled when she recalled the pleasant aftermath of her inaugural victory.
"Every place I would go, I was recognized," Nicholson-Sibilly said.
Nicholson-Sibilly said she thought the Carnival Committee is doing an "excellent job," and that she loved watching the talented young women perform.
"They're all so beautiful," Nicholson-Sibilly said. "I wouldn't like to be a judge…it's going to be so hard."