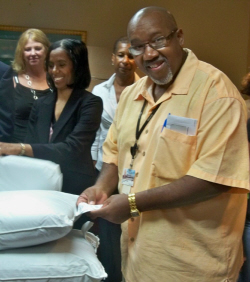 Patients at Gov. Juan F. Luis Hospital and Medical Center will now slumber soundly on new pillows that were donated Friday by 40 friends and colleagues dubbed simply "The Group."
"Getting good quality sleep is important for healing," Jacintha Stephen, interim chief nursing officer, said. "We are very excited about getting this donation that will improve the quality of care given to the patients."
"The Group" is a bunch of friends who started meeting more than 20 years ago after work for sushi and drinks. Debbie Henry Woodson, one of the original members, said 10 years ago they turned the secret Santa gift exchange among themselves into the giving of personal items to residents at Herbert Grigg Home.
She said this year they saw a need to give the pillows to JFL. The group researched hospital pillows and ordered 100 pillows for the 180 bed hospital. "We hope this donation prompts others to reach out and give to the hospital," Henry Woodson said. "Our goal with this donation is to have others follow our lead."
"We certainly wish the rest of the community would come out with donations of this sort," Stephen said.
Chief Executive Officer Jeff Nelson said it is basic that patients get good rest for good recovery. "The support and gifts of the pillows are greatly appreciated," Nelson told group members who gathered in the conference room at JFL.
"Now the patients will have sweet dreams about a good recovery," Corinne Halyard Plaskett, a member of "The Group."