The V.I. Police Department complying with a federal consent agreement on the use of force is a top priority for Acting Police Commissioner Henry White, but with budget cuts, meeting all its benchmarks is unrealistic without cash to pay for it, White told senators during his nomination hearing Thursday.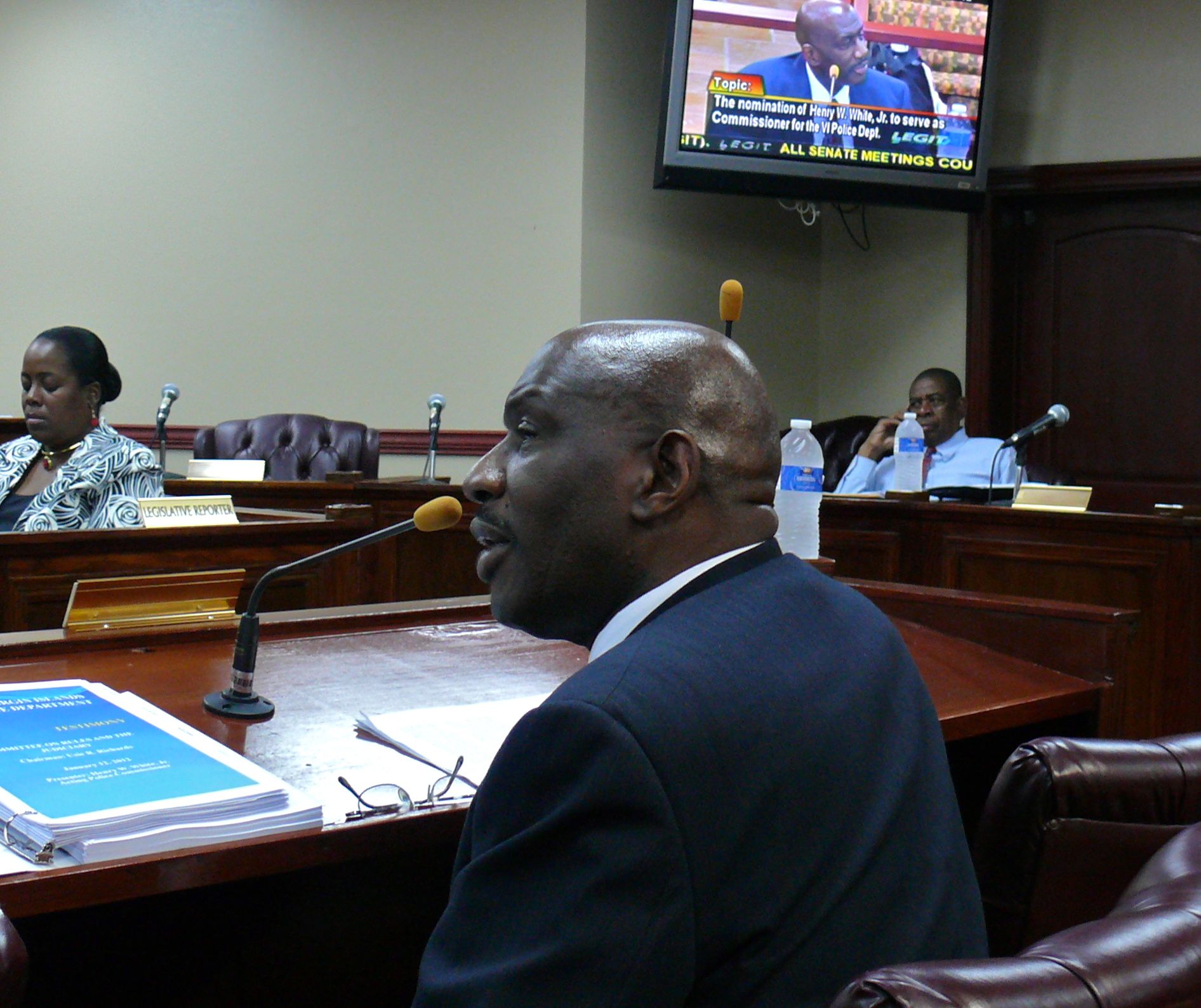 "As you are aware, the VIPD, for what is soon to be the third year, has been dealing with 104 mandates of the consent decree at a major cost to the territory," White testified. "Addressing these mandates in a timely manner will be one of my major priorities, especially since VIPD is currently in litigation with the consent decree monitors regarding a more aggressive response to the mandates. This matter is now in the hands of the U.S. District Court, which expects the department to deliver the required results even when the territory is under a financial austerity plan."
The 2004 investigation into V.I. Police Department internal affairs procedures and training programs, complaints of excessive force by police, and inadequate training and discipline, which led to the consent agreement occupied several questions asked of White during the hearing.
The V.I. Police Department, V.I. Justice Department, and U.S. Justice Department entered the agreement in March 2009 to resolve a federal lawsuit. The U.S. Government alleged the V.I. Police Department had a pattern of excessive force and failed to adequately, train, supervise, investigate, or discipline officers, and needed to establish consistent policies and procedures.
White responded that while the department had made some strides toward meeting the terms of the agreement, full compliance is out of reach without funding that doesn't exist right now.
"Now it rests with OMB (V.I. Office of Management and Budget) on how we move forward on that. It is about financing and we don't have that," he said.
Even without austerity measures, the terms of the agreement were overly ambitious for the department without considerable new funding, he said, responding to a question from Sen. Ronald Russell.
"That which was agreed to was unreachable in the time frame from the beginning, in my opinion," White said.
The matter is in litigation now, and he is hopeful federal officials can be brought to the table and persuaded too, he said.
Avoiding a future federal takeover of the police department "will be a major challenge for me as the police commissioner," White said, continuing that he was "confident" it could be managed.
Improving morale and getting more officers on the street, White cited when Sen. Patrick Sprauve asked for his immediate priorities beyond the consent decree.
"We need more officers on the street, visible in blue – and that's another thing; officers need a uniform," White said.
Sen. Patrick Hill asked if White would need to hire more officers to increase the number patrolling the streets, or if he could redeploy existing officers.
"Redeploy the officers we've got," White said. "You can do it with the current staff onboard, you just have to rearrange how they are assigned," he said at another point in the hearing.
Raised by a single mom in Newark, N.J., White has over 30 years experience in law enforcement. He joined the Navy in 1963, and it was while on duty in the Caribbean he first came to know the U.S. Virgin Islands, he testified.
White joined the East Orange N.J. Police Department in 1968, where he served for eight and a half years. From 1967 to 1998 he worked for the FBI as a special agent, a teacher in its training facility in Quantico, Va., and at other posts. While program manager for the FBI's Civil Rights Enforcement program, he taught a block of courses at the FBI's National Academy in civil rights training regarding the use of force. During questioning, he mentioned he helped coordinate for the FBI in the Rodney King police brutality case.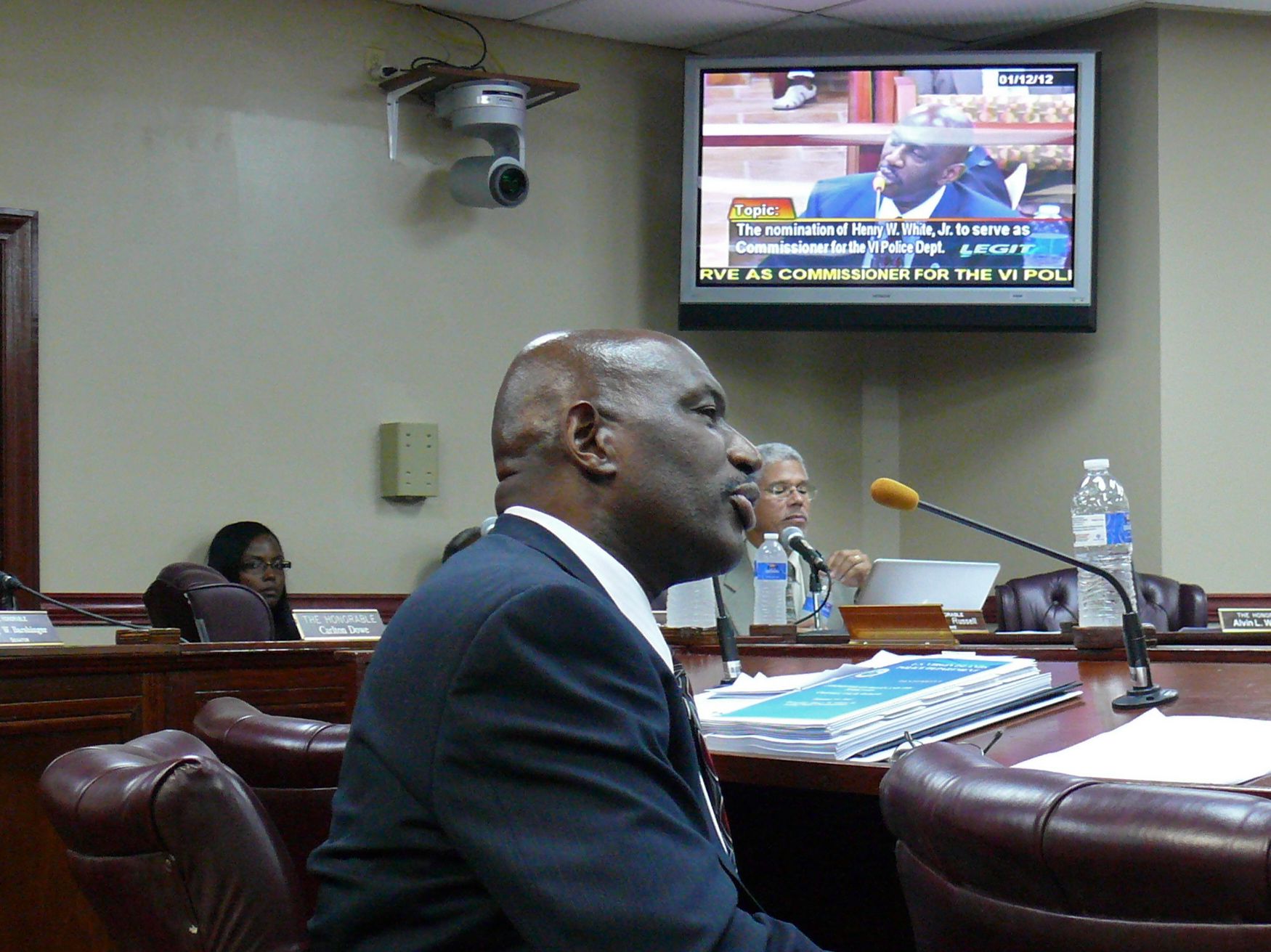 White retired from the FBI in 1998 and moved to Georgia in 2000. In 2003 and part of 2004, he served as chief of police to Henry County Georgia, the first black police chief in that county's history, overseeing 208 sworn officers. Since then, he has been a law enforcement consultant for the FBI and other organizations.
Voting to send White's nomination on to the full Senate for a final vote were: Sprauve, Sens. Carlton "Ital" Dowe, Alicia "Chucky" Hansen, Usie Richards, Sammuel Sanes and Celestino White. Sen. Ronald Russell abstained.