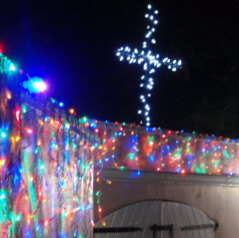 As luck would have it, the Source's "Faith Matters" rotating feature fell on Christmas night, which provided an opportunity to zero in on the figure whose birth is celebrated at this time of year. We wanted to know how Jesus works in people's lives, what he means to Christians and others near and far.
Who was he, and how are his teachings significant today?
In his acclaimed book "Tattoos on the Heart," about his work with gang members in the roughest part of Los Angeles, Father Gregory Boyle, Jesuit priest and founder of Homeboy Industries, speaks of Jesus' service to the poor and disenfranchised.
"Jesus was not a man for others," Boyle writes. "He was one with others."
The difference, Boyle said, is "Jesus didn't seek the rights of lepers. He touched the leper even before he got around to curing him. He didn't champion the cause of the outcast. He was the outcast. He didn't fight for improved conditions for the prisoner. He simply said, 'I was in prison.'"
Mother Teresa of Calcutta (1910-1997) understood as did Boyle that Jesus wasn't talking from a lofty distance from the destitute among us. He spoke from experience.
"When Christ said:'I was hungry and you fed me,' he didn't mean only the hunger for bread and for food," Mother Teresa said. "He also meant the hunger to be loved. Jesus himself experienced this loneliness. He came amongst his own and his own received him not, and it hurt him then and it has kept on hurting him," she said.
"The same hunger, the same loneliness, the same having no one to be accepted by and to be loved and wanted by; every human being in that case resembles Christ in his loneliness, and that is the hardest part. That's real hunger."
At a time when many feel the true meaning of Christmas has been dulled by the shiny wrappings and relentless compulsions of commercialism, we are being asked to put the "Christ" back into the season. The Source asked the faithful in our community to speak about their relationship with Jesus and what Christmas means to them.
"Being a Christian is like finding the love of your life – it's hard to explain, but it's very real," said Rev. Rodney Koopmans from the St. Croix Reformed Church. He said the angels told the people to "fear not." But, he said, so many people are still afraid. "But there's no reason to fear because we know the Creator of the universe cares for each individual."
At least one person we asked understood exactly what Koopmans was saying.
"Jesus helps my daddy every year when he goes on deployment and keeps him safe," 10-year-old Demonte Cromwell told us.
His mother, Shirmel Gumbs-Heyliger, who attends Southside Pentecostal Church on St. Croix, also sees Christ as her solace and savior. "Without him, nothing in my life would be possible."
Several people spoke of the love that flows both ways in their relationship with Christ.
Parishioner Renee Samuel of "The Way of the Cross" Baptist Church on St. Croix said despite the commercialization, Christmas is still her favorite day of the year. It stands for love and sacrifice, she said. "Christmas is all about God and his amazing, never ending love for us."
Rev. Kerry C. Neuhardt, priest at St. John's Episcopal Church was effusive to the point of tears in his love for the celebration of the birth of Jesus and his love of God. "There is something which springs up from the depths of my heart at Christmas," he said. "It still finds expression in some ancient phrases like 'the hopes and fears of all the years' and in that momentary glimpse of what 'peace on earth, good will toward men' would actually be like."
Rev. Jeff Neevel of the St. Thomas Reformed Church expressed a desire to find that good will and peace every day. "What we are celebrating is a reality that happened thousands of years ago, and it as true today as it was then. Its reality is present with us every day, the spirit of God and the life of Christ."Neevel said. "We should wake up every morning and celebrate the fact that God revealed his God self to us and showed us the way to live."
St. Johnian Allison Smith, who has for many years facilitated study groups in "The Course in Miracles," also sees Christmas as a time to reflect upon a way to live every day in peace and love. She said the course teaches the sign of Christmas is a star, "a light in the darkness" that is not outside the self, but rather shines in the "Heaven within."
The star is a sign that "Christ has come." Smith said. "It is a reminder that our true nature is one of love and that our challenge is to live from that place of love and to shift our perspective accordingly, becoming the star that shines in the darkness."
Christ's message is not exclusive to Christianity. The Buddhist teacher Thich Nhat Hahn writes, "The Living Christ is the Christ of Love who is always generating love, moment after moment. When the church manifests understanding, tolerance, and loving-kindness, Jesus is there."
Baha'i Judi Bryant said, "We revere Christ as we do other prophets, messengers of God," she said. "With Christian friends we celebrate Christmas."
And Father Neuhardt reminded us that Mahatma Ghandi had a single picture hanging over his desk; It was not of Buddha or Krishna. It was a picture of Jesus Christ. Below the picture were the words "He is our peace."