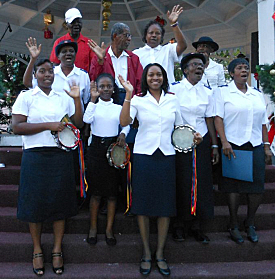 With dawn slowly breaking over Charlotte Amalie, the familiar Voices of Love awakened the town Sunday morning, marching into the Emancipation Garden, heads held high, in bright red sweatshirts, belting out carols as though they had not been doing just that since 9 p.m. Saturday.
At the 35th Challenge of the Carols, a well-loved tradition for so many years, carolers headed out on Christmas Eve and sang all night long, bringing cheer from house to house until winding up singing in the garden Christmas morning.
Voices of Love choir director Glen "Kwabena" Davis bounded around the gazebo, along with Master of Ceremonies Myron Jackson gathering the choir directors together to start the day's formal festivities. Davis shows no signs of being up all night; he thrives on the experience.
"Oh, up all night?" he says, with his gracious smile. "Of course."
The choir could be heard in Frenchtown by St. Anne's Chapel at 4 a.m., then wending its way to town. Emancipation Garden, which becomes a fairyland each year for the occasion, lighted as brightly as a, well, a Christmas tree. In fact, make that 20 trees, with the garden's lignum vitaes gaily decorated with ornaments made by schoolchildren.
In 1899, Luther Robles founded the Excelsior Choir, to be followed by names that are familiar in the local caroling world today: Alec Lloyd, Esther Marks and Elias Abraham. According to Davis, the carolers would be greeted by gifts of guavaberry, dumb bread, and ham and sweetbread.
In 1924, the Excelsior Choir celebrated its Jubilee, but the tradition fell by the wayside during the war years. In the mid 1970s, Davis, Vernon Finch and Dorothy Elskoe got together and brought the tradition back to life, filling the nighttime streets and the early morning garden once again with glorious song.
The choirs – including the Party Hardy Caroliers in their crisp white, complimented with the bright red plaid scarves; the Salvation Army Songsters & Torchbearers; the Banco Popular Chorale, now in its second year; the Bethel Baptist Church Choir; the New School of Music – brightened the morning with traditional song.
"Angels we have heard on high, sweetly singing o'er . . ." rang out o'er all the folks gathered together under trees, on benches, or in their own chairs like veterans Polly and Fred Watts, to share in the special camaraderie felt by the many folks who wouldn't dream of greeting the morning any other way.
Each year's challenge is a time for fellowship, where old and new friends greet each other, more often than not, singing along with the choirs, while breakfasting on a feast prepared by the Petersen family – mother Candia, sister Barbara, and brother Dr. Bert – aided by local personalities like Finance Commissioner Angel Dawson, who was busily doling out generous portions of dumb bread and cheese.
The repast has grown each year since Candia started it several years ago when she was hungry herself, and found nothing nearby to start the day. Now the bread and cheese is augmented by sweetbread, turkey, ham, and all the steaming hot bush tea you can drink.
The garden fell silent for a moment as Khaila Pruiett, a small girl with a big voice, marched up to the bandstand, paused just a moment, and sang a lovely "Ave Maria," holding the crowd in her hand.
The 11-year-old Lockhart Elementary School student was perfectly poised.
"No, this isn't the first time I've sung before a large audience," she said, allowing that she has plans to continue doing just that.
The morning was dedicated to Grand Choir Mistress Eulalie "Ms. Lopie" Lopez James and Richard "Mousie" Howard. Howard first appeared at the challenge in 2003 as an unscheduled performer, taming the crowd with his flute playing.
Howard, a familiar island figure, was said to have played flute and percussion with Stevie Wonder. Clarice Kuntz of Voices of Love, said, "He was our 1968 CAHS class president." She added, "You should have seen his funeral – musicians from all over, even St. Croix, playing for him, Milo, all of them."
A highlight of each year's program is the honoring of choirs and individuals who contribute greatly to sharing and bringing the spirit of the season to others.
This year's awards and their recipients, presented by Myron Jackson were: The Esther Marks Award presented to SPARKS Youth Chorale; The Alex Lloyd Award the Banco Popular Chorale; The Governor's Award to Irvin "Brownie" Brown; the Luther Robles Award to local musical legend Sergio "Bolo" Feliciano.
Feliciano expressed surprise at the award. "Are you sure?" he asked Jackson.
Later, Feliciano, trumpeter with the Imaginations Brass, and producer with DasRight! Productions, said he really was surprised.
"I didn't know about it," he said. "I'm a humble sort of guy. I just like doing things, helping somebody if I can. In the production studio, I'd help somebody who wasn't professional yet, or who didn't have any money,"
Carnival Village was named "Bolo's Music Studio," in his honor. Now retired, Feliciano, who sat to the side of the gazebo, tapping his feet, admitted he may get back into the music world again.
Other traditions carried on as well: Veteran Addie Ottley of WSTA carried the event live, as enthusiastic in his commentary as if he'd never done it before. It was sponsored by Innovative and the V.I. Lottery.